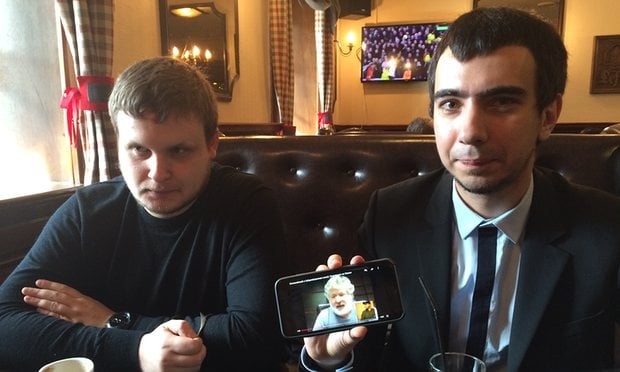 Lexus and Vovan are fast gaining a reputation as the most mischievous men in Russia. The pair of professional prank callers, real names Alexei Stolyarov and Vladimir Kuznetsov, have claimed scalps as diverse as Elton John and Turkish president Recep Tayyip Erdoğan in recent months. Critics, however, suspect the pair's jokey schtick masks a  dark secret: links to Russia's security services, Shaun Walker wrote for  The Guardian.
The duo made the headlines again last week when they apparently managed to persuade Nadezhda Savchenko, a Ukrainian on trial in Russia charged with killing two Russian journalists, to stop her hunger strike. A fake letter and phone calls persuaded Savchenko's lawyer, Mark Feygin, that Ukrainian president Petro Poroshenko had made a personal request for her to stop her hunger strike.
Intervening in the case of a hunger-striking defendant in a hugely controversial trial seems a long way from audacious larks à la Sacha Baron Cohen, and when he found out about the deception, a furious Feygin accused the pair of working for the Kremlin and the Russian security services. He promised to sue them.
It is a claim the pair deny. "We work for ourselves, for nobody else," said Stolyarov, 28, sipping coffee at a Moscow cafe. "People are always offering us to get involved in their dirty games. I was offered $100,000 to secretly prank an MP. But we refuse."
Kuznetsov, 30, agreed, saying: "We only choose the subjects we are interested in ourselves." Their goal in the Savchenko case was "to find out whether she would agree to admit her guilt", he said.
The pair first hit the international headlines when they placed a call to Elton John last year pretending to be Vladimir Putin. The entertainer, a sharp critic of Russia's laws on "gay propaganda" had previously said he wanted to meet with the Russian president to speak about gay rights, and was delighted when it appeared his wishes had come true.
"I'm extremely honoured that he's calling me and that I'm speaking to him. It's a great privilege to be able to speak to one of the most influential people in the whole world," said John, believing he was speaking to Putin through translation via a spokesman, Dmitry Peskov. In fact, Stolyarov was playing Putin and Kuznetsov Peskov.
"They didn't do any checks on us at all, it was really easy to get through," said Kuznetsov. After John wrote an effusive Instagram post about the call, the Kremlin swiftly denied all knowledge, and it soon surfaced that the pranksters had been involved. In the ensuing uproar, the Kremlin did arrange for a call from Putin to John; although this time it took a while to set up as the singer's staff thought they might be falling victim to a second hoax.
"From what I heard they had to get the Russian ambassador in London involved to convince them it was the real Putin this time," said Stolyarov. "But anyway, I think Elton John owes us. If it wasn't for our call, the real Putin would never have called him."
Last month, the pair claim, they got through to Erdoğan, pretending to be Poroshenko and Ukraine's prime minister Arseniy Yatsenyuk. On the call, a voice that sounded like the Turkish leader tells the two would-be Ukrainians he would "never" apologise to Russia over the November incident in which Turkish fighter jets shot down a Russian plane that allegedly violated Turkish airspace.
A source in the Turkish president's administration denied to Russian agency RIA Novosti that the call was real, but the pair are adamant that they really did get through to the Turkish leader – and they have form at reaching presidents. In 2014 they got through to the Belarusian leader Alexander Lukashenko pretending to be Viktor Yanukovych Jr, the son of the deposed Ukrainian president, and got Lukashenko to agree to provide a safe haven for the Yanukovych family.
The ease with which the pair are able to be connected to world leaders has led many to agree with Feygin that they must have, at the very least, a significant helping hand from the Russian security services: it is not so easy to have a call put through to the president of a major nation.
But they insist this is nonsense. Kuznetsov said they each have many mobile telephones, even more sim cards, and a network of volunteers they recruit online who help them with particular tasks. They refused to explain how they got through to Erdoğan as they did not want to "give away secrets", but insisted it was without the help of the Russian authorities and said it took "about a day".
"Each case is different. There can be the president of a tiny country of two million people and it's impossible to get through to him, but then we called up Poroshenko while he was on his plane with no problems at all," said Stolyarov.
Mark Feygin and Nadezhda Savchenko in a Donetsk, Russia, court earlier this month.
Mark Feygin and Nadezhda Savchenko in a Donetsk, Russia, court earlier this month. Photograph: AP
Perhaps their most audacious stunt was an extended series of Skype conversations with the Ukrainian oligarch Ihor Kolomoisky, a billionaire who was appointed governor of Dnipropetrovsk region, bordering the conflict zone where the Ukrainian army was fighting Russia-backed separatists. Kolomoisky, during his time as governor, funded a number of volunteer militias fighting for Ukraine and has been portrayed in Russian media as one of Moscow's key enemies.
Most days over a period of several weeks, Stolyarov would put on makeup and don combat fatigues, and speak to Kolomoisky over Skype pretending to be Pavel Gubarev, one of the leaders of the so-called Donetsk People's Republic. The pair would drink toasts together and exchange gossip and information about the war.
"It began to get annoying because every day I'd have to drop all my other stuff and run to Skype to chat to Kolomoisky," Stolyarov recalled. "But we kind of became friends. We would drink together on Skype, he would sit there knocking back whisky. I admire his personal qualities, but we were on different sides of the barricade. He's an enemy."
The pair say repeatedly that they have no political agenda, and point out that they have pranked footballers, television presenters and other apolitical figures. But there is no escaping the fact that the vast majority of victims in their political stunts are Ukrainians, and their work often appears to align remarkably closely with the Kremlin's goals or obtaining information that might be useful to it.
Even if their claims that they do not work for or with the FSB are true, Stolyarov himself admits they have their own "internal censorship" about whom they would draw the line at pranking.
"We wouldn't prank Putin. We don't want to harm our country. We don't want unrest here; we don't want to do anything that would help the enemies of Russia."
Be Shaun Walker, The Guardian