For over a year, Russian state-controlled outlets and pro-Kremlin pundits have been trying to convince themselves and the world that the forcible transfer and unlawful deportation of Ukrainian children to Russia or territories temporarily occupied by Russia were 'humanitarian', 'voluntary' and served the needs of the children.
Russian state-controlled media spat out feel-good stories(opens in a new tab) about hundreds of Russian families lining up to adopt orphans(opens in a new tab) of Donbas and Ukraine, while some of the Ukrainian children from Mariupol were used as a prop by the Kremlin's propagandists and had to thank and hug their 'liberators' in a choreographed appearance(opens in a new tab) at a pro-war rally in Moscow.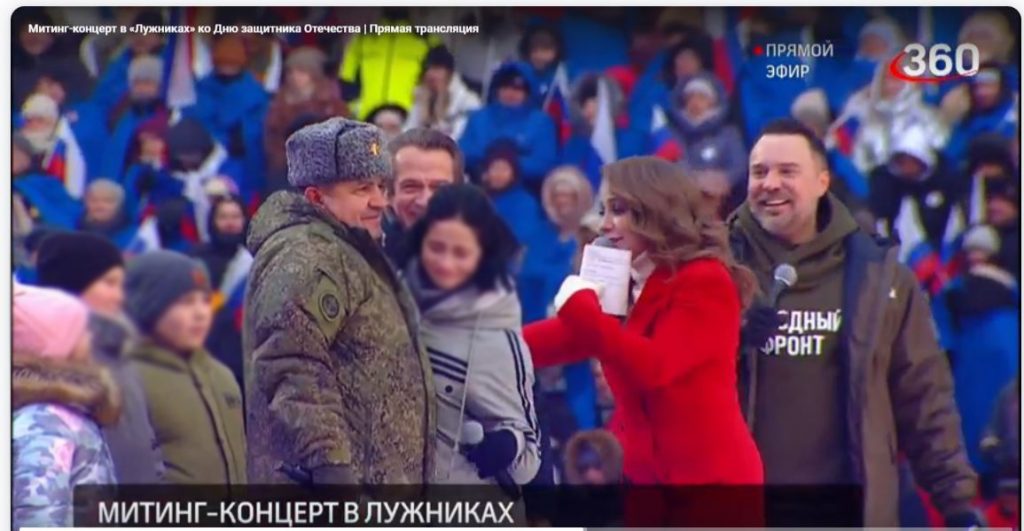 The host of a pro-war rally at Moscow's Luzhniki stadion in February 2023 encourages a Ukrainian girl and other children 'not to be shy, come and hug their saviour'.
Naturally, none of these feel-good propaganda stunts made any mention of the massive devastation perpetuated by Russia that displaced millions of Ukrainians including children(opens in a new tab), or the deliberate targeting of civilian infrastructure with children inside(opens in a new tab).
Then, on 17 March 2023, the International Criminal Court (ICC) burst the propaganda bubble.
The ICC's issuance of arrest warrants(opens in a new tab) for President Putin and the Russian Commissioner for Children's Rights Maria Lvova-Belova turned the Kremlin's disinformation narrative concerning 'the evacuation of children for their own benefit' on its head. In its announcement, the Court said that '[t]here are reasonable grounds to believe' that both Putin and Lvova-Belova bear 'individual criminal responsibility' for the unlawful deportation of Ukrainian children to Russia. The announcement revealed that far from being humanitarian measures, Russia's deportations are humanitarian outrages worthy of international prosecution. The Court accused the Russian leadership of exactly the sort of illicit transfers of children that seedier pro-Kremlin disinformation outlets had previously accused Ukrainians and Westerners of carrying out. Predictably, Russian commentators could only react by making impotent threats(opens in a new tab) against the Court and its judges while reaching for even more absurd lies.
How did the Kremlin frame all these horrific acts? It is worth taking a moment to reflect on how it ended up here.
Refugee numbers
According to Ukraine's Commissioner for Children's Rights, Dariya Herasymchuk, Russia had unlawfully deported at least 19,514 children from Ukraine to Russia by 30 March, although the real number may reach the hundreds of thousands(opens in a new tab).
The fact that Russia was forcibly transferring and deporting thousands of Ukrainian children was also recognised by a recent OSCE 'Moscow Mechanism' report(opens in a new tab), on violations and abuses of international humanitarian and human rights law. The report, initiated by 45 countries, found that 'a large number of Ukrainian children have been displaced by Russia' and that 'the practice of the forcible transfer and/or deportation of Ukrainian children to the temporarily occupied territories and to the territory of the Russian Federation may amount to a crime against humanity'.
Overall, the war has forced millions of Ukrainians – children and adults – to move. The United Nations refugee agency reports(opens in a new tab) that over 2.8 million Ukrainian refugees are in Russia, while over 5 million are currently registered in Europe under the EU's Temporary Protection Directive or similar national schemes. Since February 2022, a total(opens in a new tab) of some 16 million people were forced to leave their homes in Ukraine, of whom some 8 million took shelter outside Ukraine, mainly in the EU, while ca. 8.2 million were forced into displacement inside Ukraine. Luckily, many have been able to return but this massive number, in addition to the thousands of killed and wounded, indicates the scale of the war and human suffering.
Long before the ICC issued its warrants, pro-Russian disinformation had alleged that Russia acted humanely by evacuating people from war zones, and presented forced deportations(opens in a new tab) as great feats of Russian generosity, particularly in and around Kherson. Typically, Russian propagandists portray the 'evacuations' as resulting from Ukrainian shelling, often with Western weapons. But third-party interviews with 'evacuees' paint(opens in a new tab) a far more sinister scenario. Often, Russian forces put Ukrainians caught in Russian-occupied territory through 'filtration' camps where those suspected of pro-Ukrainian sympathies are tortured and sometimes disappear, and where, in an apparently common practise, children are separated from their parents(opens in a new tab).
The ICC calls out the Kremlin…. 'Individual criminal responsibility'
The Court's arrest warrants called the Kremlin's bluff. No longer able to hide behind shady innuendo, prominent Russian commentators retreated to hyperbole. One story called(opens in a new tab) the decision to issue the warrants an 'unprecedented legal bacchanalia'. Another amplified claims(opens in a new tab) that it would increase the risk of nuclear confrontation. Yet another asserted that the decision was a 'hoax' designed to criminalise Putin and Russia.
Pro-Kremlin outlets soon went further, attacking the legitimacy of the ICC itself. As has happened to other international bodies that have dared to question Russian actions, disinformation outlets called the ICC a political weapon. Sputnik declared(opens in a new tab) that the ICC 'has been weaponised to buttress US imperialism'. An article in Italian alleged that the warrant had destroyed the Court's 'last semblance of credibility'. Sputnik Afrique (successor of the bankrupt RT France) deemed(opens in a new tab) the ICC 'the secular arm of the recolonisation system', hoping to manipulate or brainwash audiences in Africa as well as in Russia and beyond.
The goal of all these stories was obvious. Instead of talking about the evidence behind the warrants, or acknowledging the possibility that the country may be run by a war criminal, pro-Kremlin commentators frantically tried to change the subject.
Insidious narratives
One of the most insidious attempts to switch the narrative came in the shape of an RT 'documentary' accusing Ukrainians, Westerners, and Western NGOs including Doctors Without Borders of kidnapping children to harvest their organs or subjecting them to sex trafficking. The tactic was familiar – 'accuse your opponent of outrageous acts, and use those accusations to justify your own bad behaviour' – and it has been used in the past. Even before the full-scale invasion of Ukraine, pro-Kremlin outlets falsely accused Ukraine of harvesting the organs of its own soldiers.
Other articles made up fantasies about the Ukrainian government 'stealing' children from Donbas and handing them to 'British paedophiles', or exchanging them for weapons. The EU was also accused of 'stealing children' right from their refugee parents.
Such slimy lies have always lurked in the darker corners of pro-Kremlin discourse. But after the ICC's decision, one senses that the Kremlin let them loose to wander in the open for all to see. Even high-level Russian officials nodded towards them. Foreign Ministry spokesperson Maria Zakharova commented(opens in a new tab) that 'the imaginary concern of the West about the fate of children evacuated by Russia from a war zone looks hypocritical and cynical against the backdrop of the worsening catastrophic problems of thousands of underage Ukrainians in EU countries'.
The EU has, of course, opened its doors to Ukrainian refugees, including their children, while offering a wide array of support programmes(opens in a new tab) for them. What 'catastrophic' conditions was Zakharova talking about? Who knows? To distract your audience, it's better to babble falsehoods than to face the facts.
The pace of justice
The ICC's decision is just the first of what are likely to be decades of international litigation and condemnation concerning Russian war crimes committed during Putin's invasion of Ukraine. The pace of such justice may be slow, but it is steady. On 19 March, the EU High Representative Josep Borrell called(opens in a new tab) the decision 'a beginning of the process of accountability ..and of holding Russian leaders to account'.
A few days later, European Commission President Ursula von der Leyen announced(opens in a new tab) that she and Polish Prime Minister Mateusz Morawiecki, in partnership with the Ukrainian government, had initiated measures intended to put pressure on Russia to return Ukrainian children to their country. Ressources are being identified for the work.
Such remarks do not have the entertainment value of propaganda. But the judicial measures they represent have far greater staying power. Those measures, in turn, put the Kremlin leadership on notice that Russian war crimes in Ukraine, including the forcible deportation of children, will not pass without consequences.