Kremlin Watch Report
Kremlin Watch Report: Czech deputies and senators regularly travel to Eastern Ukraine and Crimea, the regions that are suffering from the conflict with Pro-Russian separatists. There is one concrete goal in these trips and that is to legitimize the Russian foreign policy and their regime and not only for the Russian internal propaganda but to the international audience as well. Czech legislators behave this way with no matter how the official Czech or EU foreign policies are, precisely speaking of the sanction regime that was enforced on Russia in 2014 for breaking the sovereignty and territorial integrity of Ukraine by the RF. Download the new Kremlin Watch Report by Junior Analyst Markéta Krejčí here. 
Topics of the Week
British MPs want a stronger government effort to shut down the so-called London 'Laundromat' for the corrupt assets of Kremlin-linked individuals.
The US Deputy Assistant Secretary of State for Energy Diplomacy has said that Nord Stream II raises US intelligence and military concerns, since it would permit the Kremlin to place new monitoring and listening technology in the Baltic Sea.
According to the GLOBSEC Trends 2018, a majority of Central Europeans prefer to identify their countries' geopolitical and cultural position in the middle of the traditional East-West dichotomy, but their support for the EU and NATO remains solid.
Good Old Soviet Joke
Stalin attends the premiere of a Soviet comedy movie. He laughs throughout the film, but after it ends, he says, "Well, I liked the comedy. But that clown had a moustache just like mine. Shoot him." Everyone is speechless, until someone sheepishly suggests, "Comrade Stalin, maybe the actor shaves off his moustache?" Stalin replies, "Good idea! First shave, then shoot!"
Policy & Research News
British MPs want a stronger effort to shut down the London 'Laundromat'
The United Kingdom's strategy on Russia should be "coherent and pro-active" and should be "coordinated across the whole of Government," the Foreign Affairs Committee of the House of Commons says in a new special report, titled Moscow's Gold: Russian Corruption in the UK.
The use of London "as a base for the corrupt assets of Kremlin-connected individuals," according to the Foreign Affairs Committee, is now "clearly linked" to a wider Russian strategy and has implications for British national security, with these assets being used to support the Kremlin's "campaign to subvert the international rules-based system," as well as undermine the UK's allies and erode "the mutually-reinforcing international networks that support UK foreign policy."
The FAC emphasizes that despite the British government's "strong rhetoric," President Vladimir Putin's allies "have been able to exploit gaps in the sanctions and anti-money laundering regimes that allow them to hide and launder assets in London." The report thus calls for "stronger political leadership in ending the flow of dirty money into the UK," including through tightening loopholes in the sanctions regimes and allocating "sufficient resources and capacity to the relevant law enforcement agencies, and improving mechanisms for information-sharing."
Report: Poland expels one over pro-Russian hybrid warfare
Polish authorities have arrested a Russian woman identified as "Yekaterina C." and banned entry to four other persons for their hybrid activities against Poland. The activities of the five persons, according to Poland's Internal Security Agency (ABW), were in the spotlight for the last few weeks as part of the agency's efforts to neutralize the activities of two "network structures" involved in Russian hybrid and information warfare against the country. Their specific purpose, according to the ABW, was to foment tensions between Poland and Ukraine and to raise questions about Polish history by replacing it with Russian narratives.
The ABW also noted that it would continue its inquiry into Polish citizens cooperating with the five persons and press criminal charges if their guilt was proven. The subversive participation of Polish nationals, according to the ABW, indicates that the Russian Federation "is not only inspiring Polish citizens to act against Poland but also finances their activity." It also noted that although these activities were presented "as spontaneous and independent social movements" by the Kremlin, they were "often inspired, coordinated and financed by Russia, in order to destabilize the socio-political situation in the country."
US Developments
Trump: "this is bigger than Watergate!"
On Thursday, President Trump tweeted, "this is bigger than Watergate!", referring to a supposed conspiracy against him. The tweet resonated with his strongest opponents, who have been accusing him of suspicious Watergate-style machinations since the 2016 presidential election. For the first time, the two opposing views agree on something – they are just talking about different things.
President Trump was referring to accusations that the FBI planted an informant in his 2016 presidential campaign "for political purposes." This conspiracy claim is baseless, however, considering that the informants he referred to were FBI agents who started looking into Trump's campaign connections only after receiving evidence of suspicious contacts with Russia. Regardless, the president once again capitalized on an opportunity to undermine and delegitimize the Mueller investigation.
Meanwhile, last Wednesday, the Senate Intelligence Committee released its initial (and notably bipartisan!) report on Russian collusion and confirmed the US intelligence community's assessment that Russia interfered in the 2016 election in favor of Donald Trump. This conclusion contradicts the verdict of House Republicans, which was released last month. The latest report is significant because it backs up two major points in this ongoing debate: 1) Russia decidedly favored Donald Trump's presidential campaign, and 2) the intelligence community is credible and was unbiased in its assessment of the facts.
Senior US official: Nord Stream II raises intelligence concerns
Sandra Oudkirk, the Deputy Assistant Secretary of State for Energy Diplomacy, has said that the planned Nord Stream II pipeline between Germany and Russia – which has long been controversial in Europe – raises US intelligence and military concerns since it would permit the Kremlin to place new monitoring and listening technology in the Baltic Sea.
Following congressional authorization for the President to impose new pipeline-related sanctions against Russia, Oudkirk also said that any companies involved in Nord Stream II faced "an elevated position of sanctions risk". She emphasized that Washington was prioritizing diplomatic means to halt the building of Nord Stream II, whose preparatory work is currently underway between Gazprom and a group of Western companies off Germany's Baltic coast.
Rush of fake Facebook accounts after Texas shooting
Last Friday, a 17-year-old student smuggled weapons into his high school in Santa Fe, Texas, killing 10 people and wounding 10 others. While the nation reacted with weary disgust, the internet witnessed a somewhat different scene. Within hours of the shooting, Facebook was hit with a rush of fake accounts, all pretending to be the gunman. The most notable of these featured a picture of Dimitrios Pagourtzis, the alleged shooter who subsequently turned himself in to authorities, wearing a "Hillary 2016" hat with an Antifa cover photo. Other fake accounts alternately portrayed Pagourtzis in front of a Trump-Pence 2020 campaign sign. The rush of fake accounts succeeded in fooling Facebook's algorithms for catching trolls, so the social network had to take extra measures. Facebook is still in crisis management mode, tracking down fake accounts pretending to be the shooter.
In the US, surges in social media activity of this sort are common after mass shootings, not least because gun rights are a highly politicized issue. The spread of false information about the shooters and their victims typically begins mere hours after these tragedies occur. Such social media rushes also occurred after the fatal shooting in Las Vegas last year and after the Parkland, Florida school shooting, as we previously reported. Facebook has AI tools to attempt to track down these trolls, but after catastrophic events there is often such an increase in activity that it exceeds Facebook's ability to control it. It remains unclear whether the fake accounts were linked to Russia, or whether they were homegrown.
The Kremlin's Current Narrative
Putin, Merkel, and Nord Stream II
One thing cannot be denied about Russian disinformation agents: they know the weak spots of the adversary intimately well and are incredibly skilful at exploiting them. This time, the spot in question is German anti-American sentiment. What else explains that an article titled "Refusal of Nord Stream II would mean political suicide for Merkel" would be about…Trump's pressure on Europe!
Russian journalists suggest that the main question Putin might have for Merkel might be: "Are you finally ready to protect your interests?" They also use a lovely photo of Putin presenting flowers to Merkel as the imagery for the article.
These are the main narratives of the article in question:
Trump wants Europe to pay more for NATO.
Europe doesn't want to pay more and isn't ready for "an independent life" without America.
Germany should either be ready to protect its and the EU's interests from the US or get ready for the EU's collapse.
The Italian government-to-be will demand the lifting of sanctions against Russia.
Europe simply can't afford giving up on Nord Stream II.
This summer, Italy, Germany, and France will end the sanctions.
The article also professed a strange willingness to remind readers that Russia will be hosting this year's World Cup and used a football metaphor to explain the combination of "moves" of European countries in the "sanctions lifting match". Indeed, it is always about Russia outsmarting everything and everyone in this world.
Kremlin Watch Reading Suggestion
GLOBSEC Trends 2018: Public attitudes in Central Europe
A recent opinion poll, carried out by the Bratislava-based GLOBSEC policy think-tank in the Czech Republic, Hungary, Poland, and Slovakia, shows that support for the EU and NATO in the four countries remains solid, with the majority of respondents viewing the two organizations positively and saying they would vote to stay, should a referendum come to pass. At the same time, a majority of Central European citizens expressed a preference to classify their countries' geopolitical and cultural position in the middle of the traditional East-West dichotomy, rather than opting for either end of the divide (Poland is the exception, with pro-Western orientation remaining dominant). The respondents' overall perception of Russia remains negative, but their views are far less clear when it comes to specific issues and narratives. Most Central Europeans, for instance, are unconvinced that Russia meddled in the recent US and European elections, but they overwhelmingly reject the presence of Russian military forces in eastern Ukraine.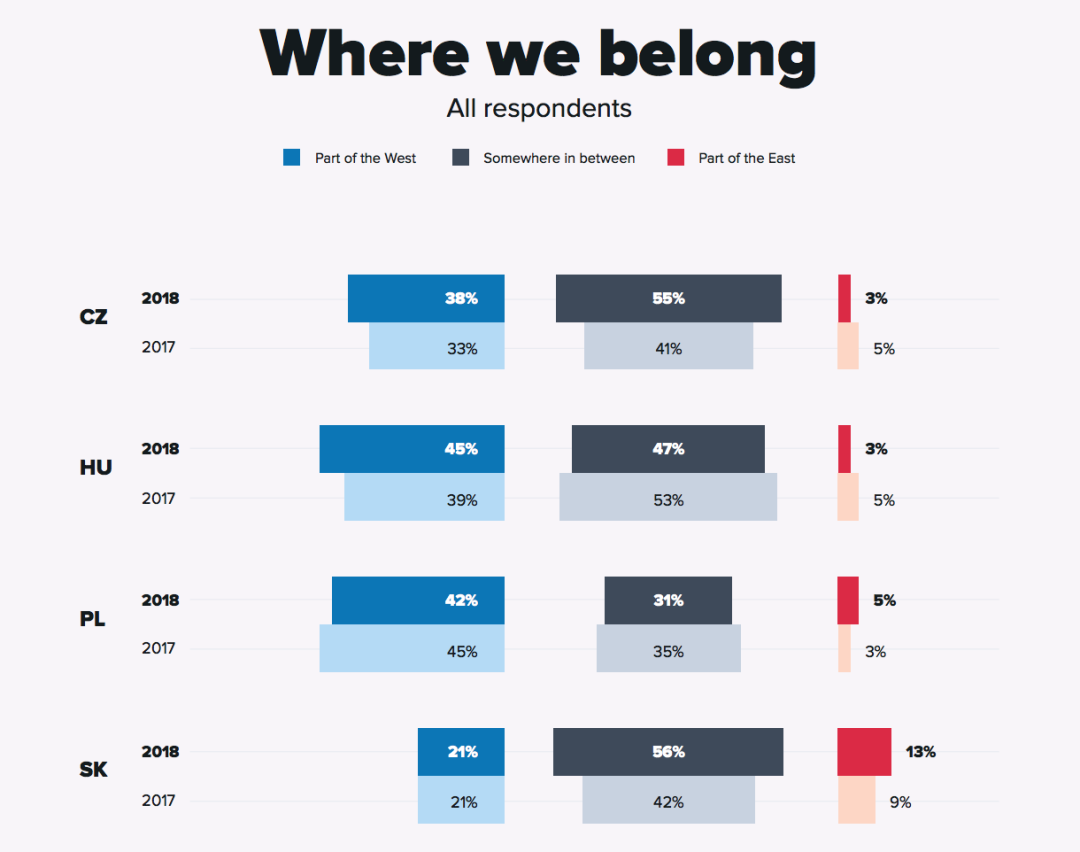 Kremlin Watch is a strategic program of the European Values Think-Tank, which aims to expose and confront instruments of Russian influence and disinformation operations focused against liberal-democratic system.