Topics of the Week
Facebook is responding to Russian interference in the United States, but continuously underestimates disinformation campaigns in other countries.
The New York Times: US Cyber Command launched its first known digital campaign to target Russia's cyber operatives.
Special Focus: The Russian Orthodox Church vilifies the autocephaly developments in Ukraine.
International Elections Study Center: Examining Russian election meddling through politics, the non-governmental sector, and media.
Good Old Soviet Joke
An advisor to the President of the United States calls up the Kremlin to inquire about the average salary of a Soviet citizen.
At first, no one responds. There is just some rustling and nervous whispering on the other line.
A few minutes later, a desperate voice shouts back: "But you discriminate against black people!"
Policy & Research News
FACEBOOK'S ARMS RACE, OR JUST MORE PR?
While Facebook has been increasingly public about its response to Russian interference in the United States, its response in other countries has been marginal at best. A new report on the removal of 82 accounts and pages last week adds to the 652 that were originally removed in August for interference in the US election. However, the rest of the world is not receiving the same preventative attention from Facebook. Read more below.
Less than $100 to start an influence campaign
Facebook announced on Friday that it has identified and removed a new group of accounts originating in Iran, reports the New York Times. This included 30 Facebook pages and 33 Instagram accounts, with a total deactivation of 82 pages, accounts, or groups. Combined, these had over a million followers from the UK and US. The move to shut down these accounts is a continuation of Facebook's efforts to combat influence campaigns that exploit the platform, in what Mark Zuckerberg now describes as an arms race.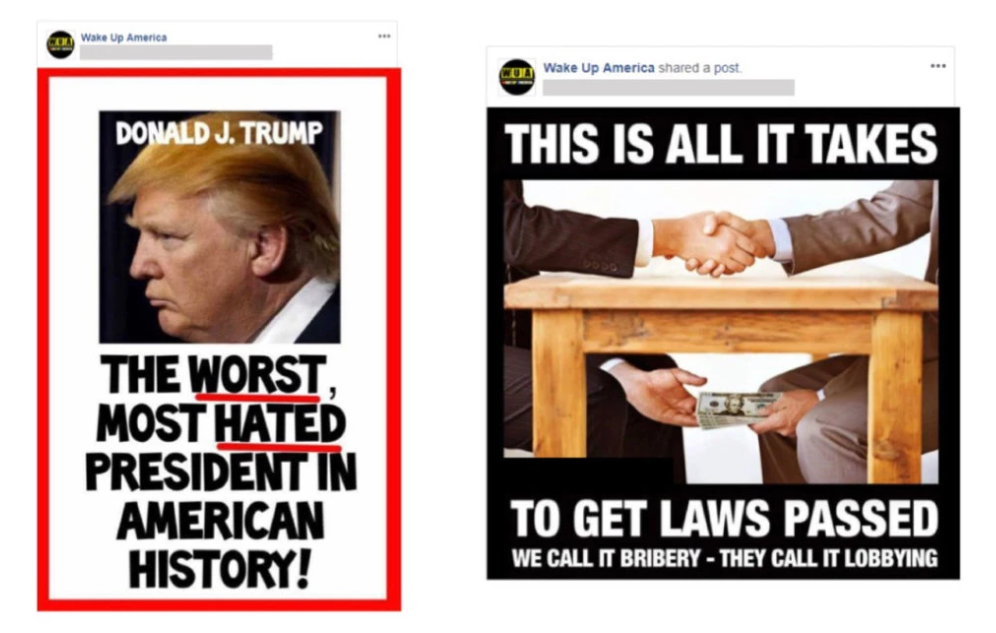 This new batch of pages and accounts demonstrates an evolution from those previously identified for trying to influence the 2016 US election. Despite using emotionally charged memes based on controversial political or racial issues – the same tactic previously deployed by pro-Kremlin actors – these new accounts explicitly relied on other users sharing the content rather than paying for advertising space on Facebook.  In total, these accounts spent less than $100 to spread their manipulation and deception.
Facebook ignored Ukraine
The Facebook Dilemma, a documentary released this week on America's public broadcasting network (PBS), provides a more global perspective, examining how the platform has been previously used around the world for disinformation purposes and how the company has failed to adequately address the issue.
In Ukraine, for example, Facebook was not only used to spread false information, but also to create false accounts of Ukrainian leaders, which were then used to spread manipulative or false information. Without verification marks, it was difficult to tell which accounts were legitimate. Meanwhile, real accounts were targeted by malign actors using Facebook's 'report' function. As a result, legitimate accounts were suspended or shut down following targeted campaigns of reported 'violations' of Facebook's community guidelines.
Although many people in Ukraine attempted to raise these issues with Facebook, including Ukrainian President Petro Poroshenko in 2015, the platform dismissed the complaints and took virtually no action to stop the campaigns. Facebook's response to Ukraine's disinformation crisis demonstrates a marked difference in attitude to its ongoing response in the US, and calls into question the company's narrative that, prior to the 2016 election, it had no idea that the platform was being used for malign political ends.
How independent media fights Russian disinformation in Moldova
Pro-Kremlin disinformation in Moldova stands out for the absurdity of the lies disseminated. Ahead of the presidential elections in Moldova, a news portal reported that the pro-EU presidential candidate, Maia Sandu, had struck a deal with the German chancellor to receive 30,000 Syrian refugees in the event of winning the election. Another disinformation case was a claim by a news website that a pro-EU candidate for the mayor of Chisinau, Andrei Nastase, would rent out the capital of Moldova to the United Arab Emirates for 50 years with a special sector to be built for Arabs. Needless to say, both of these stories were utterly false and lacked any evidence to corroborate their ludicrous claims. Interestingly, a similar brand of political disinformation was used during the Czech presidential elections a few months ago, targeting the main opponent of current president Miloš Zeman.
Amid the avalanche of fake news in Moldova, three Moldovan journalist organisations created a professional working group to fight against misinformation and disinformation, with support from the European Union. The result was the creation of the StopFals campaign which investigates and refutes disinformation in the online media space in Moldova. Additionally, the group trains journalists and media experts in order to boost the capacity among professionals to detect disinformation and increase media literacy.
Czech elves join the disinformation fight
Inspired by the Lithuanian Elves, a group of Czech patriots have decided to launch a similar initiative on Czech social networks. Volunteers with different professional backgrounds are "building information revolt", according to the Czech daily Deník N. Like that of the Lithuanian elves, their goal is to expose trolls and fake accounts on Facebook and Twitter that are endeavouring to subvert democratic politics and values in the Czech Republic. The group has already successfully identified and exposed several such accounts. Currently, the identities of the 'elves' remain mostly anonymous.
UK government accused of lack of action on Russian fake news
The chairman of the parliamentary media committee, Damian Collins, warned that the United Kingdom faces a democratic crisis due to the manipulation of information and criticised the government for inaction on taking work forward based on 42 recommendations for the government to counter disinformation. According to Collins, the government has only fully accepted three of the committee's 42 recommendations.
The 42 recommendations come from the British parliament's Digital, Culture, Media and Sport Committee on how to respond to disinformation and include proposals for regulating electoral law to reflect online campaigning in the digital age, increasing transparency over online political advertising and its funding, increasing the accountability of technology companies in the spread of disinformation, increasing digital literacy and public awareness of what citizens' rights are over data, and how they interact with political campaigning on social media.  The committee is due to release its final report in December.
US Developments
US launches cyber operations against Russia
Following shifts in Washington's strategic calculus vis-à-vis cyber threats – 'defending forward' and 'replacing complacency with consequence' – The New York Times reportsthat the US Cyber Command has launched its first known digital campaign to target Russia's cyber operatives. Since President Donald Trump's efforts to loosen regulations on offensive cyber-attacks, Cyber Command, according to unnamed defense officials, has attempted to deter Russian actors from spreading disinformation by directly informing those targeted that they under American surveillance.
While stopping short from issuing direct threats, Washington's low-key but limited notifications, issued through undisclosed digital channels, are to serve as 'implicit warnings' designed to avoid provoking a Russian counterattack and escalation in response. As NPR and the Washington Post report, however, the efficacy of Washington's opening salvo across the digital battlespace merits careful debate. Whether these warnings could conceivably temper the actions of Russian operatives, thousands of miles away, remains unclear, but nevertheless maintains Washington's trend in shoring up its cyber capabilities.
Tensions escalate over INF withdrawal
As 31 NATO and partner countries begin to maneuver 50,000 personnel, 10,000 vehicles, 65 ships, and 250 aircraft in the "largest military exercise since the Cold War", Russia and the US continue to clash over the latter's unilateral withdrawal from the INF nuclear-missile control treaty. Concerned over a potential arms race and military build-up along European borders, President Vladimir Putin warned that "if [US nuclear missiles] are supplied to Europe, then of course we will have to respond in kind", adding that complicit European countries will be "subjecting their own territory to the threat of a possible retaliatory strike".
Although Russia's Foreign Minister Sergey Lavrov went on to stress that "no offense at all was expressed on [Russia's] part" over President Trump's decision to scrap the INF, Moscow's anxiety remains difficult to conceal. After failing to convince the UN General Assembly to approach the US on the issue, Andrei Belousov, deputy director of Russia's Department for Non-proliferation and Arms Control, ominously warned that "the Russian Federation is preparing for war, and the United States of America is preparing for a war."
Russia attributed to cyber-attacks on Saudi plant
According to US cybersecurity firm FireEye, the development of dangerous malware that damaged critical safety systems at a Saudi petrochemical plant in 2017 was likely supported by a Kremlin-linked institute. With "high confidence", the cybersecurity firm established links between the malicious code, as deployed in the 2017 cyber-attack, to Russia's Central Scientific Research Institute of Chemistry and Mechanics (abbreviated as CNIIHM in the blog post) – a government-owned institution located in Moscow.
Moreover, the firm's discovery indicates that malware development activity conducted within CNIIHM had "very likely" supported the cyber operations of "TEMP.Veles" – an entity described as a suspected Russian hacking group responsible for the aforementioned cyber-attack. "What seems to be clear here is the Russian government has a strong hand behind this and was heavily involved", states John Hultquist, FireEye's Director of Intelligence Analysis.
Special Focus
Russian church and politics in propaganda overdrive
The Russian Orthodox Church and the Kremlin's loyal servant has been working overtime to publicly vilify the recent autocephaly developments in Ukraine. Seeing how events have turned against its favour, the Russian Church is now exhausting all possible information venues in a bid to win public support.
Lately, the Russian Church has been claiming that the 'true' masterminds of the autocephaly project within the Ukrainian Orthodox Church are not Ukrainians themselves, but rather CIA operatives seeking to undermine Russian geopolitical influence. The Russian state media has been playing a similar tune, claiming that the groups behind the autocephaly project are "enemies of the people" and are attempting to "submit God to their own will".
These moves are the result of a desperate propaganda overdrive on part of the Kremlin, which, in consistent style, is utilizing channels of mass communications, including the Russian Orthodox Church, to nurture sentiments of sympathy towards Russia and suspicion towards the 'evil Western establishment'. Even Ecumenical Patriarch Bartholomew noted that Russia has seen an increase in the funding of such "black propaganda". It is expected that the Russian Church will continue to voice its opposition and attempt to derail the solidification of the autocephaly project.
The Kremlin's Current Narrative
Russian Media: Westerners have ceased to believe "spooky stories"
According to recent RIA Novosti news, Westerners no longer trust their own news sources concerning Russia-related developments. The state-owned media outlet reported the results of a poll produced by Sputnik that allegedly showed that at least half of French, British, German, and US citizens believe that their own media are distorting truth. RIA Novosti considers that, given the rather large percentage of those who were undecided on the matter, these figures are "quite indicative".
In addition, according to the very same questionable poll, not only do Westerners not believe in spy stories or Russian implications in the domestic politics of sovereign nations, but they believe that the entire political system within the Western world will change within the next several years due to public discontent with their leadership.
It is important to note that the organizer of the poll in question is Sputnik News—one of Russia's most notorious and toxic propaganda outlets. The credibility of its findings should therefore be immediately cast into question, considering the Kremlin's penchant for manipulating statistics, information, and reality.
Kremlin Watch Reading Suggestion
A Guide to the Russian Tool Box of Election Meddling
A Platform to Analyse the Long Term Comprehensive Kremlin Strategy of Malign Influence
This month, Marius Laurinavicius published a comprehensive report together with the International Elections Study Center detailing Russia's electoral meddling efforts. Since 2004, Russia has interfered in the political processes of at least 27 countries in Europe and North America. The Kremlin's three tools to influence the public in its 'near abroad' include proactive political involvement (creating links with political actors and coordinating pro-Kremlin parties), creating minority and separatist NGOs and think tanks, and creating and maintaining a favourable media environment. According to Mr. Laurinavicius and in line with others who have written on the subject, the strategy behind Russia's influence operations is nothing new, but a contemporary iteration of Soviet 'active measures.' The report details the ways in which Russia aims to influence politics through covert and overt funding, which almost always comes from individuals tied to Putin's regime who pursue private interests that align with the broader interests of the Kremlin.
Further, the report notes that election funding is a small component of the comprehensive strategy of election meddling. For example, Mr. Laurinavicius describes how Russia can gain influence from political figures in the West via the use of Kremlin-linked Western lobbying institutions. Paul Manafort allegedly paid more than 2 million USD to former influential European politicians for undercover pro-Yanukovych lobbying. Tougher conditions for political financing and patching the holes of current funding regulations are the main recommendations. The report stresses the need for Western intelligence services to step back and note that Russian election meddling is deeply interconnected with operations of the Russian security services, business and private interests, and even mafia groups.
Kremlin Watch is a strategic program of the European Values Think-Tank, which aims to expose and confront instruments of Russian influence and disinformation operations focused against liberal-democratic system.