The Prague Manual
Funded by the International Visegrad Fund, The Prague Manual (1) describes the toolkit of Russian subversion operations in Europe, (2) comes up with first-ever policy assessments of specific initiatives for countering this threat in 10 mainly CEE countries and (3) sets up a scheme for assessing the state of play of Russian influence in a targeted country with suggested countermeasures, since there is no single blueprint for the defense strategy given different levels of response in selected countries. You can read the report on our website.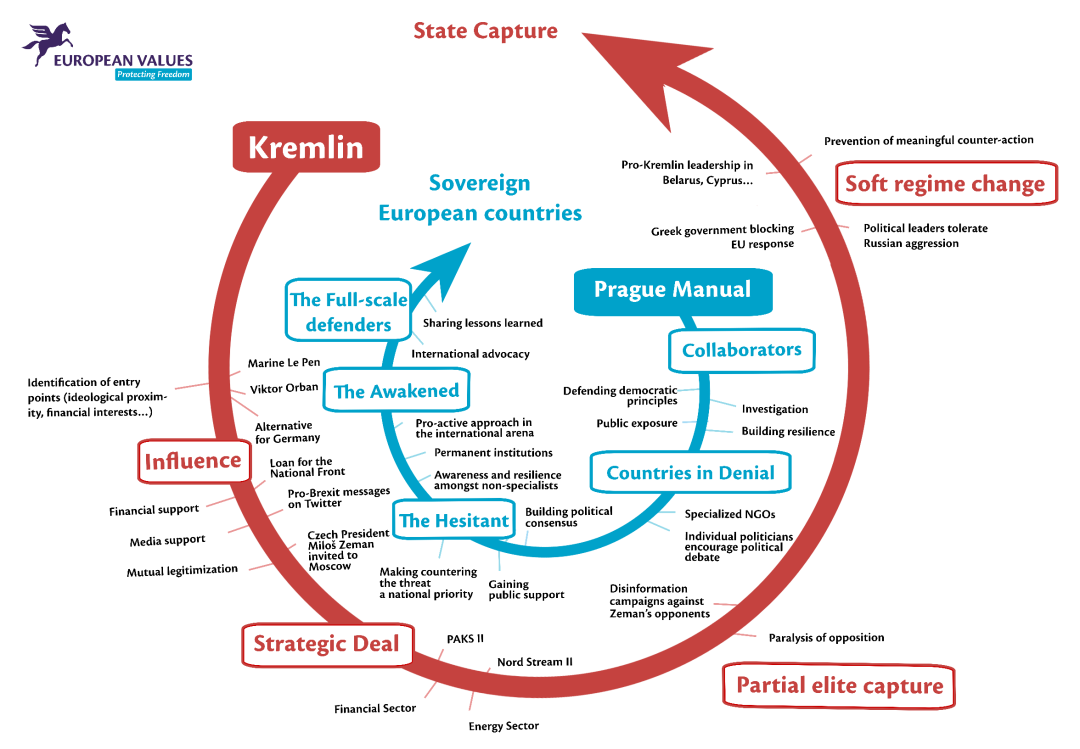 The last week has been rife with emotional and critical debate regarding the staged murder of Russian journalist Arkadiy Babchenko, who resides in Ukraine. After becoming aware of a threat to Babchenko's life, the Ukrainian intelligence service SBU conducted a sting operation to save his life and apprehend the criminals behind the plot. The operation was successful and Arkadiy Babchenko survived, re-emerging a day later at a press conference in Kyiv with SBU officials. While many have praised the SBU for successfully pulling off such a complex and sensitive operation, others are criticizing the agency for contributing to the spread of disinformation and undermining the West's moral high ground in the conflict with Russia. While some concerns about the SBU's communication strategy may be valid, we should remember in our evaluation of this case that Ukraine is under ruthless hybrid assault by the Russian Federation, and that the SBU likely did not have viable alternative options to save Babchenko's life. Further to this point, we recommend reading a recent opinion by our non-resident fellow, Kateryna Kruk.
Topics of the Week
A new proposal by the European Parliament calls for greater scrutiny regarding foreign investment and would allow EU member states to screen such investments on grounds of security or public order.
A sanctioned Russian bank, VTB, has been lobbying in Washington to end US sanctions. It sought to influence members of Congress by throwing lavish parties, in violation of the Foreign Agents Registration Act.
The Polish defense ministry has officially asked the US to establish a permanent military presence on its soil in order to deter Russian aggression.
Russian channels are celebrating the new Italian government, hoping for the removal of sanctions.
Robotrolling: Only 7% of Russian-language Twitter users can be identified as humans or institutions, while 93% are classified as news account, bots, hybrid or anonymous accounts. In contrast, the English language space is more evenly distributed with a ratio of 45:55.
Good Old Soviet Joke
"You are sentenced for contravening Article 58… now 25 years of life are guaranteed for you!"
Policy & Research News
EU lawmakers seek greater scrutiny into foreign investment
The European Parliament's International Trade Committee (INTA) overwhelmingly approved a bold proposal that calls for greater scrutiny into foreign investment, reportedly in response to growing Chinese acquisitions in Europe. The proposal, part of a trade and investment package announced by the Commission in September 2017, will allow EU member states and the European Commission to screen such investments on grounds of security or public order. The aim of the proposal, according to the INTA press release, is "to ensure that foreign investments do not pose a threat to critical infrastructure, key technologies or access sensitive information." MEP Franck Proust, who presented the proposal, said: "We are not against foreign investment, but against strange investment." To foster member states' cooperation on foreign investments and share best practices, MEPs also suggest setting up a Commission-chaired Investment Screening Coordination Group. The proposal is to be voted upon by the European Parliament at its June 11-14 plenary session in Strasbourg.
Helsinki commission explains how to sanction rights abusers
The Commission on Security and Cooperation in Europe, also known as the US Helsinki Commission, an independent agency of the US government, released a how-to guide for sanctioning human rights abusers and kleptocrats under the Global Magnitsky Act. The seven-page document, published by the commission on May 24, includes a whole range of sanctions-related recommendations, including how to identify, compile and submit information on individuals who warrant sanctioning. Along with these technical tips, the guide also focuses on how to make the case that sanctioning a particular individual will serve US interests, an important consideration for sanctions decisions. The Global Magnitsky Act enables the US government to impose sanctions on the world's worst human rights abusers and most corrupt oligarchs and foreign officials by freezing their US assets and preventing them from traveling to the United States.
Canadian hacker jailed following FSB-commissioned email breach
Karim Baratov, a 23-year-old Kazakhstan-born Canadian citizen who assisted Russian FSB officers in hacking webmail accounts, has been sentenced to five years in prison, the US Department of Justice reported on May 29. Baratov, who was arrested in Toronto last year and extradited to the United States, pleaded guilty in November to hacking 80 accounts upon agreement with Dmitry Dokuchaev, a Russian FSB operative, in exchange for commissions. The targets, according to the prosecutors, included "Russian journalists, U.S. and Russian government officials and private-sector employees of financial, transportation and other companies." Baratov also admitted to hacking more than eleven thousand email accounts as part of his illegal hacking business which he ran from 2010-2017. Three other men, indicted in the case along with Baratov, remain in Russia.
US Developments
How a sanctioned Russian bank is trying to get the US to drop sanctions
An attempt by the Russian bank VTB to influence members of Congress by throwing lavish VIP parties in Washington was uncovered after a recent Freedom of Information Act lawsuit. That such parties were not disclosed in time represents yet another violation of the Foreign Agents Registration Act (FARA) by the bank's Washington lobbyists.
VTB has suffered under US sanctions since 2014 and has been actively lobbying to end the measures for several years. The bank's frequent failure to disclose its influence efforts points to the many holes in FARA, which was passed in 1938 to combat Nazi propaganda. FARA represents a major piece of US anti-propaganda legislation, requiring foreign entities to disclose their influence efforts within the US (last year, RT was notably forced to register under the law). However, according to The Daily Beast, the law is riddled with exceptions and has weak enforcement, as the VTB case ostensibly demonstrates.
VTB's lobbyists also delayed disclosing a series of 2016 meetings with government officials on the bank's behalf several months past the deadline imposed by FARA. The Department of Justice has grown tougher on FARA in recent years, especially after Russia's meddling in the 2016 election came to light. Despite the reported $1.2 million that VTB paid to one of its US lobbying firms, pressure has continued to mount against the bank; its chairman, Andrey Kostin, was included on the US list of sanctioned individuals in April 2018.
Poland requests a permanent US military base on its soil
The Polish defense ministry has officially asked Washington to establish a permanent military presence in the country. Poland has sought to increase military cooperation with the US since it joined NATO in 1999, and this desire has only increased in face of the growing Russian threat in the region since the 2014 annexation of Crimea. The goal of this strategy, according to the proposal, is to establish a force that "is necessary to present an unequivocal challenge and deterrence to Russia's increasingly emboldened and dangerous posture that threatens Europe." The proposal recommends deploying 15,000 US troops and 250 tanks, plus other armored vehicles.
Predictably, the Kremlin has expressed displeasure about the request. Kremlin spokesman Dmitry Peskov announced that such a move would harm the overall atmosphere in Europe and called such a move "expansionist", cautioning that Russia would take appropriate countermeasures.
Meanwhile, NATO's supreme allied commander and senior US general in Europe announced at a recent meeting in Weisbaden that he is seeking more troops, spy planes, and military resources to deter Russian aggression in Europe. General Curtis Scaparrotti said that deterrence of Russia in Europe is one of his central tasks, to which end he is requesting that more US resources be allocated from counter-terrorism efforts to addressing the Russian threat.
Academia in the spotlight:
US academics affiliated with sanctioned oligarch's think tank
A recent article has revealed that a number of US academics are actively affiliated with the Dialogue of Civilizations Research Institute (DOC-RI) – a think tank founded by Vladimir Yakunin, a former KGB general and current oligarch, known to be a close confidant of Vladimir Putin. The DOC-RI, in its mission to create a more "sustainable, inclusive, and fairer place for all mankind", has been instrumental in whitewashing Russia's international reputation and acting as an "instrument of Moscow's hybrid warfare" against Western liberal democracies.
In 2014, the US sanctioned Yakunin; however, the DOC-RI continues to recruit American scholars to grant the organization credibility and expand its outreach. Currently, eight academics are officially affiliated with the organization. It is startling that, amidst the questionable sources of Yakunin's income and the disinformation efforts of the DOC-RI, none of these professionals have broken their affiliation with the organization; in fact, some apparently remain entirely oblivious to Yakunin's sanctioning. That American academics are aiding the propagation of Russian influence and disinformation efforts is an abdication of social responsibility as well as a considerable security risk. Going forward, this issue should be closely monitored; universities and academic councils should also develop a policy to discourage staff from cooperating with individuals sanctioned by the US government.
Former US intel chief:
"Russian efforts affected the outcome" of 2016 election
James Clapper, the former national intelligence director, has published a new memoir titled Facts and Fears: Hard Truths from a Life in Intelligence, in which he describes as "staggering" the evidence that Russia affected the outcome of the 2016 US presidential election. In his memoir, Clapper outlines extensive evidence regarding Russia's meddling and promotion of Donald Trump – the candidate who was expected to serve the Kremlin's geopolitical interests – and notes that "to conclude otherwise stretches logic, common sense, and credulity to the breaking point."
Clapper also cautions about the dangers of Trump's dismissal of inconvenient facts as "fake news" or a "witch hunt" and condemns his attitude of "aggressive indifference" regarding the Russia threat, despite incontrovertible evidence that the Kremlin has and continues to meddle in US domestic affairs and security.
The Kremlin's Current Narrative
Good and bad sanctions
Our beloved Russian media is celebrating good news from Italy: a coalition government of "friends of Putin" was sworn on June 1. Russia is now anticipating the changes this will bring to relations between the two countries.
Russian journalists have already suggested that the coalition's composition of Eurosceptic parties will boost relations between Italy and Russia. The present article also notes that "Italy strongly opposes European sanctions against Russia because of the damaging effect they have on Italian economy". This doesn't mean much in practical terms, however, since the author laments that "sanctions aren't decided by Rome, Athens or Paris but by Brussels and Washington". Could it be that even 'journalists' of the Kremlin propaganda machine have begun to realise that Western sanctions aren't going anywhere in the near future?
While Vzglyad is concerned about European sanctions against Russia, RT is becoming gleeful about the prospect of American sanctions against Iran. In an article titled "How US sanctions on Iran can help Russia win trade battle with European rivals", the author enthusiastically discusses the possibilities of Russian-Iranian cooperation, noting that "business of the countries under the U.S. sanctions have simply nothing to lose".
"Companies from Russia can simply ignore Washington's threats of imposing fines for trade with Iran or for conducting projects in Iran, the analyst says. Russian trade with Iran accounts only for $2 billion, but it can grow significantly, Pushkarev notes. "This is quite real because Russia and Iran are natural allies in Syria. Rosneft has preliminary agreements with Iran worth up to $30 billion, and even if only a small part of these plans are implemented with Russia, and not with European partners, it can be a significant gain for Moscow," he said."
Kremlin Watch Reading Suggestion
Robotrolling Issue 2
The recent issue of Robotrolling by NATO StratCom CoE analyses bot activity and anonymous users on English and Russian-language social media. It finds an overall shift away from bot accounts and an increase in anonymous accounts. This increase in anonymous activity is not only rising in relation to the decrease in bot accounts but also in absolute terms. This suggests that anonymous accounts are used to create fake identities aimed at promoting sponsored messages. The study also finds that only 7% of Russian-language Twitter users can be identified as humans or institutions, while 93% are classified as news accounts, bots, hybrid, or anonymous accounts. In contrast, the English language space is more evenly distributed with a ratio of 45:55. Therefore, the Russian-language space has six times the possibility of inauthentic content. Furthermore, Russian-language posts from bots and anonymous accounts increased by more than 250%.
The study also reviews the main trends and themes of bot and anonymous activity in Poland and the Baltic states. It finds that Russian-language bot activity was relatively low during the winter, but after the Skripal case and rising tensions in the Middle East, bot and anonymous activity concerning NATO increased sharply. Specifically, in Estonia, bots accounted for 55% of Russian language posts about NATO, which are modest figures compared to earlier ones. In Latvia, however, the number of Russian language posts has increased, and the proportion of bot activity has increased to 53%. Lithuania witnessed the lowest levels of bot activity on social media. In Poland, the purchase of the American Patriot air defence system attracted much commentary from anonymous users, both in Russian and English, which led to posts about NATO and Poland being approximately 40% higher than the equivalent for the Baltic states. This suggests that the online conversation was being manipulated by external actors.
Kremlin Watch is a strategic program of the European Values Think-Tank, which aims to expose and confront instruments of Russian influence and disinformation operations focused against liberal-democratic system.