Policy & Research
Russia's lack of interest in the Geneva talks
Russia's involvement in Kazakh protests
U.S. Developments
Kazakhstan adds uncertainty to US talks with Russia on Ukraine
Europe & U.S. work to appear united as they get set to face off with Russia over Ukraine
Kremlin's Current Narrative
Kremlin pushes the line of European disunity during Ukraine talks
Kremlin undermines US role in regional politics
Taipei News
Good Old Soviet Joke
A schoolboy wrote in his weekly essay: "My cat just had seven kittens. They're all communist."
The following week, the boy wrote: "my cat's kittens are all capitalist."
The teacher called him up and asked him to explain the sudden change. "Last week, you said they were all communists!"
The boy nodded. "They were, but this week they all opened their eyes."
Policy & Research
Russia's lack of interest in the Geneva talks
Representatives from Russia and the U.S. concluded a series of talks in Geneva concerning the security threat in Ukraine. Further talks hosted by NATO and the OSCE will follow in the coming days but there seems to be little hope that they will prove effective. Russian Deputy Foreign Minister Ryabkov stated before the talks that Russia would not make any concessions under U.S. pressure. Although US and Western officials were optimistic for dialogue, Russia's firm position minimizes the prospect of effectively resolving the war in Ukraine's East. Russia has demanded that NATO and the West give guarantees of not expanding into the post-Soviet space. The Kremlin also wants a reduction of troop and weapon deployments in Eastern Europe. This stance also makes sure that it asserts influence over Eastern Europe and minimizes the chances of Western presence increasing in the region.
Russia's involvement in Kazakh protests
Kazakh President Tokayev thanked "Russia's Vladimir Putin for sending 2,500 soldiers" through the Collective Security Treaty Organization to deal with protests across the country triggered by a rise in fuel prices. Although the protests have died down there are still many questions regarding Russia's interest in Kazakhstan and how long Russian troops will stay there. Russia sees the Kazakh protests having a destabilizing effect on the region with the fears of them possibly spreading across the country and being influenced by so-called foreign actors. The move from Russia's shows its strategic importance of gaining influence into the region by supporting Tokayev's government. It also reinforces its power by showing how external governments rely on Russian support to maintain power and legitimacy.
U.S. Developments
Kazakhstan adds uncertainty to US talks with Russia on Ukraine
Russia's decision to send paratroopers into Kazakhstan has raised additional uncertainty into upcoming US talks this week over a possible Russian invasion of Ukraine. The question is if the unrest in Kazakhstan has changed the decision-making of Russian President Vladimir Putin as he weighs his options in Ukraine.
Experts have speculated that the conflict in Kazakhstan could make Putin more open to compromise, while other experts say that Russia's intervention into Kazakhstan may add new urgency to shore up Russia's power in the region with former Soviet countries. The protests in Kazakhstan began on Jan. 2 over a doubling of gas prices and discontent with the current authoritarian government.
Russia entered Kazakhstan with its troops on Thursday after Kazakh President Kassym-Jomart Tokayev invoked the help of the Russian- led Collective Security Treaty Organization (CSTO). The next day, the Kazakh President ordered forces to shoot any protestors that do not surrender. Roughly 8,000 people have been detained by the police so far.
The tensions have led to Washington and Moscow exchanging jabs. On Friday, US Secretary of State Antony Blinken said that Kazakhstan might have a hard time getting Russian troops to leave. The Russian foreign ministry called his remarks "typically offensive" and told Washington to analyze its own track record of interventions in countries like Iraq and Vietnam.
The US has warned for weeks that Putin has stained troops near Ukraine with the possible intent of invading Ukraine. Washington and Kyiv have heightened their cooperation on intelligence and security. In exchange for easing tensions with Ukraine, Putin demanded that NATO halt membership plans for Ukraine. Both the US and NATO rejected the demand.
Europe & U.S. work to appear united as they get set to face off with Russia over Ukraine
With the threat of war in Ukraine, the West hopes that talks between the US and NATO this week will help avert a conflict. But officials and experts added that another crucial element is making sure Washington and its European allies resolve any suggestions of disunity on how to approach Russia. According to experts, if Russian President Vladimir Putin thinks that a European ally like Germany or France is distracted or unwilling to step up, the risk of invasion becomes higher.
There have been hints of division between the US and its European allies. The former Soviet Baltic nations Russia want a hard-line approach including bolstering NATO's troop presence. Meanwhile, French President Emmanuel Macron has called for a "reset" in Russian relations last June. Then-German Chancellor Angela Merkel also resisted calls to scrap the Nord Stream 2 pipelines. Both countries rely on Russia for their natural gas supply.
Yet under the new German government, Foreign Minister Annalena Baerbock struck a tougher tone than Merkel, warning that Putin would pay a high price for invasion. US Secretary of State Antony Blinken also pushed back against suggestions of a rift, saying there was a "strong coordination and collaboration" between the US and its allies.
The US has not yet revealed exactly what it would do to Russia beyond extreme financial punishments. Some officials have speculated the measures might include cutting off Russia from SWIFT, the international payment system. This action would isolate Russia from the world's banks. The NATO-Russia Council will meet in Brussels on Wednesday.
Kremlin's Current Narrative
Kremlin pushes the line of European disunity during Ukraine talks
One RT article attempts to forge a line of disunity between the US and the EU regarding the Geneva talks. It mentions that the European Union plans to submit its own proposals for European security architecture in the format of the Russia-NATO Council and a Moscow-OSCE meeting. The EU's lack of participation in the US-Russia talks is presented as being indicative of internal EU disunity, as "the union cannot work out a common foreign policy position."
In line with this argument, an expert consulted by RT, Vladimir Batyuk, chief researcher at the Institute of the USA and Canada, argues that "prospects for European foreign and security policy are extremely low. And the point here is not a lack of resources in a united Europe, but a lack of political will and unity within the union".
According to him, the EU includes "many different countries with very different ideas about the real source of threat to security for Europe" – this argument thus attempts to underplay the severity of the Kremlin's threat to Ukraine.
Kremlin undermines US role in regional politics
It is not only the EU that Russian media has attacked – in line with the Geneva talks, but the Kremlin has also equally attempted to undermine the US. RT reports that Russian Deputy Foreign Minister Sergei Ryabkov stated Moscow does not plan to discuss events in Kazakhstan with Washington during the talks in Geneva, since this topic "has nothing to do with the Americans". The Kremlin is pushing a line of US uselessness in Central Asia and Russia's primary role in regional politics, which it has recently asserted in Afghanistan as well as extremely recently in Kazakhstan through the CSTO.
Ryabkov noted that the United States "must understand that their attempts to see the hand of Moscow everywhere and in everything are predictable and empty".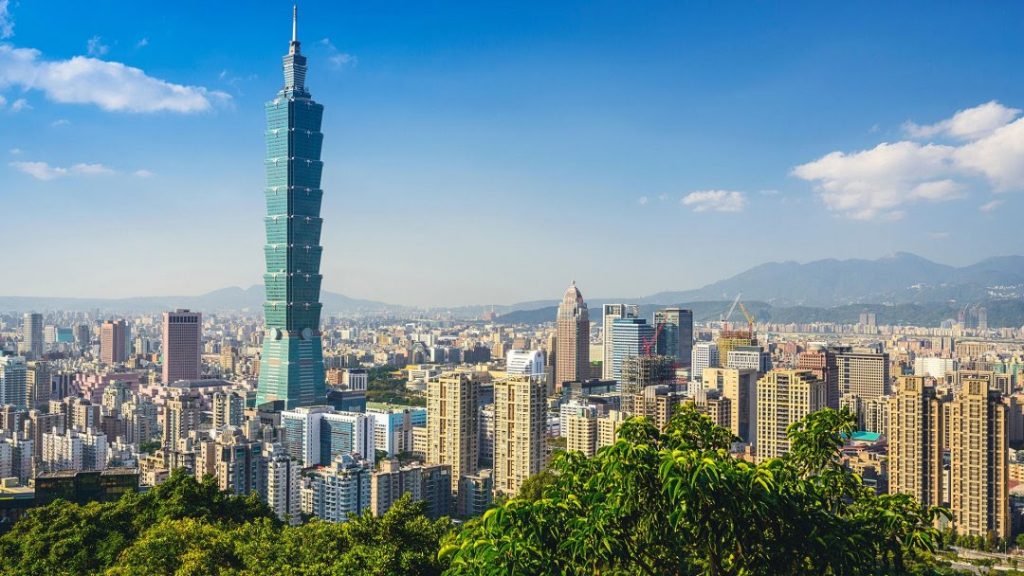 Taipei News
The parliament of the Republic of China (Taiwan) passed a record defence budget this week when it added 8.6 billion dollars to the amount designed for military spending. Already the original annual budget for the next year itself was the highest ever recorded, a fact which confirmed the increasing willingness and determination of Taipei to face and endure the pressure coming from mainland China. The finances to be used for the Taiwanese navy, air force, and army in 2022 climbed to 17,8 billion dollars in total. The additional amount was added to the original budget this year in order to provide the Taiwanese army with hi-tech missiles and mass-manufacture high-efficiency naval boats and ships as soon as possible, especially to strengthen Taipei's sea and air capabilities, the spokesperson of the government stated.
This development comes as an apparent answer to Chinese actions of recent months when its aircrafts and ships countlessly breached Taiwanese territorial waters and when, moreover, Beijing openly informed about military exercises meant to simulate an invasion into the island country. At the same time, by radically increasing its military budget and shifting to more advanced technologies, Taiwan not only seeks to deter China but also to comply with the demands of its main ally, the U.S. It was the American military and political leadership who made clear to Taipei that they would like to see a shift from a nowadays big yet less trained army of conscripts to a lighter and more flexible, asymmetric force. The last events and changes in the financing of Taiwanese armed forces show, that the process of evolution from quantity to quality did not cease at words only and finally commences to materialize. Last but not least, the increase of funds also aims to show that the air force still belongs among the Taipei government's priorities after a series of recent fighters' accidents.
Kremlin Watch is a strategic program of the European Values Center for Security Policy, which aims to expose and confront instruments of Russian influence and disinformation operations focused against the liberal-democratic system.