Topics of the Week
Norway is stepping up its game against Russian and Chinese influence.
Donald Trump has gone to great lengths to hide details about the content of his meetings with Putin from senior administration officials.
The Kremlin's Current Narrative: Buying energy resources from Russia would save the Ukrainian economy.
innish Institute of International Affairs recommends that Western democracies establish social media observatories and increase transparency of funding for think-tanks and academic institutions.
Good Old Soviet Joke
A Soviet space shuttle crashed.
All its crew members were found in the wreckage: the ship carpenter, the captain, and the propagandist.
Policy & Research News
Norway steps up its game against authoritarian regimes
In a significant political move against the Kremlin, Norway's Defence Minister used his new year's speech to call out Russia as his number one national security concern. While Mr. Bakke-Jensen stated that Norway still maintains close ties with the Russian people and cooperates with Russian authorities on certain fronts such as research and border control, he was explicitly critical of the Kremlin's posture in Crimea and emphasized that the security situation in Europe has changed indelibly as a consequence. In the speech, Mr. Bakke-Jensen also called for further cooperation with the United States and NATO in order to ensure Arctic security, as well as for continued increases in Norway's military spending.
Norway is also considering action against Chinese telecom giant Huawei. The government may follow other Western states in blocking Huawei equipment from being used in the development of the country's new 5G network. Although Norwegian Telenor and Telia already use Huawei equipment in their 4G infrastructure, the 5G networks could be more vulnerable to attack. The United States, Australia, and Britain have already taken steps against Huawei for security reasons, with Britain going so far as replacing all existing Huawei equipment in its 3G and 4G networks.
The Czech government has published a statement warning citizens against the possible security threat of Chinese technology, based on a report issued by the Czech National Cyber and Information Security Agency (NCISA). The warning listed all phones and hardware from Huawei and ZTE, as well as all software created by both companies.  The NCISA director, Dušan Navrátil, cautioned that all telecom companies in China are required to work with the country's intelligence services, meaning that their technology may allow Chinese intelligence to collect data without the users' knowledge.
The elderly are the biggest distributors of disinformation
In a widely discussed report, The Verge shares the findings of new study carried out by researchers at Princeton and NYU. The study found that age was the single best predictor for people sharing disinformation online, even after controlling for other factors like sex, race, income and – most astonishingly of all – party affiliation. A remarkable 11% of people over the age of 65 shared fake stories, compared to only 3% of those between 18 and 29. The study also reaffirmed the previously studied connection between disinformation sharing and party affiliation, finding that Republicans share fake news more frequently than Democrats (18% vs. 4%).
The study suggests that Facebook should make verified news stories appear noticeably different from clickbait, since the two types of content currently appear identical on people's newsfeeds.  It also highlights the need for digital literacy, and especially media training for older generations, in addition to programs being run in schools. The older generation and its inclination to share and consume disinformation should not be neglected, especially since older people are often the most disciplined voters.
The US should follow the Baltics' example
The 116th US Congress will be the first to directly address the issue of disinformation,  previously only dealt with by US intelligence agencies. As the new Congress looks to develop a strategy for countering Russia's digital influence campaigns, Terry Thompson suggests following the Baltic model of preparedness and deterrence. The lessons from the cyber-attacks against Estonia in 2007 produced collaboration between government and institutions, and led to the formation of special response teams trained to deal with cyber incidents. Public awareness of disinformation in the Baltics has grown through civil society organizations like the Elves and the StratCom Centre of Excellence, which is a model that the US should try to emulate, according to Thompson.
At Kremlin Watch, we agree with Thompson's assessment of the Baltics – according to our research, the Baltics countries are much better prepared to resist Russian cyber influence than most of Europe.
US Developments
MIT distances itself from Russian oligarch
The Massachusetts Institute of Technology, one of the wealthiest and most prestigious universities in the world, has moved to end its longstanding relationship with Russian oligarch Viktor Vekselberg. Vekselberg's relationship with MIT began during the Russia reset under the Obama administration, following Vekselberg's role in establishing the prominent Skolkovo initiative – a Kremlin-backed technology research and entrepreneurship program popularly known as Russia's Silicon Valley. Vekselberg sought to partner with a top-notch US university to house the initiative and found a willing patron in MIT, which entered into a $300 million deal to establish the Skolkovo Institute of Science and Technology near Moscow.
MIT elected Vekselberg to its board in 2013 – a move that intimated the depth of the relationship – but quietly removed him in 2018 following the US Treasury Department's decision to list him and his business group among the Russian officials, oligarchs, and companies to be sanctioned for advancing the Kremlin's hostile influence efforts. The news remained unreported until now, indicating the sensitivity with which American companies and organizations are addressing their ties to blacklisted Russian actors in context of the deepening fallout between Washington and Moscow. For more information on Vekselberg's ties to MIT and, more broadly, the insidious web of connections between other Russian oligarchs and Western intellectual institutions, we recommend reading this report, written by Kremlin Watch Special Fellow Kateryna Smagliy.
Trump hid details of Putin talks from senior US officials
New reports reveal that US President Donald Trump has gone to apparently extraordinary lengths to hide details about his face-to-face conversations with Vladimir Putin from senior officials in his administration. On at least one occasion, in perhaps the most egregious example of these efforts, Trump confiscated the notes made by his interpreter and instructed him not to discuss the content of the conversation with other administration officials. This incident occurred after a 2017 meeting with Putin in Hamburg, which was also attended by then-Secretary of State Rex Tillerson.
Trump's efforts to conceal his interactions with Putin are a habitual problem. As a consequence, US officials report that no detailed record exists – even in classified files – of Trump's in-person interactions with Putin over the last two years. This dearth of information about the interactions of a US president with one of America's greatest adversaries is wholly unprecedented. Trump has predictably lashed out over these news reports and denied the accusations, claiming that he "couldn't care less" if details of the conversations become public. Democrats, meanwhile, have raised the possibility of subpoenaing the notes from the 2017 incident.
FBI opened an inquiry to investigate whether Trump was working for Russia
After Trump fired FBI Director James Comey in May 2017, senior Bureau officials became so concerned about the president's actions that they opened an inquiry into whether he had been working on behalf of Russia against US interests. Officials familiar with the inquiry explained that if Comey had been dismissed in order to impede or shut down the Russia investigation, that constituted both a possible crime and a major national security concern. Of particular concern were two instances when Trump linked Comey's firing to the Russia investigation.
Trump responded to the revelations in a lengthy Twitter outburst that made a series of false claims about his opponents, including Hillary Clinton and James Comey, and the events surrounding the inquiry.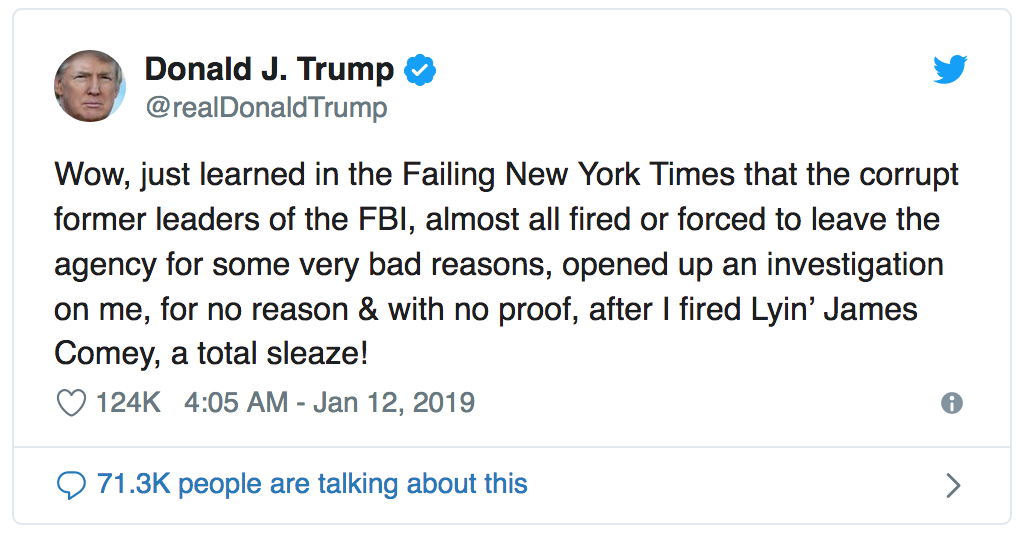 Russian and US diplomats to meet over INF treaty
Russia's Deputy Foreign Minister Sergei Ryabkov has stated plans to meet with US Undersecretary of State Andrea Thompson in Geneva this week to discuss the dispute over the INF arms control treaty that the United States has threatened to abandon due to Russia's violations. Washington declared its intent to withdraw from the treaty back in October and gave Russia a February deadline to address concerns and come into compliance.
The Kremlin's Current Narrative
Concealing truth and distorting language
It is no secret that Russian state media have been working overtime for years to skew the perception of reality in Ukraine, making the nation out to be completely vulnerable and helpless without the Russia's oversight. In the most recent example, media outlets have begun reporting how, through Ukraine's purchase of energy resources from Russia, the latter serves as the "savior of the Ukrainian economy." This narrative is particularly ironic considering the Kremlin's stranglehold over Eastern European energy politics and the geopolitical motivations behind its Nordstream II pipeline. Similarly, Russian media outlets have been engaged in a persistent smear campaign against Ukrainian President Petro Poroshenko, portraying him as both unfit to rule and an "irrational warmonger."
These machinations belie the desperate position in which the Russian government finds itself. Through such stories, along with constant false claims that Ukraine is allegedly preparing for war against Russia, the Putin regime's media minions continue to whitewash Russia's crimes against Ukraine and present the nation as a "victim of encirclement." In addition, such stories continue to sow discord and confusion among Ukrainian citizens, which is especially concerning given the country's upcoming presidential elections.
Kremlin Watch Reading Suggestion
Tackling democratic vulnerabilities in the post-truth era:
Domestic and international responses
The Finnish Institute of International Affairs released a briefing paper this past month on the post-truth era and the accompanying threats to liberal democracies. Nicolas Tenzer outlines how both external and internal actors use nationalist, anti-immigrant, religious, and Eurosceptic narratives to weaken the democratic order and democratic institutions. He divides the methods of undermining democracies into four categories: cyber threats, hard propaganda (the intentional spread of lies), soft propaganda (reinforcement of relativism and 'whataboutism'), and the de-legitimisation of liberal values.
Democracies cannot retaliate in the same manner that they are attacked due to accountability and rules of law such as the presumption of innocence. Tenzer further asserts that Western democracies are unacquainted with war, and as such are unaware of a direct enemy. Many political leaders exacerbate this issue by undertaking a 'head in the sand' strategy when it comes to disinformation.
The briefing paper recommends that countries create a permanent observatory of social media and increase think-tank, university, and research centre funding transparency. Further, individuals involved in propaganda activities should be carefully examined and, in the case of public officials, exposed. There must be a response to propaganda, and the refutation of lies cannot be seen as an optional activity by political officials. On the EU and international level, exchanging information about individuals involved in disinformation and the methods they use is essential for creating awareness and boosting state reaction effectiveness.
Kremlin Watch is a strategic program of the European Values Think-Tank, which aims to expose and confront instruments of Russian influence and disinformation operations focused against liberal-democratic system.