NEW KREMLIN WATCH REPORT
External Propaganda in the Republic of Moldova:
Lessons for the Moldovan Government and the International Community
Kremlin Watch Special Fellow Vladislav Saran has written a new report that summarizes the main countermeasures against disinformation and propaganda taken by Moldovan authorities, evaluates their effectiveness, and offers recommendations for the government and especially for the international community, including measures for strengthening civil society and improving media literacy in the country.
For example, the report suggests greater international support for the following activities:
Training Moldovan journalists together with their counterparts from Ukraine and Romania,
Monitoring media content aimed at uncovering external and internal disinformation and propaganda,
Investment into anti-corruption institutions, and
Support for active citizens and strengthening media literacy, with a special focus on rural areas of Moldova.
Read the full report on our website.
Topics of the Week
The Huawei hustle: Global reaction to Huawei's technology grows as Canada debates blocking the firm's equipment from the nation's new 5G networks.
The Democratic National Committee claims it was targeted by Russian hackers after the 2018 midterm elections.
The Kremlin's Current Narrative: Russia shifts closer to rogue nuclear stance.
New report by the Macdonald-Laurier Institute recommends that the Canadian government establish a National Centre for Strategic Communications and Digital Democracy.
Good Old Soviet Joke
Yeltsin calls Clinton:
"Mr. President, I would like to express my sincere condolences for the failure of your space shuttle."
"But our space shuttle will be launched in five minutes!"
"Oh, I'll call later then."
Policy & Research News
The Huawei Hustle
International reactions to Chinese telecom firm Huawei continue to grow.  Canada is the last of the Five Eyes intelligence network to take a public stance against the company, as it now debates blocking the firm's equipment from the nation's new 5G networks for security reasons. This adds to the tensions between Canada and China, following Canada's recent detention of Meng Wazhou, Huawei chief executive officer and daughter of Huawei founder, on the request of U.S. authorities. In apparent response, China arrested two Canadians (including a former diplomat) and issued a death sentence for a third.
With the recent discussions over Huawei, Chinese diplomat to Canada Lu Shaye said that Canada would face repercussions if the company faced restrictions. In a public statement about the issue Prime Minister Justin Trudeau said:
"When a country like China starts to mix commercial interests with the imprisonment of citizens from another country, we are in situation where the application of the rule of law is not at the forefront."
Australia, New Zealand, and the United States have all officially barred Huawei from their new 5G networks. Britain has not officially barred the company, but BT Group, one of the largest carriers in the UK, has announced that it will not be buying its new 5G equipment from Huawei and will go as far as to remove all existing equipment from it 3G and 4G networks.
In Europe, France's Orange will not be using Huawei, while Germany, Italy, Norwayand Poland are considering taking political action against the company. In Asia, Japan and South Korea have also banned the firm from supplying new 5G technology. The policies in all concerned countries is based on security concerns that Huawei technology could easily allow access of Chinese intelligence.
Facebook removes two new Russian campaigns
Facebook announced that it recently identified two new disinformation campaignsoriginating in Russia and consequently removed 500 inauthentic accounts and pages.  Some of the accounts and groups were linked to employees of Sputnik, which makes this the first campaign to be linked directly to an official Kremlin source. The pages were dedicated to mostly non-political topics like sports, travel, and other special interests, but were used to spread Sputnik's content that often contained pro-Russian and anti-NATO messages. The campaign targeted 13 countries, chiefly along Russia's borders in Europe and Central Asia. While Sputnik declared Facebook's move as pure censorship, Facebook remained firm, stating that the fake accounts for all countries were created at the same time and worked in a coordinated manner, demonstrating that this was a clear disinformation campaign.
Connections between Brexit and Trump
Jane Mayer, an award-winning investigative journalist for The New Yorker, recently spoke to NPR about the similarities of the interference in the Brexit referendum and the US presidential election.  Mayer has written extensively about Russian connections to the Trump campaign – her analysis "How Russia Helped Swing the Election for Trump" provides an excellent overview of the issue.  In the NPR interview, she highlights how similar the tactics were in both countries – the Russian Internet Research Agency, the same influencers, including Steve Bannon and Robert Mercer, and the tactics of Russian bribery.  The latter included gold and diamond mines being given to Aaron Banks by the Russian ambassador to England.
US Developments
DNC targeted by Russian hackers who posed as State Department official
The Democratic National Committee has filed court documents claiming that, in the days following the 2018 midterm elections, it was targeted by Russian intelligence hackers who impersonated a State Department official. The attempted hack involved dozens of spear-phishing emails sent to DNC employees, under guise from the State Department, which included a PDF attachment that, if opened, was bugged to grant access to systems through the recipient's computer. Sources from the DNC believe that the attack was not successful.
The court filing is part of an ongoing civil lawsuit by the DNC against the Russian government, Wikileaks, and President Donald Trump, among others. The documents claim that the latest spear-phishing campaign was likely conducted by the notorious "Cozy Bear" Russian hacking group, based on its shared features and timeline with another suspected Cozy Bear operation identified by the cybersecurity company FireEye.
US calls on Russia to destroy INF-violating missile system
Washington is requesting that Russia destroy a missile system that it claims is in violation of the Intermediate-Range Nuclear Forces (INF) treaty, from which the US is now poised to withdraw. The 1987 treaty bans ground-launched nuclear and conventional missiles with ranges from 310 to 3,417 miles. On its basis, Washington and Moscow removed around 2,700 short- and medium-range missiles from the front lines of the Cold War. The nullification of the landmark agreement is feared to pave the way for a new arms race.
Robert Wood, the US disarmament ambassador, says that the US believes Russia's SSC-8/9M729 cruise missile (which can carry both conventional and nuclear warheads) violates the terms of the INF treaty, since it has a range of between 310 and 620 miles. Russia initially denied developing the weapon, but NATO diplomats now say that Moscow acknowledges its existence, while denying that it violates INF terms. Russia has offered US inspectors access to analyze the SSC-8 in order to preserve the treaty, but the White House declined the proposal on grounds that it is not genuine and could not be verified.
With two weeks left before Washington's expected withdrawal, Wood urged that there is still time for Russia to destroy the missile system, which he described as a "potent and direct threat to Europe and Asia". Russia appears to have rejected that request, with Russian diplomat Alexander Deyneko stating, "We shall not yield to any ultimatums like to liquidate or to eliminate [a] missile that doesn't fall within the range of the treaty prohibitions."
New missile-defense strategy reorients towards great-power competition
Last week, Trump unveiled the Pentagon's long-awaited Missile Defense Review, which outlines a number of potential high-tech systems to identify and shoot down threatening projectiles, including from outer space. While Trump did not explicitly name Russia and China as key threats to US security during his speech at the Pentagon, the message was unmistakably aimed at these rivals, which have made a public display of their advances in the development of new weapons such as ultrafast missiles.
The new strategy signals the US military's efforts to reorient itself from its two-decade focus on terrorism to new frontiers in great-power competition. At present, however, the strategy is vague on certain practical considerations including cost and resources, and focuses primarily on technological and hardware solutions that are either unreliable or verging on speculative. Ultimately, the challenges stemming from Russian and Chinese great-power aspirations and weapons development are a political problem, not a hardware/tech problem. To get ahead of the threat, the US will have to formulate a more comprehensive defense strategy that also takes the former into account.
Did Trump direct Michael Cohen to lie about the Moscow project?
On January 17th, BuzzFeed published a bombshell report claiming that President Trump had ordered his longtime attorney, Michael Cohen, to lie to Congress about negotiations to build a Trump Tower in Moscow. The report was based on information provided to BuzzFeed by two federal law enforcement officials involved in an investigation of the matter. Allegedly, Trump also favored a plan, set up by Cohen, to visit Russia during the presidential campaign in order to meet Vladimir Putin in person and expedite the negotiations. "Make it happen," the sources said Trump told Cohen. Furthermore, the sources claimed that Trump, as well his children Ivanka and Donald Trump Jr., received regular updates about the status of the project from Cohen, all while Trump was vocally denying that he had any business deals with Russia.
However, in a rare move following the publication of BuzzFeed's report, the office of Special Counsel Robert Mueller issued a vague statement disputing elements of the report, noting only that "BuzzFeed's description of specific statements to the Special Counsel's Office, and characterization of documents and testimony obtained by this office, regarding Michael Cohen's Congressional testimony are not accurate." Cohen pled guilty back in November to lying about the deal in oral testimony and a written statement to two congressional committees.
But BuzzFeed has continued to stand by its story and remains confident in its accuracy. Ben Smith, BuzzFeed's editor-in-chief, tweeted: "We stand by our reporting and the sources who informed it, and we urge the Special Counsel to make clear what he's disputing." The two sources also apparently told BuzzFeed that Cohen told the special counsel that the president personally instructed him to lie after the election – namely by claiming that negotiations ended months earlier than they actually did – in order to hide Trump's involvement.
The Kremlin's Current Narrative
Russia shifts closer to rogue nuclear stance
On January 16th, U.S. and Russian officials met in Geneva, Switzerland, to discuss both the prevention of nuclear weapons development in Europe and the extension of the 1987 Intermediate-Range Nuclear Forces Treaty (INF). Despite the event, Washington plans to withdraw from the agreement due to Moscow's refusal to permit proper inspection of its new missile system, which the U.S. believes violates the treaty (see section US Developments above). Moscow officials were quick to lambast the diplomatic event as an "act of extortion" by the U.S., while also claiming that it is a diversion specifically crafted to "demonize Russia" and to establish Washington's "uncontested military domination in the world."
In response to U.S. plans to withdraw from the treaty due to Russia's violations, the Kremlin warned the U.S. about beginning another arms race and, in a predictable spin, claimed to be a victim of American hegemony, which is bringing the world to the brink of catastrophe. But this narrative is merely a disguise for the Kremlin's known unwillingness to adhere to its compliance promises, let alone concede anything that might limit its geopolitical influence in Europe and the wider transatlantic community. Rather, Moscow continues utilizing ominous warnings and shifting blame towards Europe and the U.S. in hopes of distracting from its own malign behaviour and whitewashing its political image.
Kremlin Watch Reading Suggestion
Stemming the Virus:
Understanding and responding to the threat of Russian disinformation
In a new paper published by the Macdonald-Laurier Institute, Marcus Kolga addresses the threat of Russian disinformation campaigns in the Canadian context, where federal elections will take place this year. He predicts that the Kremlin will launch a protracted and aggressive information campaign, for which the Canadian government must be prepared. Besides providing a comprehensive overview of the measures employed by the Kremlin, Kolga offers practical recommendations for the Canadian government. Above all, he calls for establishing the National Centre for Strategic Communications and Digital Democracy, which would be tasked with five primary activities:
Monitor, detect and identify disinformation and influence campaigns,
Develop strategies to combat and disarm disinformation and influence campaigns,
Increase cyber literacy and security awareness,
Work with social media and other tech companies on this issue, and
Expand existing and develop new international partnerships with various domestic and international organizations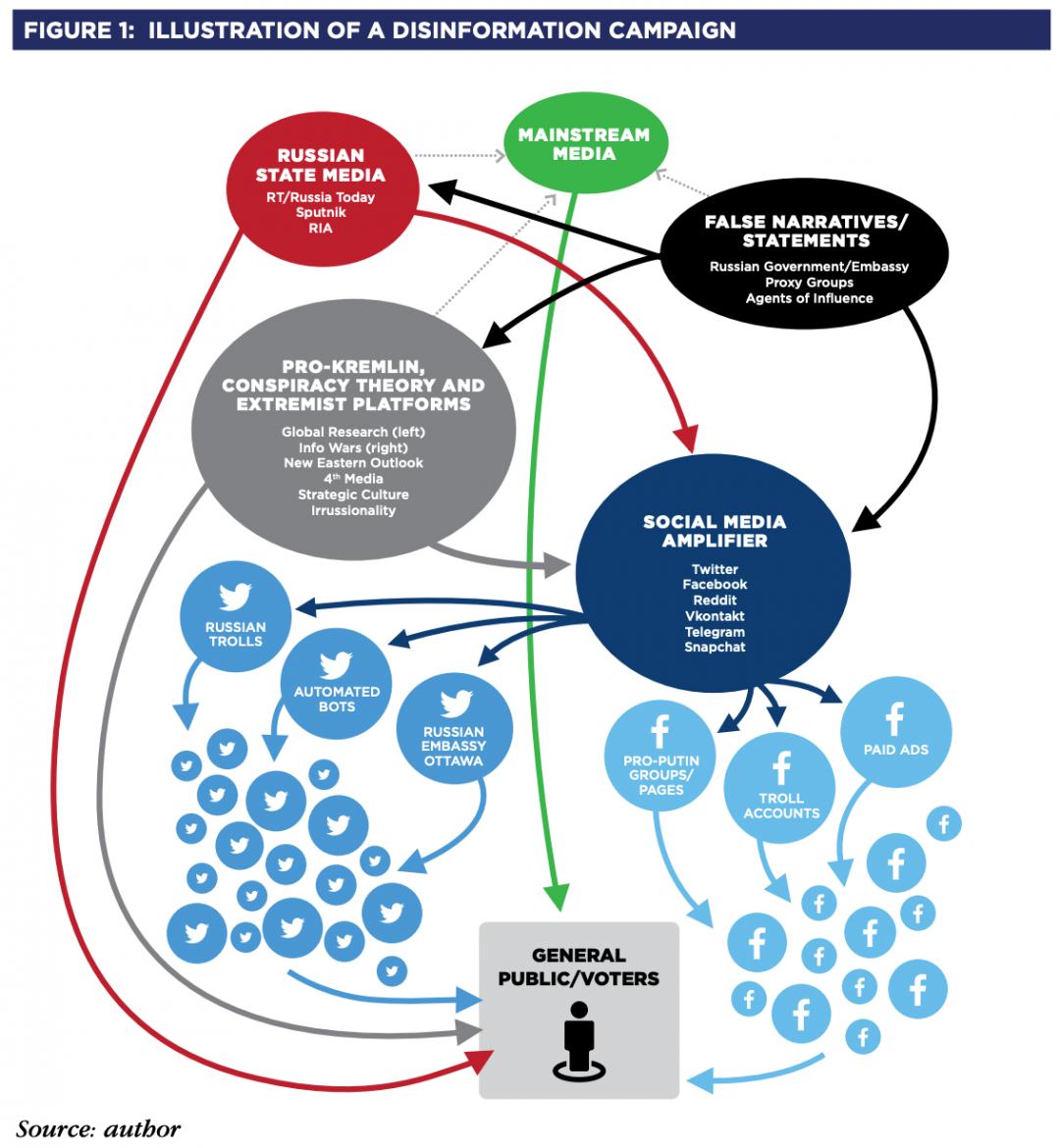 Kremlin Watch is a strategic program of the European Values Think-Tank, which aims to expose and confront instruments of Russian influence and disinformation operations focused against liberal-democratic system.