Topics of the Week
The UK Digital, Culture, Media and Sport Committee published its final report on disinformation with multiple recommendations, including the necessity of social media to take legal responsibility for harmful content and the reform of electoral laws.
Three online video channels targeting American millennials have been suspended by Facebook due to evidence they are funded by the Russian government.
New Robotrolling: On the social network VK, only 14 % of messages about NATO in the Baltic States and Poland are produced by recognisably human users.
Good Old Soviet Joke
During the excavations of ancient Rome, unknown wires were discovered in the ground. Probably, ancient Romans already used the phone.
During the excavation in the lands of the old Russia, no wires were discovered. Most probably, the old Russians already communicated with mobile phones.
Policy & Research News
New British report summarizing the inquiry into disinformation
On Monday morning, the UK House of Commons Digital, Culture, Media and Sport Committee's final report on disinformation and fake news was finally released. It is the result of a parliamentary inquiry spanning 18 months and of an "International Grand Committee", the first of its kind, involving elected representatives from eight countries. The report notes firmly that while propaganda and biased information have always existed, the current situation is radically different in terms of the level of threat that they pose to the ability to engage in a reasoned debate and to democracy itself.
The report mentions a "clear and proven" Russian influence in foreign elections – with a specific focus on the 2016 U.S. presidential election – and discusses at length the involvement of Russian-affiliated individuals and shell companies with the Leave campaign during the UK's 2016 EU membership referendum. It also cites research by Cardiff University which proves how Russian troll accounts attempted to fuel social and racial tensions following IS terror attacks that occurred in the UK in 2017 and 2018 or made efforts to fill the Internet with competing narratives about the Sergei Skripal poisoning in March 2019.
The report calls for the UK government to state clearly how many investigations are currently being carried out into possible Russian interference in UK elections and recommends further investigation into previous elections and referenda. The inquiry also calls on the UK government to adjust election law in order to fit current needs and purposes, especially with regards to online microtargeted content.
Among other notable recommendations, the UK report firmly states that social media companies should assume legal liability if harmful content is being published on its platform and should be required to publicize instances of disinformation when they occur. There should also be tighter regulations when it comes to selling user data to advertisers and political campaigns. Finally, the report stresses the need for sponsors of politically targeted content online to be identified so that voters can make more informed and independent choices.
North Macedonia frustrates Kremlin's efforts in the Balkans
The Kremlin has failed in its North Macedonia mission in the Balkans. Skopje and Athens have been moving along well in accordance with the landmark Prespa agreement, which was signed last summer. Their determination to end the old name dispute has reinvigorated the region's Western integration, Polygraph reports.
The aggression from the Kremlin has been less about North Macedonia as a specific area of interest and more about the will to create a Balkan buffer zone between NATO countries and Russia. The Kremlin argues that Macedonia might lose sovereignty in its foreign policy and that NATO is a remnant of the Cold War, stoking divisions along familiar lines.
Intelligence reports from within North Macedonia have reported on widespread Russian interference in leaked documents (from 2017). According to the documents, the campaign fully started after the 2008 NATO Summit when Skopje was first invited to join the Alliance. Originally, it consisted of classic diplomatic blocking and interference, however, over the past year or so it has become more pointed through the establishment of Russo-Macedonian cultural associations. Most recently, disinformation campaigns run through Sputnik and RT attempted to affect the referendum held on the name change and later the implementation of the Prespa agreement.
This issue has also been telling in terms of Greek-Russian relations. In an unprecedented move, Athens expelled two Russian diplomats in June 2018 due to events linked to the Prespa agreement, while Greek-Russian billionaire Ivan Savvidis has been proven to support activists fighting against NATO accession. Keeping this in mind, it will be interesting to see which part of the region will come into the crosshairs of agitation next.
Ukraine's 'White Book' narrativizes Russian disinformation campaigns
Not surprisingly, Ukraine has been the top target of Russian disinformation for many years, especially since the Euromaidan Uprising in 2013. The Ukrainian Ministry of Information Policy has now presented its summary of these activities in its "White Book of Special Information Operations Against Ukraine, 2014-2018."
The methodological approach of the Book is immediately interesting. As the authors note in the introduction, they liken the Russian intelligence service's attempts to manipulate the Ukrainian information space to the creation of a TV drama series. The first pilot episode introduces the characters and plot, assesses traction of the story, and can then built into an entire show with expanding seasons as the audience becomes expectant and ready to receive more disinformation. Trolls thereby begin to systematize their approaches, linking specific episodes into a greater narrative arc that targets specific audiences. Each episode, each season, and each show then fits into the narrative propaganda history of the entire disinformation campaign, further amplifying its effects and giving the 'production company' cohesion.
The main series of this entire production company then come into play in the chapter titles of the White Book. Most prominent are old themes like Ukraine's involvement with ISIL, the crimes of Ukraine's armed forces against Russian ethnic groups in the eastern regions of the country, the MH17 flight, and the ironic focus on "invisible" military units of Western powers in Ukraine. In the show about the MH17 flight, for example, Season 1 focuses on different iterations of alleging that Ukraine actually shot the flight down (episode 3 expands on this and claims the plane was filled with corpses). Season 3 then says that Ukraine is at fault for the downing of the flight because it did not secure its airspace.
This work by the Ukrainian government not only reads incredibly well but its structure hints that the production of these shows and episodes is a fluid process. Hopefully, a comprehensive analysis like this can point to weaknesses in the overall disinformation campaign while encouraging other nations to create similar summary documents of internal narratives.
Online Collection of Disinformation Resources
London South Bank University has compiled an online collection of resources on disinformation, including strategies fact-checking and digital literacy. The project also looked at the different responses to disinformation campaigns across multiple countries, while providing excellent research links to academic studies, government papers, and journalistic reports. In the United States, the research focuses mostly on election interference, with special attention on social media. In the United Kingdom, there is much more attention paid to journalism, particularly how to preserve journalistic integrity and stop 'fake news'.  At the level of the European Union, the resources mainly look at research and policy, gauging people's perception of disinformation and formulating effective policy.
US Developments
Prominent U.S. investor Michael Calvey detained in Russia
Michael Calvey, a U.S. citizen and one of Russia's most prominent foreign investors has been detained in Russia and is scheduled to have an arraignment in a Moscow court. Calvey is a founder of Baring Vostok, a billion-dollar investment company with a focus on Russia.  Baring Vostok has invested more than  $2.8 billion in 80 companies across Russia, Kazakhstan, Ukraine, and other parts of the former Soviet Union, and is noteworthy for primarily investing in Russia's internet, telecommunication, and financial sectors. Russian state news agency RIA Novosti reported that Calvey is being detained together with three Baring Vostok employees. Calvey and the other Baring Vostok employees are suspected of embezzling 2.5 billion rubles ($37.48 million) by persuading shareholders in a Russian bank to accept a stake in another firm at an inflated price. The Russian court has said that if found guilty they could face up to ten years in prison. Baring Vostok said in an official statement that the detention occurred because of a corporate conflict with the Russian Vostichny Bank, where they hold a stake, and stressed that their employees have been in full compliance with Russian laws. Michael McFaul, a former U.S. ambassador to Russia, tweeted: "If they can arrest Calvey, they are not afraid to arrest anyone. To my Americans friends still doing in business in Russia, it's time to come home." McCaul's tweet sums up the fact that Russia is increasingly becoming dangerous for foreign venture capitalists.
Russia backs a viral video company aimed at American millennials
Three online video channels designed to appeal to American millennials have been suspended by Facebook due to evidence they are funded by the Russian government. This is significant because the pages collected tens of millions of views. The pages were run by Maffick Media, a company whose majority stakeholder is Ruptly, a subsidiary of RT, which is funded by the Russian government. Maffick Media has hired American freelance journalists and contractors but is based in Germany. Facebook has suspended the three pages until they disclose where they are run from and their affiliation with Ruptly. Facebook has traditionally not required users to provide details about parent companies, but they are attempting to increase transparency about who actually runs Facebook pages and to counter covert disinformation from foreign governments. These steps are being taken because the Kremlin has shown that it will create fake Facebook accounts and cleverly make them appear as if they are run by American activists. A commonality amongst the three different Facebook video channels is that they featured journalists that had progressive left-wing anti-imperialist views, and much of the content was critical of the U.S. involvement in world affairs.
Pentagon report warns of Russian and Chinese threats to U.S. satellites
A recent Pentagon report said that Russia and China are building their capabilities to potentially threaten the superior position of the United States in space. Both nations are developing laser devices that could target U.S. satellites. This is alarming because American satellites play a critical role in global satellite imagery, nuclear weapons monitoring, and intelligence gathering. The two nations are also pursuing technology that will detect missile launches. This is occurring as China has been increasing their space program; in January they became the first nation to send a probe to the far side of the Moon. The report even says that Chinese weapons might already have the capability to employ laser systems against other satellites. Russia is possibly developing a ground-based mobile missile system capable of destroying space targets" in low-Earth orbit in addition to ballistic missiles. Space has been an area that the U.S., Russia, and China have cooperated in over the past few generations. However, the deterioration of American relations with China and Russia over the past year as well as Russia and China's advancement of their space technology has raised eyebrows. China said last Tuesday that the Pentagon report was without foundation, nevertheless, the growth of Chinese and Russian space capabilities and the need to protect U.S. satellites have been cited by president Trump as reasons why the U.S. needs a space force.
Kremlin Watch Reading Suggestion
Robotrolling 2019/1
The new issue of Robotrolling, regularly published by the NATO Strategic Communications Centre of Excellence, focuses on the Russian social network VK, systematically examining automated activity from robotic accounts and messages from fake human accounts. The conversation about NATO on this platform is dominated by pro-Kremlin groups and media, in addition to trolls and bots mimicking human behaviour. As a result, only 14 % of messages about NATO in the Baltic States and Poland are produced by recognisably human users.
Furthermore, the report finds that whereas on Russian-language Twitter, most human-controlled accounts are operated anonymously, on VK the majority are likely to be genuine. Social media manipulation can therefore have a significant impact on genuine discussions, as in the case of a fictitious Finnish blogger Veikko Korhonen, whose story was shared mainly by authentic users. Advertisers, journalists, politicians, and researchers increasingly consult social media to quantify public opinion and test the appeal of policies or ideas. In light of the efforts of Western social media to address the Kremlin's manipulation, VK can be seen as a cautionary case of a network with minimal privacy, regulation, and moderation.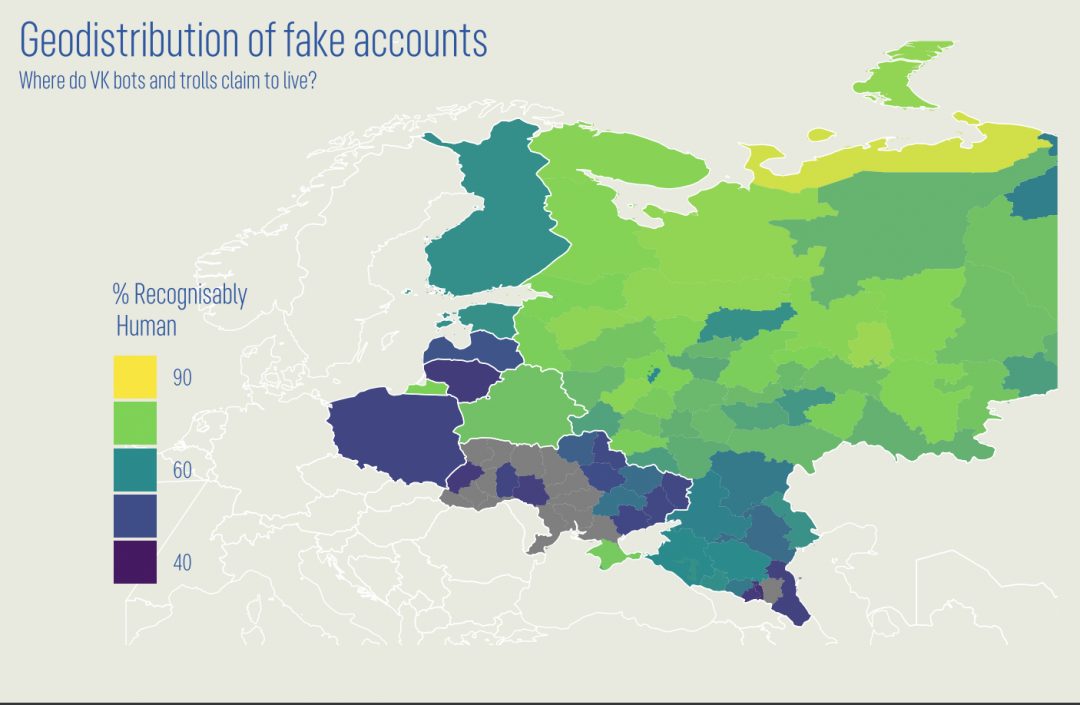 Kremlin Watch is a strategic program of the European Values Think-Tank, which aims to expose and confront instruments of Russian influence and disinformation operations focused against liberal-democratic system.