Topics of the Week
Twitter announced it will allow European users access to sponsorship information for political ads prior to the elections to the European Parliament.
Russian hackers are the fastest, according to the Crowdstrike Security Firm.
Kremlin's Current Narrative: Everyone wants war except Russia.
Do not miss Swedish MSB's handbook for communication officers.
Good Old Soviet Joke
Who would win a trivia contest "What do you know about USSR?"
The CIA agents.
Policy & Research News
Twitter to extend its political campaigns ads policy to EU States
Twitter announced on February 19th , that it would allow users access to the detailed sponsorship information for all ads "endorsing a party or a candidate." This information will include the target audience of the ad, the number of impressions and even billing information. The policy will take effect on March 11th, 2019.
The goal is to make it more transparent for the public at large to see who advertises or campaigns on Twitter in the European political context is. By making billing information available it will also be possible to know who is paying for content.
The process is enforced by a new verification procedure that ensures the identity of the creator, while also extending geopolitical boundaries into their Twitter realm. "Once proof of identity is verified, and advertisers meet our eligibility requirements, a letter with an access code will be posted to their address to confirm they are located within the EU."
The model for this new policy comes from past efforts in countries like Sweden, Germany, and Brazil. It fits into the larger efforts of Twitter to promote media literacy and "empowering independent research of foreign influence campaigns," a step that is especially important to the work of Kremlin Watch and its partners. This sort of action clearly shows Twitters commitment to helping transparent discourse and sets it apart from other digital media giants like Facebook, who have yet to take similar measures.
Germany's support of the Nord Stream 2 continues to strengthen Russia
According to Berlin Policy Journal, Germany has greatly underestimated the damage that its continued support for the Nord Stream 2 pipeline will do to its credibility and image. The pipeline construction goes against Europe's interests as a whole. It also destabilizes Ukraine – Russia reducing its dependence on the Ukrainian transit pipeline will reroute $3 billion annually. Even more importantly, Ukraine will lose leverage over Russia, which could allow for increased conflict in Eastern Ukraine. Germany's support for the pipeline therefore destroys its credibility in Ukraine, who is given every reason to think that Europe will not stand by its side if doing that clashes with economic interests. It also puts into question whether Germany can be trusted as a leader of the EU, particularly by its Eastern members, and in negotiations with Washington.
The article points out that the German government is seemingly oblivious to the strategic implications of the project. It has allowed for the project to continue to a point where it is nearly impossible to stop, and now prefers to play for time. This is a move that strengthens Russia's position. Only by rethinking its foreign policy and making a significant strategic shift to align its actions with the geopolitical realities can Germany regain its status as a credible leader and partner to the EU.
New Bulgarian unit will combat disinformation
The Bulgarian government is creating a new disinformation unit, which will start working by March. The unit will be in the structure of the Council of Ministers and will serve as the "contact point" for the European "Rapid Response System" led by the High Representative of the European Union for Foreign Affairs Federica Mogherini. While most details are not yet published, it is known that it will be coordinating relevant efforts across all national authorities, and collaborate with other EU Member States and the EC. This is a positive sign from Mogherini which shows that the EU Action Plan to Combat Disinformation is progressing with a welcome focus on cross-country collaboration.
Kremlin interference through financing in Italy
An journalistic investigation in L'Espresso claims to have uncovered deep financial connections between the Kremlin and the right-wing League Party. The report states that Matteo Salvini met with Dmitry Kozak, Russia's deputy Prime Minister to negotiate a deal that would send 3 millions tonnes of gasoline to Italy at discounted prices. Once sold through an intermediary company, the profits would finance the League's campaign in the European elections. The outcome of the deal is estimated at 250,00 euros a month for the next year. The authors where not able to find evidence whether or not the deal had been carried out, so currently the League is threatening to sue L'Espresso, but as the Guardian Reports this latest revelation is not the only connection between the League and the Kremlin.
US Developments
Russian hackers targeted the European offices of American think tanks
Microsoft recently said that Fancy Bear, a Russian hacking group thought to be linked to Russian military intelligence, recently targeted the European offices of the Aspen Institute and the German Marshall Fund. The German Council on Foreign Relations was also targeted.  The Fancy Bear Russian hacking group is also believed to have behind the Russian hacking of the 2017 Democratic National Committee. Tom Burt Microsoft vice president of customer trust and security said "[hacking] attacks are not limited to campaigns themselves but often extend to think tanks and non-profit organizations working on topics related to democracy, electoral integrity, and public policy that are often in contact with government officials."
The attacks on the three think tanks took place between September and December of 2018, and Microsoft has not revealed if the hackers were successful in any capacity, but right away helped the three think tanks secure their systems. The spokesperson for the German Marshall fund said that it did not appear that their security had been compromised, and the German Marshall fund president suggested that the Think Tank was targeted because its work has supported efforts to combat alleged attempts by Russia and other sharp powers to undermine European democratic institutions. Given that the hackings occurred in the midst of looming European elections, Microsoft said it would extend its Microsoft AccountGuard to cover 12 more European countries including France and Germany. The AccountGuard a cybersecurity software Microsoft offers to political candidates, non-profits, and nongovernmental organizations working on issues relating to democracy.
Russia will target U.S. if more missiles are put in Europe
After the American and Russian suspension of the  INF arms treaty, Putin has signaled that Russia will aim new weapons at the US, if the Americans station more missiles in Central Europe. While the tone of his speech was less belligerent than last year's speech, and primarily addressed domestic Russian issues, Putin did say that if the U.S. does deploy missiles that were banned by the INF treaty, "Russia will be forced to produce and deploy weapons that can be used not only against the territories from which we face this direct threat but also those where the decision is made to use these missiles,".
Former Russian diplomat Vladimir Frolov said that Russian nuclear targets already include command and control centers in the US, so Putin's statement is not a new threat. He also emphasized that Putin said Russia will not be the first to deploy position. Washington said that new land based nuclear weapons will not be deployed in Europe, but the US and its allies are laying the groundwork to develop new intermediate range conventional missiles for the first time since the signature of the 1987 INF treaty. Putin warned that Russia's new weapons would match U.S. missile flight times, some as short as 10-12 minutes. Putin also said that many of the weapons he displayed last year will soon come into service, including a hypersonic glider launched from missiles that could carry nuclear weapons and evade U.S. missile defenses, a laser cannon, and an underwater drone called Poseidon. It is noteworthy that Putin's current position domestically is much weaker, with public trust in him as a leader at the lowest level in a decade.
Security firm research indicates Russians are the world's fastest Hackers
Crowdstrike, a security firm, argues that the crucial moment in hacking isn't necessarily the initial penetration, but what happens next— how fast hackers can move from their beachhead and expand their control. Crowdstrike's research indicates that no one is better at this than the Russians, as they are eight times faster than any other adversary. The next fastest adversary are the North Koreans, however they are two hours behind the Russians in the amount of time it takes them to expand their control from the initial breach.  Crowdstrike cited an example where it only took a team of Russian hackers known as Cozy Bear 10 minutes to gain domain access privileges, essentially taking control of an entire network, from the moment of the hackers initial breach. Crowdstrike chief technology officer Dmitry Alperovitch said, "Defenders have to be on call…This is an indication of not just how rapidly they move, but how quickly you have to move as a defender to eject them."
The Kremlin's Current Narrative
Russian Media Outlets: "Everyone Wants War Except Russia"
Russian media outlets have been beating the war-drum incessantly, stirring hysteria both abroad and closer to home in a circle of fake news on an unprecedented level. Concerning the ongoing crisis taking place in Venezuela, Russian outlets have been blaring propaganda claiming that the US military is just about ready to invade Venezuela, even going so far as to claim that the US government is deliberately attempting to falsify a claim for military intervention in the nation. In other instances, Russian outlets have referred to the humanitarian aid offered to Venezuela as a "propaganda show." It must be noted that such media stores resonate with the Kremlin's deep fear of losing Venezuela as a strategic asset in the region and further enable the Putin regime to depict itself as a strongman force capable of meddling in the democratic and foreign affairs of other nations.
Furthermore, Russian media outlets have been claiming that the Ukrainian government itself is seeking to escalate tensions within the Donbass region. Indeed, Russian reports claim that Ukrainian President Poroshenko is personally seeking to gain political momentum from the escalations, going so far as to claim that he is courting the favor of Poland and Latvia—both NATO members—to entangle them in the ongoing conflict. As with the US, the goal of Russia's media is to paint the Ukrainian government, along with anyone else threatening the Kremlin's global ambitions, as warmongers and oppressors. It must be remembered that such rhetoric is merely part of the Kremlin playbook to stir confusion and uncertainty, veiling the truth while whitewashing its own actions.
Kremlin Watch Reading Suggestion
Countering information influence activities: A handbook for communicators
The Swedish Civil Contingencies Agency's (MSB) handbook for communication officers emphasises the importance of safeguarding society's security in light of threats that may take on a new character, particularly information influence campaigns.  Such activities, deliberately coordinated by foreign powers on social media and beyond, aim to influence political decision-making and public opinion in other countries, undermining the fabric of democratic societies.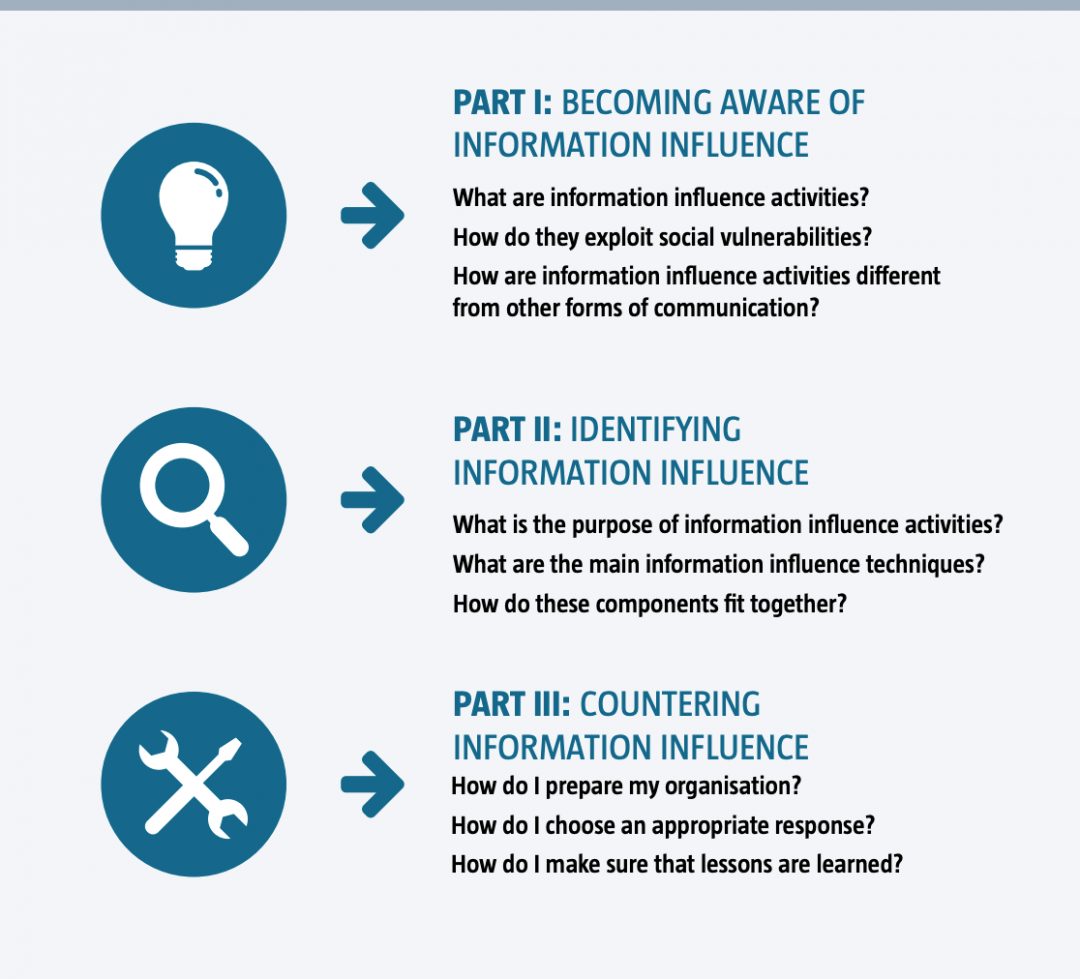 Recognising that no organisation is fully immune to hostile information influence activities, the handbook increases awareness of the issue and provides communication officers with a framework for recognising techniques common to influence campaigns as well as a toolbox of proactive communicative responses. Although it does so within the context of Sweden, the handbook's recommendations for a robust and fact-based response can be relevant in many scenarios. The MSB describes in detail how information influence activities can be identified and suggests that they typically include deceptively making use of influence techniques, interfering in public discourse, and exploiting perceived vulnerabilities, all with self-interested intentions. Acknowledging that preserving open debate and freedom of speech must be central to dealing with hostile activity, MSB outlines four key steps to a successful fact-based response: assess, inform, advocate, and defend.
Kremlin Watch is a strategic program of the European Values Think-Tank, which aims to expose and confront instruments of Russian influence and disinformation operations focused against liberal-democratic system.