Hybrid Warfare Analytical Group has created an infographic covering top 6 Russian narratives on Europe based on "Image of European Countries on Russian TV" joint research by Estonian Center of Eastern Partnership and Ukraine Crisis Media Center.
Russian propaganda has been trying to discredit Europe in numerous ways, nevertheless these six narratives have taken hold the most:
"Life in Europe is difficult and insecure as the authorities are unable to secure order"
"Decaying Europe is close to tolerating paedophilia and incest"
"European unity and identity are enforced which causes public dissatisfaction and leads to overwhelming protests"
"Europe caused the refugee crisis and is now choking on it"
"Terrorism is omnipresent in Europe due to the influx of immigrants and multiculturalism"
"The sanctions are pointless as they cause more damage to Europe than to Russia"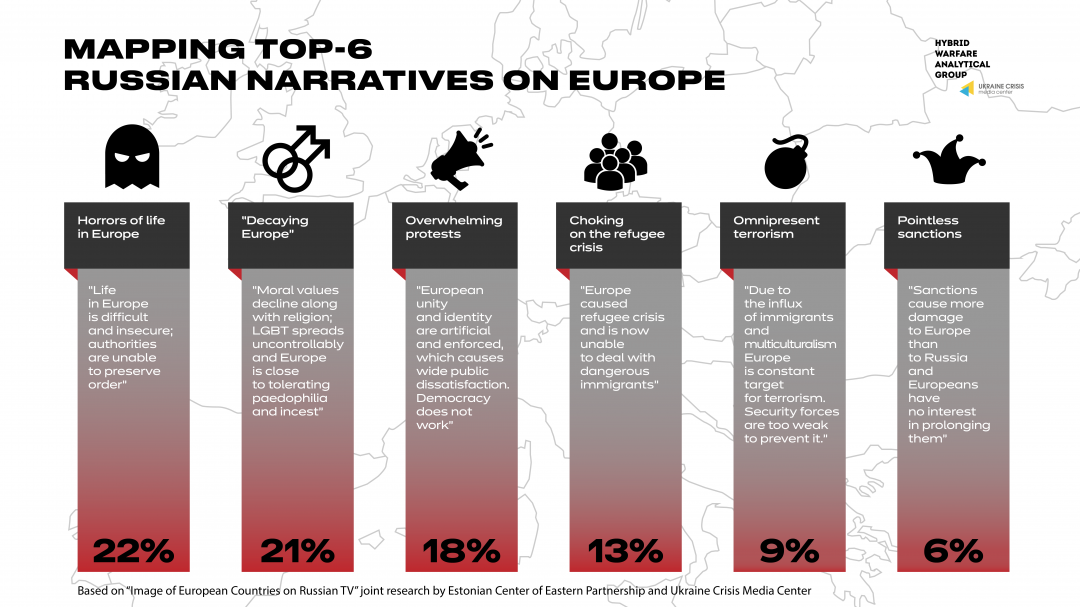 Topics of the Week
In 2019, 70 countries employed disinformation for political gains, a more than two-fold increase since 2017, despite the actions taken by Facebook, Twitter, and Youtube to contain manipulation campaigns. Most of them used disinformation domestically.
Russia threatens to retaliate for the denial of 10 Russian diplomatic visas by the United States.
Russia seeks preoccupation of the West, payback, support for its international agenda and multipolarity in the Western Balkans.
Good Old Soviet Joke
The Soviet Union, the 1970s, Brezhnev is meeting with the editors of the party newspapers:
"Comrades let me tell you, the time zones are a serious global problem! I wanted to discuss the rebellion in Kashmir with Indira recently, I called her, and she was in the bathtub. Do you know how embarrassing that was?
The other time, I was just going from lunch and I thought I could call Ronald and try to deal with the rockets problem. Well, it was just half-past four in the US and Ronald was still asleep. He was so pissed off the deal was off.
And last time, I called the Pope to Rome, to ask how he was doing after the assassination attempt, and it hasn't happened yet!"
Policy & Research News
The number of countries using disinformation for political gains increases
Disinformation campaigns are becoming more commonplace around the world. Citing a study by the Oxford Internet Institute, the New York Times reports that more countries are resorting to disinformation to influence domestic and foreign politics.
In 2019, 70 countries employed disinformation for political gains, a more than two-fold increase since 2017, despite the actions taken by Facebook, Twitter, and Youtube to contain manipulation campaigns. While most countries used disinformation domestically, Russia, China, Iran, India, Pakistan, Saudi Arabia, and Venezuela attempted to exert influence abroad. Not only is disinformation per se increasingly becoming a go-to instrument for governments, but there is also a threat of proliferation of techniques, with different actors learning from and emulating previous successful operations. Another worrying trend is the professionalization of disinformation, "with formal organizations that use hiring plans, performance bonuses and receptionists."
Samantha Bradshaw, one of the authors of the report, told the New York Times that disinformation campaigns mostly relied on memes, videos, and other content designed to exploit social networks' algorithms to achieve virality. She added that steps taken thus far by Facebook were insufficient and that the problem could only be tackled through changes to the algorithms and the business model.
Estonia portrayed as charity-seeking and Russophobic country
Brought to you by the Vilnius Institute for Policy Analysis
It has been 75 years since the second occupation of the Baltic States by the Soviet Union. Yet, after more than half a century, Moscow's official stance on this issue remains the same – Lithuania, Latvia and Estonia had never been occupied by the USSR, but rather "liberated" from the cruelties of Nazi Germany.
Russian narrative on USSR's role in "liberating" the Baltics has resurfaced to the front pages of Kremlin-backed media after fireworks were set off in Russia's capital, as part of the celebration of "liberation" of Tallinn.
It did not take long for the Estonian Ministry of Foreign Affairs to react to such provocation. As stated by the ERR News, Estonian MFA rebutted claims that the country was liberated by the Red Army in September 1944.
According to Dmitry Novikov, a Deputy for the Communist Party in the 7th State Duma of the Russian Federation, Estonia is just trying to show its loyalty to the "Russophobic ideas" amplified by the United States and the European Union. While, Leonid Slutsky, a member of the Russian faux-liberal LDPR party, claimed that Estonia is taking part in the act of "falsification of history" and that Estonia's claims "lack basic piety and should be regarded as disrespectful".
Besides, in the wake of disagreements over Soviet occupation, Minister of Foreign Affairs of Estonia Urmas Reinsalu has declared that Estonia (together with Lithuania and Latvia) should demand compensation from Russia over Soviet occupation. However, according to Kremlin-sympathising media bukimevieningi.lt and baltnews.lt, such claims for a compensation should be regarded as "delusional" and remind of "begging" and "charity-seeking". Additionally, it should be noted that back in the spring of 2000, Lithuania passed a law obliging Russia to compensate 23 billion euros for the damages caused by the USSR's occupation of 1940-1990.
To sum up, it is clear that Putin's Russia is not willing to acknowledge the fact that absorption of Lithuania, Latvia and Estonia into the Soviet Union had been an unlawful act of power and continues to treat it as law-abiding political development. It is also clear that the Baltic States should not expect any type of compensation for the damages of the occupation any time soon.
Doxxing used to intimidate the Hong Kong protesters
With protests in Hong Kong continuing for almost four months, the protesters have become targets of doxxing, the publication of identifying information online. A Telegram channel and a website are reported to be used to doxx pro-democracy activists.
Researchers of Atlantic Council's DFRLab have detected a Telegram channel which identifies protesters and reports them to the authorities. The channel posts photos of activists and then requests the assistance of Hongkongers opposing the protests to identify them. Afterwards, the doxxed protesters are reported to 12339.gov.cn, China's Ministry of State Security Reporting Platform, a website for reporting national security threats.
Activists' personal information is also disclosed through a website which China Central Television advertised on Weibo, a Chinese social media, encouraging its audience to report the protesters. According to the Australian Strategic Policy Institute, the website hkleaks.ru is hosted at a Belize IP address of the Russian hosting service provider Dancom. Analysis by the ASPI has revealed that the well-built website was promoted on Twitter through an amplification campaign, most likely organized by a state actor. What is more, some of the people subjected to doxxing claim that the published information could only come from government sources. The analysis concludes that although there is not sufficient evidence for a precise attribution, the actors behind the campaign are well resourced and organized, with alleged access to government sources.
While the Telegram channel used for doxxing can be an independent initiative of pro-Beijing Hongkongers, hkleaks.ru appears to enjoy the government's verbal support at the least. However, ASPI's findings indicate that the Chinese authorities' support may go well beyond encouragement.
US Developments
Russia to Retaliate for U.S. Visa Rejections
According to a recent report by David Brennan for Newsweek, Russia is preparing a "surprise" for the United States in retaliation for the denial of 10 Russian diplomatic visas. Russian Foreign Minister Sergei Lavrov chastised the American decision to withhold the visas from the officials who intended to partake in the annual United Nations General Assembly in New York City. In addition to ambiguous threats of retaliation, Moscow summoned the US Ambassador, John Huntsman, to respond to the matter. When asked to explain the logic behind the denial of the 10 visas, the US State Department responded that all visa records are confidential and evaluated on a case-by-case basis. Equally displeased with the situation, outspoken Russian foreign ministry spokesperson Maria Zakharova called the decision an "outrageous example of disrespect by the United States of America".
Of course, the US did not, and likely will not provide detailed explanations for their motion to deny the visas, though it is possible that it was a pointed response to similar, recent behaviour from the Kremlin. Just weeks ago, Moscow denied a number of US officials visas into the Russian Federation. Many believe that these denials were directly linked to the American officials' open criticism of Kremlin policies and geopolitical misbehaviour.
US Democrats Also Seeking Putin/Trump Transcripts
Fast on the heels of impeachment talks, Radio Free Europe/Radio Liberty explains House Intelligence Committee Chairman Adam Schiff's interest in gaining access to the transcripts of talks between Presidents Donald Trump and Vladimir Putin. Schiff, a Democrat from California, is justifying his request for the transcripts to explore the possibility that Trump is undermining US national security in the express interest of improving his odds to become re-elected. This recent development in Trump's impeachment case follows the original complaints lodged by an American intel whistleblower who first reported on the Trump-Zelenskiy call which too presupposed campaign influence in favour of President Trump. Despite Schiff's recent inquiry, Russian Foreign Minister Sergei Lavrov rebuked granting access to said transcripts stating that it would be "inappropriate" to release them as presidents elected by their nations' people should enjoy a "certain level of confidentiality." In a follow-up from Bloomberg, Putin's spokesman Dmitry Peskov reiterated the Kremlin's position that release of the calls would require "mutual consent".
Kremlin Watch Reading Suggesti
Russia in the Western Balkans
Stanislav Secrieru of the Institute for Security Studies wrote a brief summarizing and updating Russian influence attempts in the Western Balkans. First, Secrieru disabuses readers of the notion that Russia ever left the region and is now 'back.' He argues that Russia has maintained a constant presence in the Western Balkans and that its methods of cultivating power have changed. For instance, the economic boom in the 2000s allowed Russian businesses to expand into strategic economic sectors in West Balkan countries, which has given the Kremlin leverage and political influence.
Four main policy agendas drive Russia's actions: forcing Europe to focus its time and money into stabilizing the Western Balkans, payback for what Russia views as Europe meddling in its traditional areas of influence, recruiting auxiliary support for the Kremlin's international agenda (such as garnering votes in the UN), and bringing multipolarity back to the region.
Russia's success at establishing influence in the region has been mixed. Despite many tactical successes, strategically it has been unsuccessful at changing the Western Balkans western orientation. Ironically, these successes might end up hurting Russia in the long term. Russia's ability to destabilize the region has forced the EU to focus more heavily on the Western Balkans. As Secrieru concludes, "Unlike Russia, the EU has an attractive model to offer and the financial power to succeed." All the EU needs is sustained political resolve to counter Russia's influence.
Kremlin Watch is a strategic program of the European Values Think-Tank, which aims to expose and confront instruments of Russian influence and disinformation operations focused against liberal-democratic system.