NEW PUBLICATION
The European Values Think-Tank introduces a new publication authored by our Non-resident Fellow Liubov Tsybulska: "Ukraine beyond 2019: Where should Western democracies assist?" It examines the relevance, lessons learnt and vulnerabilities in the following spheres:
Development of society on civic principle instead of ethnic
Reintegration of Crimea, Donetsk and Luhansk regions
Work with historical memory
Psychological support for the most traumatized groups of the population
Development of the political and cultural elite of Ukraine
Read the full report here.
Topics of the Week
Pro-Kremlin disinformers know who caused the Notre Dame's burning.
If we want to talk about the big tech companies, we should not forget about YouTube.
Kremlin rejects the Mueller report, while evidence indicated Russian oligarchs attempted to meet Trump.
NATO StratCom COE presents 30 geopolitical scenarios with a focus on strategic communications in its new study.
Good Old Soviet Joke
A lecturer from the District Party committee says to the workers, "The imperialists meddle in the internal affairs of the USSR all over the globe."
Policy & Research News
Notre Dame burns as disinformation machine engages
After surviving two World Wars, the French Revolution and many more political upheavals, the 21st century saw the destruction of parts of the approx. 900-year-old structure. But, as the embers were still burning, the Kremlin's disinformation channels began blaming the Yellow Vests, Muslims, and exploiting the tragedy to further divide Western culture. The speed of the reaction and its global reach is noteworthy.
In other bizarre arguments, France was now suffering because it had supported hard-line Nazis in Ukraine, bringing the then-candidate Volodymyr Zelensky. Though this attempt may have failed even on RT channels, failure is, as we know, part and parcel of the Russian strategy. No matter how absurd, while this attempt may have fallen flat, the seeds of dishonesty and absurdity are sown.
Let's not forget about YouTube
A piece on The Verge discussed a recent New York Times profile of the YouTube CEO Susan Wojcicki. In particular, it points out that, while she is sheltered from some of the pressures facing Facebook and Twitter due to corporate structure, she also runs a platform uniquely suited to amplify disinformation, in a way that Facebook is not. According to The Verge, the two simply have different usages – Fakebook's primary function of facilitating connections means it is better positioned to filter out unwanted or polarising content.
Meanwhile, as an entertainment site, YouTube naturally tilts towards the sort of content that will generate more attention and thus, more ad revenue. More specifically, it relies heavily on the so-called "borderline content" – videos coming close to violating YouTube's content regulations without crossing that thin line. This is a problem that's built into the platform, as "borderline content" creates the most engagement on the site.
It is clear both YouTube generally and Susan Wojcicki specifically faces a serious problem, and the pressure is mounting for it to adjust its algorithms in order to reduce exposure and distribution of false or otherwise "borderline" content. However, it remains to be seen whether the company will make good on its promises to improve, and how it will do it without jeopardising its business in the process.
Ukrainian election as a testing ground
After Ukraine published an expansive White Book this winter, its exemplary place as a testing ground for Russian hybrid and disinformation campaigns has held its ground. As it is a testing ground for the Kremlin, its defensive tactics can prove as progressive as the attacks themselves. The Atlantic sat down with Dmytro Zolotukhin, the man in charge of Ukraine's information policy.
The Ministry of Information Policy was only founded in 2016 but continues to be woefully underfunded. Though Ukraine has taken hard-line tactics to ban Russian social-media alternatives and even search engines, this has of course simply called for more ingenious attacks.
Kyiv is becoming the vanguard site for the global problem governments face: do they restrict free speech in the face of foreign threats, and consider the restrictions they place on the rights that come with a free democracy? Ukraine is looking to ban outlets that spread disinformation only during elections times, and education programs have also help promising results.
"The Europeans" discuss national differences in misinformation
On this week's "The Europeans" podcast, the host Katy Lee (Agence France – Presse) talks with Jules Darmanin, who leads a new cross-border initiative of journalist fact-checkers called FactCheckEU. The organization translates debunks among European languages, as well as fosters cross-border investigative projects and answers general questions about European policies and the news.
Darmanin explains the rationale for creating an international fact-check organization, which is that disinformation has no borders. A famous example is a Greek TV presenter stating that refugees in Germany had been receiving "brothel vouchers" – a rumour which originated in Austria and Germany. In general, disinformation about migrants and refugees is among the most mobile due to its global and polarising nature.
According to him, it is hard to say whether some countries are more susceptible to misinformation than others. However, in some cases it appears to spread and take root easier. Greece is one such case, where after a prolonged economic crisis legacy news outlet are understaffed and that vacuum has allowed for more provocative media outlets to foster. In other cases, such as in the so-called "news deserts" without local news outlets in the US, which allows lower quality outlets to monopolize the information space.
US Developments
Kremlin's response to the Mueller report
While the Mueller Report established there was not a collision between Trump and the Kremlin during the 2016 election cycle, a redacted version of the report released last Thursday includes detailed information about the efforts by the Russian intelligence services to hack servers at the Democratic National Committee, certain Russian businessman attempting to forge ties with Trump, and a disinformation campaign waged by the Internet Research Agency to influence American voters in 2016.
However, Kremlin spokesman Dmitry Peskov said that the report "still does not present any conclusive evidence of alleged interference by the Russian Federation in the electoral process in America… and we continue to refuse to accept any such accusation."
Three Russian businessmen: Petr Aven, Kirill Dmitriev, and Sergey Gorkov, who all have close ties to Vladimir Putin,  attempted to reach out to Trump or his administration in 2016. The Mueller report revealed that Petr Aven attempted to reach out to the Presidential Transition Team in connection to anticipated post-election sanctions. Aven told investigators that he met regularly with Putin in 2016, and he said that Putin's suggestions during these meetings were understood to be "directives", which entailed consequences for not following through. Kiril Dmitriev who also attempted to make contact with the Trump transition team is noteworthy for drafting a plan for U.S. Russia reconciliation with Rick Gerson a close friend of Jared Kushner and calling Putin his "boss".
Sergey Gorkov, who served as a senior manager for Sberbank, met with Jared Kushneron December 13, 2016. The Mueller report detailed that Gorkov gave Kushner a painting and a bag of soil from the town in Belarus that his family originally hailed from, however, the report did not establish any conclusions on the nature of the meeting. While Gorkov said the meeting was strictly business related, the fact he brought Kushner gifts makes it questionable.
China and Russia seek influence in Latin America
Over recent months the U.S. has been struggling to develop ways to prevent China and Russia from furthering their influence in Latin America, and this is occurring amidst Latin American governments seeking to distance themselves from the Trump administration. In the past, U.S. defence officials have sought non-force option such as humanitarian missions and more training for Latin American armed forces to deter China and Russia in Venezuela and Latin America as a whole, however, Trump recent bids to curb Latin American migration and drug trafficking to the U.S., have come at a cost.
Due to the rush of migrants at the U.S. border, the Trump administration has plans to slash aid for Honduras, El Salvador, and Guatemala because the administration does not view the aid as being effective. Trump has also placed sanctions on Cuba and Nicaragua for their support of the Maduro government in Venezuela and recalled diplomats after Central American nations stopped recognizing Taiwan.
This is leading Latin American officials to reassess the worth of U.S. relationships and Benjamin Gedan a former National Security Council official said this is "Entirely Counterproductive…..The Trump administration's policies have supercharged China's increased presence in the region." Both China and Russia have invested billions in Venezuela, and Russian has not shown hesitation to antagonize the U.S. in the nation and demonstrate its might.
While China has been increasing its presence heavily in the region and is attempting to replace American influence in disgruntled countries, Russia's presence has been mainly confined to Venezuela. R. Evan Ellis a research professor at the U.S. Army War College has said that Russian proliferation of arms and military hardware has declined as nations look to China for more reliable systems. Russia's strategy in the region also seems to point more towards provocation than strategy—unlike China. Ellis described the Russian presence as showing more weakness than strength and not having any long term sustainability.
Kremlin Watch Reading Suggestion
Hybrid Threats: A Strategic Communications Perspective
This week, we recommend a new study by the NATO StratCom COE, which is designed to help national authorities build resilience to hybrid threats and effectively respond to them. It presents 30 detailed case studies with a broad variety of geopolitical scenarios (from Russian snap exercises in the High North to Pakistani involvement in Yemen) and focuses on Strategic Communications. Defining hybrid threats as a 'type of threat that combines conventional, irregular and asymmetric activities in time and space', it emphasises that their key aspect is ambiguity – that is, the responsible actors and overall intent are often unclear. Therefore, understanding the hybrid threat environment requires an appreciation of the interplay between information, perception, interpretation, and decision-making.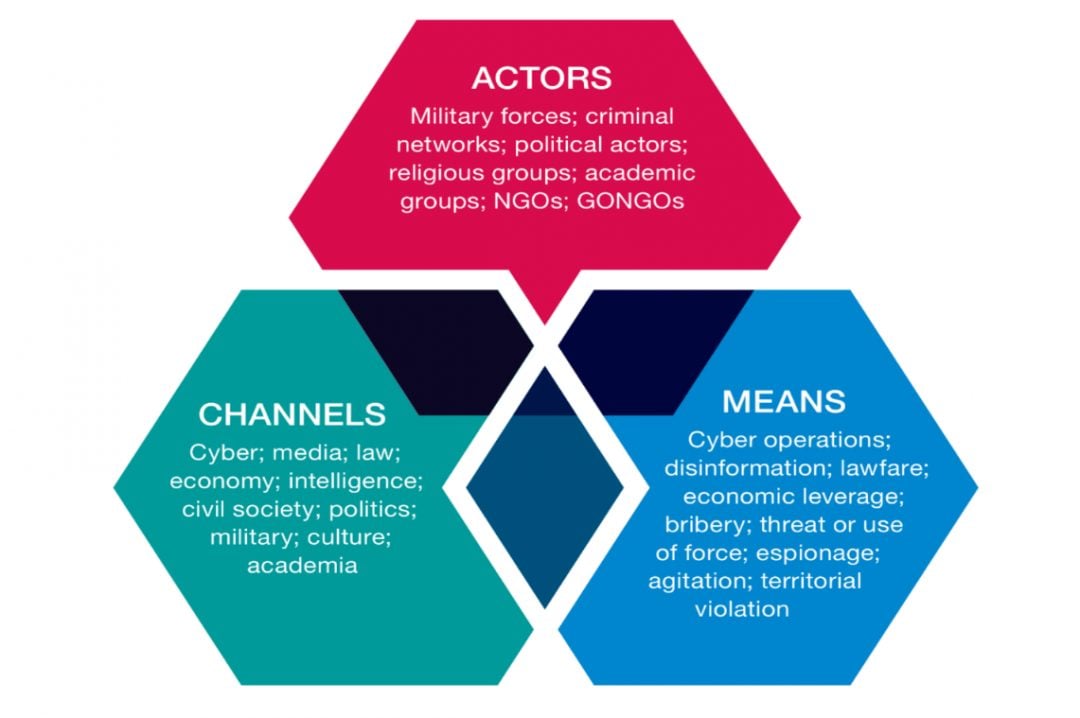 Strategic Communications with its holistic approach based on values and interests should be endorsed as a guiding principle across all levels of government with a recognition that communication is not limited to words but can encompass any action or inaction. Furthermore, it is necessary to evaluate the underlying thinking and aims behind adversarial actions as well as to identify a country's own existing vulnerabilities (such as domestic issues), which malign actors may seek to exploit. Although not every action is a threat, it is important for government departments to be proactive and have an understanding of the information environment. Meanwhile, setting clear objectives consistent with core values, in addition to coherent and factual government communications will help preserve credibility.
Kremlin Watch is a strategic program of the European Values Think-Tank, which aims to expose and confront instruments of Russian influence and disinformation operations focused against liberal-democratic system.