Topics of the Week
he European Council's conclusions call for a more coordinated and better resourced response to disinformation on part of the EU. Will the High Representative ever acknowledge the will of the Member States?
U.S. National Security Advisor John Bolton met with Russian President Vladimir Putin, praising him for "courtesy and graciousness" and planning the bilateral meeting between the U.S. and Russian leaders.
New report by Marcel H. Van Herpen: Pro-Kremlin populism and Russian influence is on the rise in the Netherlands.
New Russian law requires internet services to keep records of their clients' traffic and hand them over to the state security services on demand
Good Old Soviet Joke
Bedbugs appeared in the house occupied by the secretary of the region Party committee. The Party boss summoned an expert on insects and asked him how to get rid of bedbugs.
The expert said, "The best way is to organize them into a collective farm," he tells the Party boss. "Half of them will flee and the rest will starve to death."
Policy & Research News
EEAS StratCom teams should have appropriate mandates and resources
After the last meeting of the European Council at the end of June, most of the debate and reports understandably focused on migration. However, some of the session's conclusions also address disinformation and strategic communication and should not go unnoticed. Specifically, the European Council stated:
"The European Council invites the High Representative and the Commission to present, in cooperation with the Member States and in line with the March 2015 European Council conclusions, an action plan by December 2018 with specific proposals for a coordinated EU response to the challenge of disinformation, including appropriate mandates and sufficient resources for the relevant EEAS Strategic Communication teams."
Somebody might ask: what are the relevant EEAS Strategic Communication teams? The conclusions refer to the European Council conclusions from March 2015, which were highlighting the "need to challenge Russia's ongoing disinformation campaigns" and asked for the action plan on strategic communication. On this basis, the East StratCom Task Force was established.
Since then, despite several calls on part of the European Parliament, several Member States, and the expert community, the Task Force remains without institutional funding, with only a handful of people dealing with pro-Kremlin disinformation in Europe. Now, after more than three years of existence, Member States are again requesting that Federica Mogherini provide them with "appropriate mandates and sufficient resources". Will she fulfil the request of European leaders in her five-year term? We remain sceptical.
Strategy and tactics of pro-
Kremlin

 disinformation campaigns

To give you a glimpse of what the East StratCom Task Force addresses on a daily basis, here is an article written by one of its members – Jakub Kalenský, a seconded national expert from the Czech Republic. For the Diplomaatia, he makes the following points:
Disinformation has different messages, tactical aims and perspectives for different audiences, using an unknown number of channels and speakers, not all of which are public.
Disinformation messages are often embedded with elements of truth to appear more convincing and legitimate.
Agents of disinformation have different levels of ambition and contrary to a common belief, they do not exclusively target electoral processes.
Disinformers have a highly developed, localized knowledge of their audience(s), with the gap between our knowledge and theirs growing.
Dutch team investigating MH17 was spied on
According to the RTL Niews, the Dutch TV Broadcaster, the Dutch members of the Joint Investigation Team that included security officers, legal experts, diplomats, and civil servants were spied on by Russian and Ukrainian services while investigating the shooting down of MH17 on Ukrainian territory. Eavesdropping devices were found in investigators' hotel rooms and their electronic devices were compromised by malware. It is unclear if the foreign operatives managed to obtain any information relating to the investigation.
Chinese influence: What does it look like and how do countries counter it?
Bilahari Kausikan, former Policy Advisor at the Ministry of Foreign Affairs of Singapore and an ex-Ambassador to Russia, has often been called an "undiplomatic diplomat", famous for saying exactly what he thinks – a rather atypical trait for official representatives. At a recent conference on Chinese public diplomacy, he stated that "Chinese influence operations are aimed at swaying leaders and people abroad to China's positions," according to The Straits Times. He also noted that the Chinese modus operandi significantly differs from that of other countries since it rejects the norm of interfering in domestic affairs of other states, uses more covert and often illegal deployment of agents of influence whose aim is to condition behaviour, making political leaders and the public think that their decisions are their own.
Australia seems to recognize that it has been a subject of Chinese efforts to spread influence. Recently, the Australian House of Representatives passed new legislation banning covert foreign interference in domestic politics. Individuals lobbying for foreign governments will have to publicly register in order to increase transparency. The legislation also includes 38 new crimes, including stealing trade secrets on behalf of a foreign government. Many organizations are, however, exempt from the legislation, including charities accepting foreign funding or the Catholic Church. Despite these protections, the bill has been criticised by some Australian opposition MPs, as well by Amnesty International.
A series of unfortunate events at Uppsala University in Sweden
In Postimees, you can read about the experience of a group of Estonian journalism students at a summer school organized by Uppsala University in Sweden. The program, which focused on war reporting, was organized by assistant professor Gregory Simons and included a peculiar speaker – Vanessa Beeley, a freelance blogger with no journalistic qualifications whose articles are often published by Sputnik and RT. Ms. Beeley, whose RT profile tellingly describes her as "independent investigative journalist", is an ardent supporter of Bashar al-Assad and regularly promotes conspiracy theories, particularly about 9/11. Among other things, she has claimed that the Charlie Hebdo shooting was a false flag operation.
Beeley's presentation included the following points:
The Soviet Union and Russia have always been promoters of world peace (e.g., the 1953 proposal by the Supreme Soviet of the USSR to ban all manner of war propaganda)
The chemical attack in Douma in April 2018 was a false flag operation staged by the White Helmets
Human Rights 

Watch

 is part of a Jewish conspiracy
The United Nations is anti-Russian
There were free elections held in Crimea on joining Russia
Despite (or for) this gibberish, Beeley was awarded a certificate by the university. In protest, the students from the University of Tartu and their professors decided to boycott the rest of the summer school. The University claimed it will issue an apology, unlike Gregory Simons, who sees no reason to do that. The academic environment should always stay objective, unbiased and open to different ideas, opinions, and philosophies. But since when has spreading outright lies become an alternative philosophy legitimized by recognized experts and academic institutions?
US Developments
Continued Alarming Reversal of United States Foreign Policy
On June 27th, US National Security Advisor John Bolton met with Vladimir Putin in Moscow, discussing issues related to "strategic stability in the world" and praising the Russian leader for his "courtesy and graciousness". It's worth remembering that Bolton previously referred to Russia's interference in the 2016 election as an "act of war" against the United States, warned that the nation could not trust Russia, and argued that a national security policy based on blind faith that the Russian regime will honor its commitments to peace is doomed to fail. Since then, Bolton has exhibited a complete reversal of rhetoric – a contradiction he refused to address when pressed by reporters. His performance in Moscow was followed by the announcement that, following the July NATO summit in Brussels, Donald Trump will meet with Putin in Helsinki on July 16th for their first one-on-one summit.
Bolton acknowledged that such a meeting would be in the "interest of the United States, Russia, peace and security", while also noting that Trump will use the opportunity to raise a "full range of issues", including Russian interference in US politics, conflicts in Ukraine and Syria, and his recent calls for Russia to be readmitted to the G7. From one perspective, Trump's planned meeting with Putin could be, as noted by NATO Secretary General Jens Stoltenberg, a "sign of strength" and dialogue necessary for the mitigation of further tensions. However, given Trump's refusal to accept the conclusions of the US intelligence community concerning Russian electoral meddling, combined with his gratuitous criticism of the European Union and his recent appeasement of North Korean dictator Kim Jong Un during their meeting in June, much concern surrounds the  president's anticipated behavior. The meeting is likely to further legitimize Putin's regime and his image as an international leader, while at the same time, as noted by Michael McFaul, former US Ambassador to Russia, "produce concessions that do not serve American national interests".
Trump continues voicing support for Russia
Donald Trump has once again defended  Vladimir Putin's denial of interference in the 2016 election, contradicting the US intelligence community and the efforts of the Special Counsel investigation. These remarks come amidst growing anxiety among US allies about the planned Trump-Putin summit and Trump's criticisms of the EU and some member states. Trump has referred to "NATO being as bad as NAFTA", criticized the EU for being designed specifically for the purpose of "taking advantage of the United States," and for classifying NATO as "obsolete". Trump's repeated rejections of longstanding US policy led to the recent resignation of James D. Melville, Jr., the U.S. Ambassador to Estonia.
Perhaps the most alarming consequence of Trump's attempts to undermine the EU and transatlantic alliance is the windfall this brings to the Putin regime. A divided Europe with a strained relationship with the United States runs the risk of vulnerability to other forces, namely Russian geopolitical influence.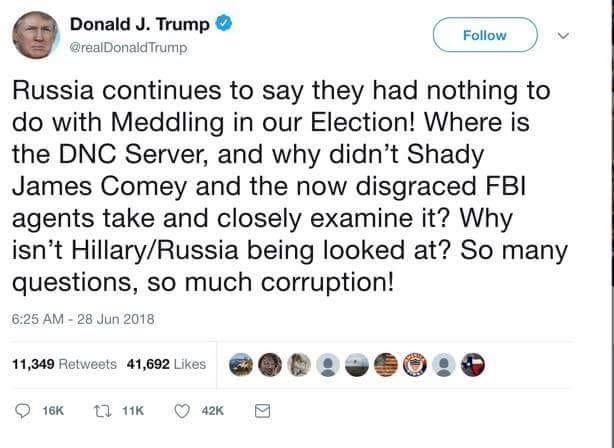 Facebook is asking law enforcement for help spotting election interference
Last month, Facebook held an election security meeting at its Menlo Park headquarters in California and invited officials from the FBI and Department of Homeland Security. The goal of the meeting was to address the risk of Kremlin information interference campaigns directed at the 2018 midterm elections. Director of National Intelligence Daniel Coats has said that propaganda, false internet personas, and bots will be used against the American electorate in 2018 and 2020 in an attempt to influence the outcome of the elections or to stoke conflict in the country.
According to Guy Rosen, a top Facebook security executive, for 2018 so far, no interference has been detected from the Russian Internet Research Agency. Nonetheless, tech companies agree that they need help from law enforcement intelligence capabilities that the private sector does not have access to. Facebook has complained on multiple occasions that they do not get the crucial instruction and assistance needed from law enforcement. The meeting also included several other major players in the tech industry.
Manafort's ties with Russian oligarch deepen
Last Wednesday, a search warrant application revealed that former Trump campaign manager Paul Manafort received a $10 million loan from Oleg Deripaska, a Russian oligarch and aluminum magnate with close ties to the Kremlin. This revelation offers further details about Manafort's connections with the Russian billionaire, a relationship that has already come under scrutiny through the Mueller investigation. Manafort is known to have provided consulting services to former Kremlin-backed Ukrainian President Victor Yanukovych. He is expected to go on trial in Virginia and Washington D.C. in July and September respectively and faces charges including conspiracy to launder money, bank and tax fraud, and failing to register as a foreign agent for a pro-Kremlin Ukrainian political party.
The 
Kremlin

's Current Narrative
Black is white and 2+2=5
A Russian law requiring internet service providers to keep records of their clients' traffic and hand them over to the state security services on demand came into force on July 1. This is yet another "wonder" from the Yarovaya package of laws that gives the FSB direct access to online providers and platforms. "The new law required communications companies, including internet providers, to keep information about their clients' data traffic for three years (one year for messengers and social media networks) and to keep the records of phone calls, messages, and transferred files for six months[…] The bill also requires communications companies to hand over encryption keys to state security agencies on demand, allowing them to read encrypted data. Non-compliance could cost companies between 800,000 and one million rubles ($13,000 – $16,100) in fines". As Yarovaya said, the law was necessary to fight the "global information monopoly of the United States" .
Fighting the US's "global information monopoly" by spying on Russia's own citizens? Perfectly logical!
Now consider the words of MFA spokesperson Maria Zakharova: "We call on our European colleagues to stop practicing double standards when talking about the threat of "fake news" and disinformation and not to use the latter as a pretext to restrain the activity of the resources providing an alternative to mainstream media, because this will deal a severe blow to freedom of speech. We are absolutely convinced that such delicate matters that touch upon the interests of civil society, NGOs, and journalists, should be discussed in a transparent manner with the involvement of all interested parties".
Zakharova should have directed these comments at the authorities of her own country. But in the twisted world of Russian propaganda, black is white and 2+2=5.
Kremlin

 

Watch

 Reading Suggestion
The Rise of 
Kremlin

-Friendly Populism in the Netherlands

A recent paper by Marcel H. Van Herpen details the rise of pro-Kremlin populism and growing Russian influence in the Netherlands. Geert Wilders and his Party for Freedom (PVV) initially emerged as a populist party that remained indifferent to Russia and retained few links to other European extreme right parties. This changed in 2013 when Wilders invited Marine Le Pen to The Hague and the two parties began collaborating in the 2014 European Parliament election campaign, which eventually resulted in several far-right parties forming a group in the EP. Although PVV continuously supported Russia in its voting behaviour in the EP, the party continued to downplay its sympathetic stance towards Russia domestically. This changed in 2017-2018 with Wilders visiting the Russian embassy in The Hague and later the State Duma in Moscow.

The Ukraine-EU Association Agreement referendum in 2016 was another indicator of growing Russian influence in the Netherlands. The debate surrounding the referendum was rife not only with disinformation but also active interference by Russia and pro-Kremlin actors. For example, a fake video by the Russian Internet Research Agency allegedly showed Ukrainian nationalists burning the Dutch flag and threatening the Netherlands with terrorist attacks. Therefore, debunking fake news and disinformation should be very important in the Netherlands. However, earlier this year the EU East StratCom Task Force came under attack by the Dutch parliament, which demanded its closure on grounds of its alleged censorship. The reason behind this was that four Dutch media outlets had been accused of spreading disinformation by the Task Force. Although these cases had not outright and intentionally spread disinformation they had nevertheless unintentionally allowed for the Russian narrative to be repeated.

Kremlin Watch is a strategic program of the European Values Think-Tank, which aims to expose and confront instruments of Russian influence and disinformation operations focused against liberal-democratic system.