After being the only allied president who denies organized Russian military presence in Ukraine, office of the Czech President has given an interview to Sputnik. To our knowledge, this is the first office of Head of Allied State to do so. It confirms our argumentations that the Czech President Miloš Zeman acts as Kremlin Trojan horse.
F. Steinmeier has called allied exercise in Poland "sabre-rattling and war cries" and "counterproductive to regional security." Following him up, employee of the Kremlin Gerhard Schroeder made similar claims. Those moves raise legitimate questions whether the German Foreign Minister only acts as an appeaser or whether he aims to a similar well-paid seat at Gazprom as Schroeder, to whom he has served as chief of staff.
Pew Research Center conducted a new survey showing deep divisions among European citizens on almost everything. Here are some highlights from the research:
The threat of tensions with Russia is seen as a lesser threat to most Europeans. However, the Poles represent an exception; 71 % of them say that tensions with Russia are a major threat.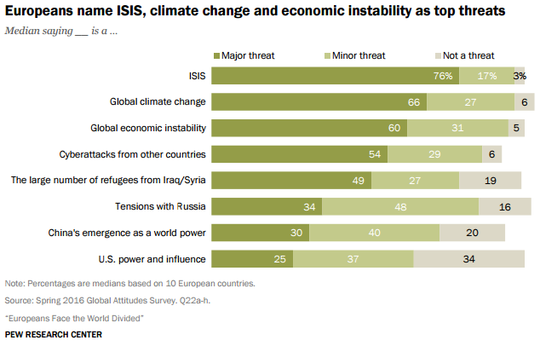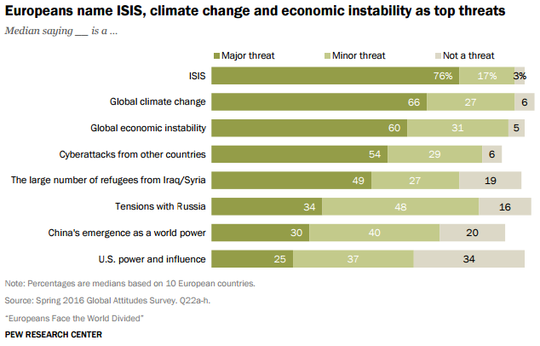 Many Europeans disapprove of the EU's handling of Russia. The Greeks, Swedes, French, Italians and Hungarians are most critical (from 52 % to 69 %).
Most Greeks believe the economic relations with Russia are more important than being tough with Moscow on foreign policy disputes. On the other side of the coin there is Sweden with 71 % of people saying being tough is more important. The rest of the surveyed European countries are split on the issue.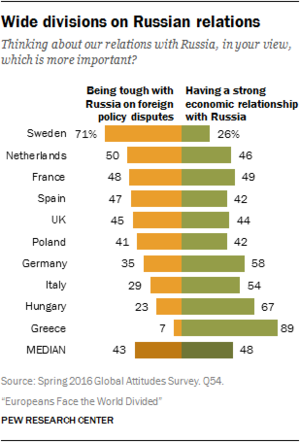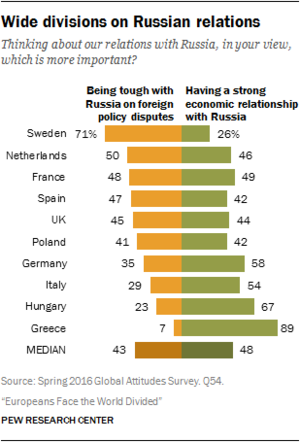 Russian government hackers broke into the computer systems of the Democratic National Committee and accessed information about Democratic candidates and a database on an opposition research against Donald Trump, Politico reports. According to Forbes, the same alleged group has been trying to take control of Gmail accounts of staff working for Hilary Clinton's 2016 presidential campaign. Russian officials denied the accusations. Vladimir Putin's top Internet adviser German Klimenko said that the leaks could have taken place "because someone simply fogot the password or set the simple password 123456".
The Head of the Kremlin Watch Programe, Jakub Janda, joined the selection of experts who were asked by the Center on Global Interests, whether the construction of the controversial Nord Stream 2 pipeline was a mainly commercial enterprise, or a geopolitical threat to Europe. According to him, the German government should cancel Nord Stream 2 immediately – for security, political and geopolitical reasons. Read the whole input here.
The Russian Embassy in the Czech Republic shares conspiracy theories on facebook, for example the Czech pro-Kremlin outlet AC24 referencing a Swiss conspiracy server full of articles about Bilderberg and alleged western propaganda. This way it fulfils its mission to spread disinformation in order to creat an impression of the Czech government and European leaders plotting against the citizens.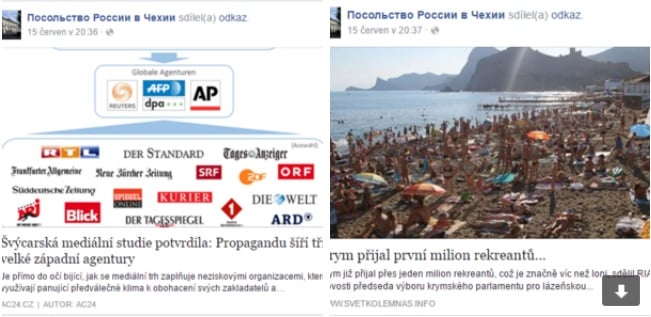 Michael McFaul, Director of the Freeman Spogli Institute for International Studies, who served five years in the Obama administration, spoke as a witness on the House Foreign Affairs Committee public hearing titled "U.S. Policy Toward Putin's Russia." In order to counter the Russian propaganda, he recommended "real reporting from credible journalists in Russia, Ukraine, and other countries in the region." According to him, the US should not fund those media outlets but rather focus on providing training opportunities, fellowships at American and European universities and internships at Western media organizations.
Stopfake.org pointed to several new disinformation spread by Russian media.
RT, citing RIA Novosti, broadcast a story claiming that Nadiya Savchengo called for amnesty for Donbas separatist militants supported by Russia.
Rossiya 24 television channel broadcast a report claiming that four Ukrainian regions were demanding autonomy from Kiev.
Vesti and RBC claimed that the French Senate had weakened sanctions against Russia.
According to the latest Disinformation Review from the EEAS East StratCom Task Force, last week brought an increased number of fake stories regarding Ukraine, repetition of claims about "fascists" or "nazis" governing Ukraine and disinformation concerning NATO. The information war monitor for Central Europe from the second part of May, published by the Globsec Policy Institute, reports the trends of pro-Kremlin media concerning the US presidential elections, migration, the European Union and more. We are proud contributors to both of those projects.
Kremlin Watch reading suggestions
"Do not ignore the left! Connections between Europe's radical left and Russia"; by Péter Krekó and Györi Lórant, Open Democracy
While the connections between the Kremlin and European far right parties are widely known, the radical left in Europe is being mostly ignored, when it comes to its relations with Vladimir Putin's regime. Although most European leftist parties often call for "neutrality" and "peace", some of them actively legitimise the Russian state's actions, and the Kremlin does not hide its sympathies towards them. At the same time, their domestic support keeps increasing. The reasons for the inclination of the radical left towards the Kremlin can be explained, for example, by their shared selective anti-imperialism, anti-capitalism, and anti-Americanism, as well as by the attraction to the state-controlled economy. The personal links and infrastructure established by the KGB during the Soviet era should be revealed; which is why more intensive integration of intelligence services in the EU would be helpful, just as much as highlighting the pro-Russian connections of radical left parties on the political level.
"Propaganda and Freedom of the Media", non-paper issued by the OSCE Office of the Representative on Freedom of the Media
The non-paper defines the "propaganda for war and hatred" which demands legal action with appropriate measures in accordance with international human rights law, and presents several recommendations for governments, the judiciary and civil society, and media organizations on how to respond to its challenges, such as:
Enforcing media pluralism and generally condemning propaganda as inappropriate speech in a democratic nation and the profession of journalism.
Abolition of government-run media and support of public service media with high professional standards.
Developing international and intercultural dialogue, such as the dialogue among journalists, other intellectuals, advancing media education, promoting democracy as based on peace, freedom of expression and diversity.
Empowering activities of national and international human rights and media freedom mechanisms, specialized self-regulatory and co-regulatory bodies, professional organizations and independent monitoring institutions.
Putting efforts into educational programmes on media and internet literacy.
Media self-regulation, where it is effective, should remain the most appropriate way to address professional issues, including responses to propaganda for war, hatred and discrimination.
Picture of the week
The Washington Post sketchpad by Tom Toles: What Russia discovered in the hacked Democratic Party files.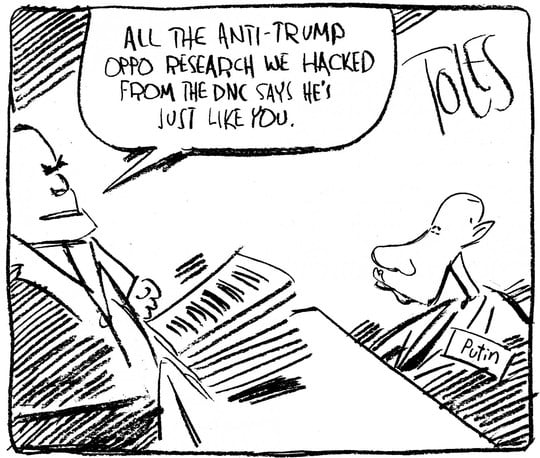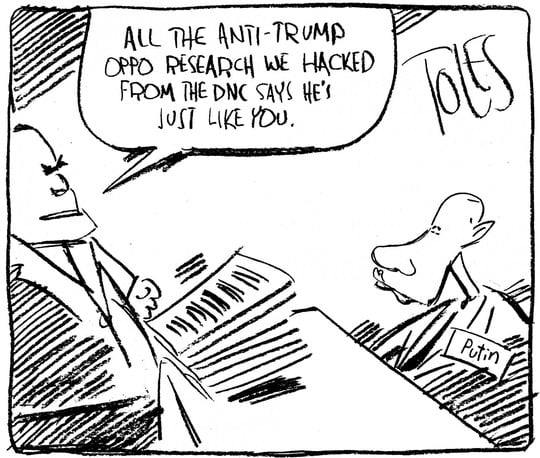 Euroatlantic Experts on Disinformation Warfare
Chris Zappone wrote about the Russian support of the US presidential candidate Donald Trump through social media and anti-Western and conspiracy websites for The Sunday Morning Herald.
Alexey Kovalev describes the Russian media environment for the Open Democracy in an article called "Life after facts: how Russian state media defines itself through negation."
Current state of pro-Kremlin scene in the Czech Republic
The Czech pro-Kremlin media  have lately been filled with fatalistic scenarios of an upcoming and possibly inevitable war between Russia and the West. According to some of the websites, the West is actively preparing for that; for example, by introducing a new German law which should allegedly transform the intelligence service BND into a branch of CIA. It is also provoking Russia by its "Anglo-zionist policy".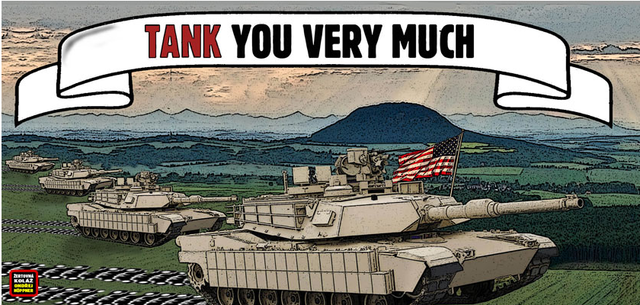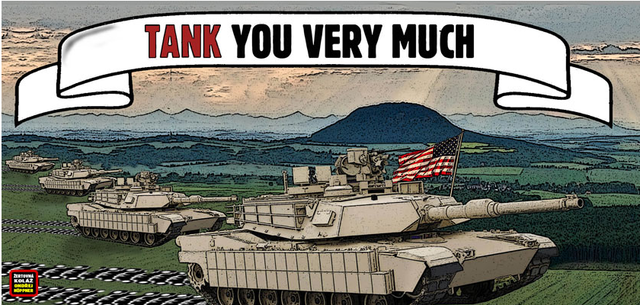 Some articles tend to spread panic by warning against the US will to sacrifice the Baltic states even with the NATO divisions, or by predicting that Russia will respond with a nuclear attack to the Western aggression.
The Bilderberg conference in Dresden was also a big issue for some pro-Kremlin websites, which accused the political and economic elites of planning a directed global financial collapse. Perhaps George Soros knows something about that too because according to one of the outlets he behaves suspiciously, sells shares, buys gold and makes big investments, which would get him "obscene revenues" in case of a financial crisis.
Picture of the week II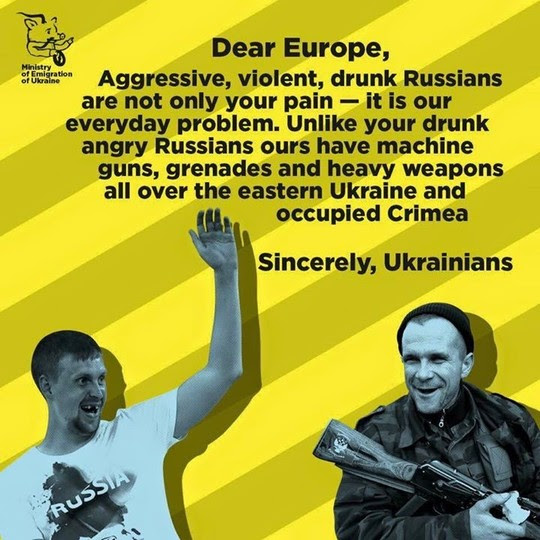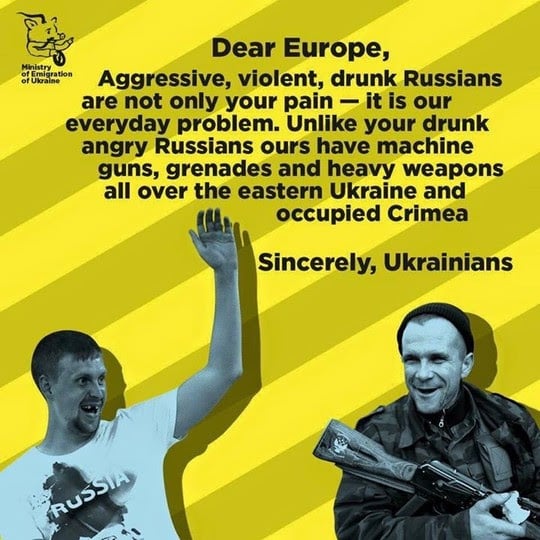 Kremlin Watch is a strategic program of the European Values think-tank, which aims to unravel and confront instruments of Russian hybrid war which is focused against liberal-democratic system. Find out more at www.europeanvalues.net/kremlinwatch/.