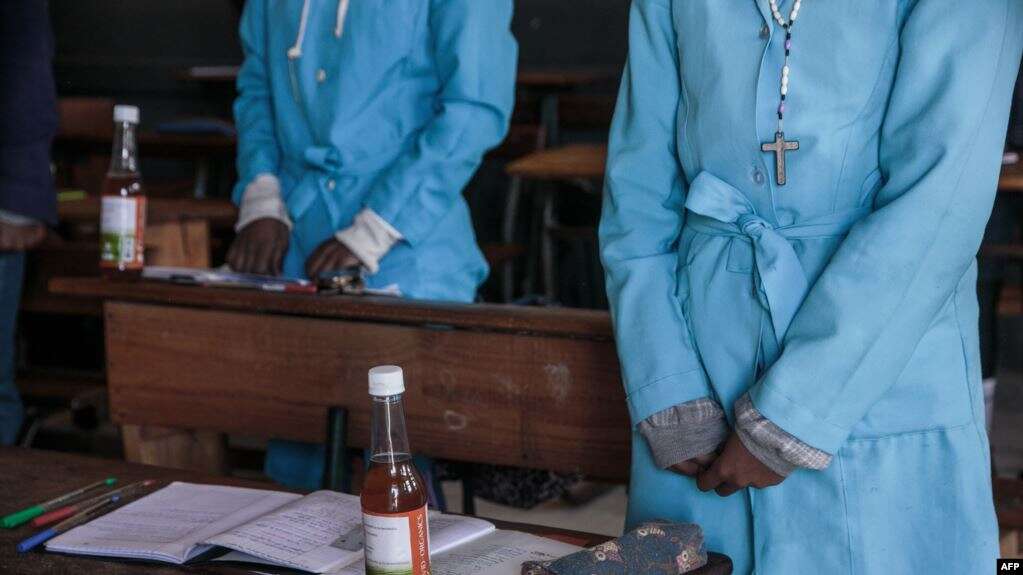 By Polygraph
Andry Rajoelina
President of Madagascar
"Covid-Organics, improved traditional remedy based on artemisia & endemic plants, curative & preventive against #Covid19, is launched!"
Source: Twitter, April 20, 2020
FALSE
On April 20, Madagascar's president, Andry Rajoelina, announced the launch of a promised cure for COVID-19 to his nearly 100,000 Twitter followers.
"Covid-Organics, improved traditional remedy based on artemisia & endemic plants, curative & preventive against #Covid19, is launched!" he wrote.
The drink, developed by the Malagasy Institute of Applied Research (IMRA), and derived from artemisia annua – an antimalaria ingredient – and other medicinal herbs, sounded like a miracle solution: It purportedly could cure and prevent coronavirus.
But Rajoelina's claims about the efficacy of the drink remain unproved, and COVID-Organics has fallen short when it comes to preventing the coronavirus from taking hold in Madagascar. The country has racked up 14,000 cases and 173 deaths after a surge during July.
Artemisia annua, a herb native to Asia, has been used in Chinese traditional medicine for centuries. Chinese scientists explored its antimalarial properties in the 1970s under Project 523, a top secret state mission, as one of the scientists, Zhou Yiqing, told the World Health Organization (WHO) in an interview. The plant was also imported to Madagascar during that time.
WHO now recommends antimalarial treatments using artemisia. With the emergence of coronavirus, scientists around the globe, including in countries like Germany have started testing the herb as a potential COVID-19 treatment as well. But Rajoelina has jumped the gun.
Rajoelina said during the official launch that "tests have been carried out – two people have now been cured by this treatment," and that "this herbal tea gives results in seven days," Agence France-Presse reported in April.
However, no data assessing its safety and effectiveness has been published in peer-reviewed studies. Experts have also warned of risks from using untested medicines like COVID-Organics, particularly because the drink contains other compounds that can have side effects.
On May 4, WHO said in a statement that while it "supports scientifically proven traditional medicine," plants being considered for COVID-19 treatment, like artemisia annua, "should be tested for efficacy and adverse side effects."
A few weeks later, Rajoelina tweeted that after an exchange with WHO's director general, Tedros Adhanom Ghebreyesus, the organization was going to "sign a confidentiality clause on the wording of the #CovidOrganics and support the clinical observation process that will span the African continent."
The following day, Ghebreyesus confirmed the exchange. However, Michel Yao, manager for emergency operations at WHO Africa, told AFP that the collaboration between the two wasn't a validation of the drug: "The Covid-Organics has yet to prove itself, and the WHO wants to help Madagascar to prove that they exist, if they exist."
Prophet of the pandemic
Brazil's Nexo newspaper reported that the drink's launch came shortly after TVM Malagasy, Madagascar's public television station, broadcast the story of an anonymous Brazilian woman, "presented as a visionary prophet," who predicted in November 2019 that the cure for a disease that would cause a global health crisis would be found in the African island.
Nexo reported that opponents of Madagascar's president accused him of being behind the video and taking advantage the population's naivete to sell fake cures for the disease. But Rajoelina's chief of staff, Lova Hasinirina, defended her boss, saying "it is necessary to recognize that there are unexplained mysteries in the world," Nexo reported.
The drink has already been widely distributed Madagascar – including to school children. Africa News reported in May that 250 liters of COVID-Organics were distributed daily, and that some people lined up every day to get it.
According to multiple news sites, including Al Jazeera, the drink also has been either ordered by or delivered to other countries, including Tanzania, Liberia, the Republic of Congo, the Democratic Republic of Congo, Guinea-Bissau, and, more recently, the United Arab Emirates. Rajoelina tweeted in June that the UAE was "sending sanitation equipment and has asked to receive #CovidOrganics that #Madagascar donates."
But the number of COVID-19 cases in Madagascar started rising after COVID-Organics' launch, hitting 14,009 as of Aug. 18, with 173 deaths. After peaking in mid-July at more than 600 in a day, reported cases have fallen, according to tracking by Worldometers. But the virus persists.
Hospitals in Madagascar are overwhelmed and those on the frontline don't have enough protective gear to treat COVID-19 patients. "The state is doing better now regarding protective equipment, but it's not enough to stem the epidemic. Health workers keep using the same protective gear meant for single use only, especially gowns and suits, and there aren't enough drugs," Jerisoa Ralibera, president of the SISFM paramedics' union, told the BBC this month.
The government's lack of transparency in handling funds for the pandemic has been criticized, and the finance minister published a report on the matter in July. Still, "many details remain to be clarified," a member of the Rohy civil society platform told Radio France Internationale (RFI).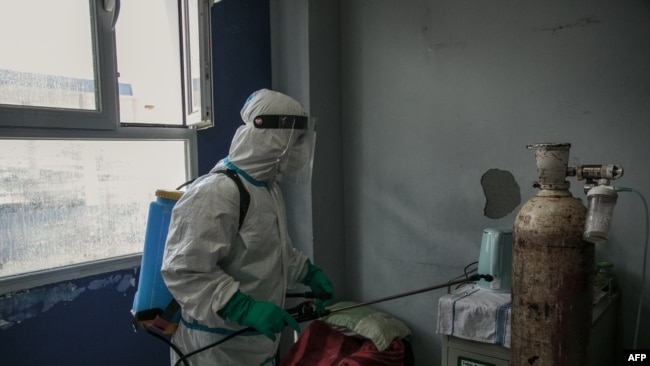 Meantime, the Wall Street Journal reported that widespread use of artemisia for combating COVID-19 could make it less effective as a malaria treatment. That's because people who take it will start building resistance to the drug, and high use could create a shortage.
Both outcomes would be worrisome, considering that malaria is still prevalent in the country. According to a United Nations Office for the Coordination of Humanitarian Affairs report in June, in the first six months of 2020, 663,558 cases of malaria were reported in Madagascar (including 398 deaths), an increase of almost 65% compared to the same period last year.
RFI this month reported on the business interests behind COVID-Organics. It noted, among other things, that artemisia captured Rajoelina's attention after Lucile Cornet-Vernet, a French orthodontist and president of La Maison de l'Artemisia – a humanitarian association working against malaria – began promoting use of the herb for treating COVID-19.
By Polygraph