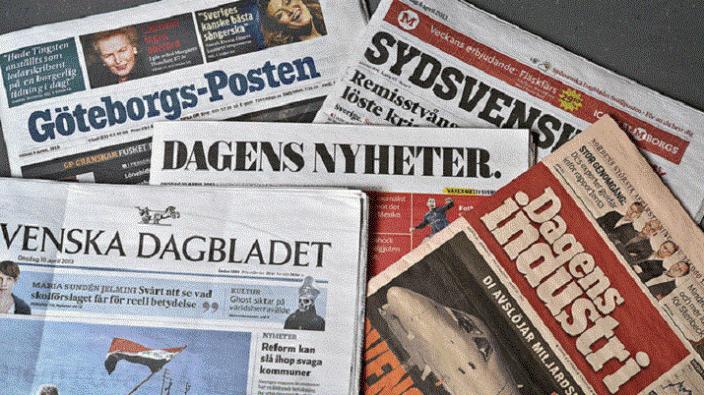 A series of coordinated cyber attacks knocked Sweden's main newspapers offline for several hours over the weekend, with early reports suggesting the attacks originated from Russia.
An anonymous threat was posted to Twitter several hours before the attacks, stating: "The following days attacks against the Swedish government and media spreading false propaganda will be targetted [sic]."
The online editions of at least seven newspapers were compromised as a result of the prolonged distributed denial of service (DDoS) attacks — a method used to disable websites by overloading them with traffic — on Saturday evening, including Svenska Dagbladet, Aftonbladet, Expressen, Goteborgs Posten and Dagens Nyheter.
The following days attacks against the Swedish goverment and media spreading false propaganda will be targetted.

— J (@_notJ) March 19, 2016
Swedish police released a statement on Saturday saying they have preliminary investigations into the cyber attacks. Sweden's national police cyber crime unit said the network of computers used in the attacks was located in Russia, but added that this did not necessarily indicate the attackers were based in Russia.
"What you can say is that the hijacked computers [that targeted the Swedish publications] are to the east," Anders Ahlqvist, an operations specialist at the cyber crime unit, told Dagens Nyheter. "But police experience says that if someone wants you to look in a particular direction, perhaps you should have your eyes over your shoulder and look the other way as well."
Sweden's Interior Minister Ygeman called the attack an "attack on free speech" and invited the publications involved to discuss the attacks as part of Sweden's cyber security review.
DDoS attacks are becoming increasingly popular with cyber criminals due to their relatively unsophisticated nature. Security company CloudFlare reported earlier this month that the scale of attacks has increased significantly since the start of the year.
By Anthony Cuthbertson,  Newsweek