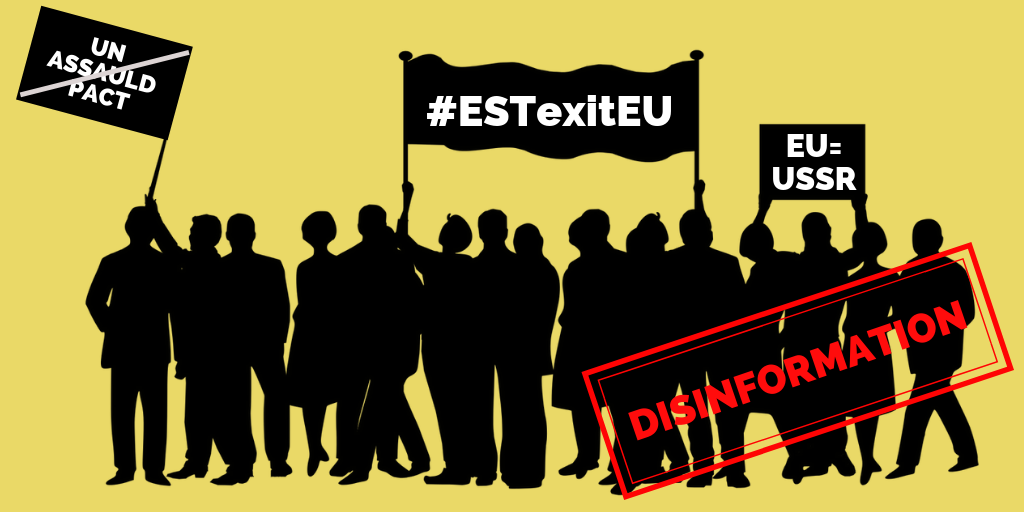 On 12th of December last year, a man protesting against the UN Global compact for migration was attacked. A few days later, photos of the brawl appeared on the Russian social media site Vkontakte, showing someone with an Estonian flag on their sleeve beating the protester. The post in the "Мы-Нарвские" or "We from Narva" group also featured photos showing the placard stating "EU=USSR", "Stop the UN assault pact" and "#ESTexitEU".
The post quickly captured the attention of volunteers running the Estonian Propastop blog and what they discovered is more than interesting. Firstly, snow was present in the photos, but during the time of the alleged dustup the weather conditions hadn't been so nordic. Secondly, there were many pictures but none of them revealed a face. Thirdly, no police records of the attack could be found. Thus the verdict of Propatop was: it's fake news.
Intrigued by the hashtag suggesting Estonia should leave the EU, volunteers at Propastop launched a probe into the background. What they found out matched their suspicions – the hashtag had been used for the first time in November 2018 on Twitter by user Heigo Ponn. But was this user real? He had "borrowed" a photo from an account belonging to Aleksandr Gerasimov who lives in Nižni Novgorod, Russia. The other user spreading the hashtag was Gennady Karpov and he had "borrowed" an image from Sergei Tatskii living in Volgograd, Russia. Neither Ponn or Karpov posted in Estonian and large numbers of their posts were about Russia and Ukraine. Also, both of the accounts had followers that seemed to be fake.
The hashtag also found its way to Facebook where the group ESTONERS used it extensively. According to Propastop, the administrators of the group used fake accounts – one remarkably even "borrowed" a photo from a well-known Estonian journalist. Other fake administrators used photos "borrowed" from Russian social media. Most of the administrators' accounts were created in September 2018.
The spreading of ironic photos, illustrations and memes about Estonian politicians and divisive topics in society lasted until 10th of January when Facebook closed the initial fake accounts of Estoners' original administrators and thus deleted the content shared by them. As Facebook stated: "We are constantly working to detect and stop this type of activity because we don't want our services to be used to manipulate people. We're taking down these Pages and accounts based on their behavior, not the content they post. In these cases, the people behind this activity coordinated with one another and used fake accounts to misrepresent themselves, and that was the basis for our action."
All of this brings us to three conclusions. First on the scale and reach of such campaigns. According to a report by NATO Stratcom CoE , Vkontakte in Estonia has approximately 327 000 users and Odnoklassniki 250 000. That means that in some parts of Estonia they are more popular than Facebook.
Secondly, all of this corresponds with findings about Russian social media propaganda in the US: "bad actors specifically go after vulnerable people who are more susceptible to radicalization". And both in the US and in Estonia, tensions for example around immigration make it easier to create propaganda campaigns online and thus drive a wedge in society.
The last, but not least takeaway is: according to experts, automated bots – that were used in US elections in 2016 – can be identified quite easily, but operations to spread disinformation are way more complex and difficult to recognize.
On 17th of January, Facebook removed almost 300 pages that "masqueraded as groups with special interests – ranging from food to support for authoritarian presidents  – and amplified content from the Kremlin's media agency, Rossiya Segodnya." Pages like "russkie.v.estonii" ("Russians in Estonia") and "russkie.v.baltii.estonia.latvia.litva" laundered and amplified articles from Sputnik which despite its claim to provide alternative and non-establishment information is 100% controlled by the Russian government and has often been found deliberately spreading disinformation. In the case of Estonia, material from Sputnik was mixed with links from other local sites.
According to DFR Lab, most of the pages Facebook deleted, did not mention a connection to Rossiya Segodnya. The number of followers such behaviour resulted in is 853,413. That's 1.7 times higher than the total number of followers of all Sputnik's official pages across the same countries.