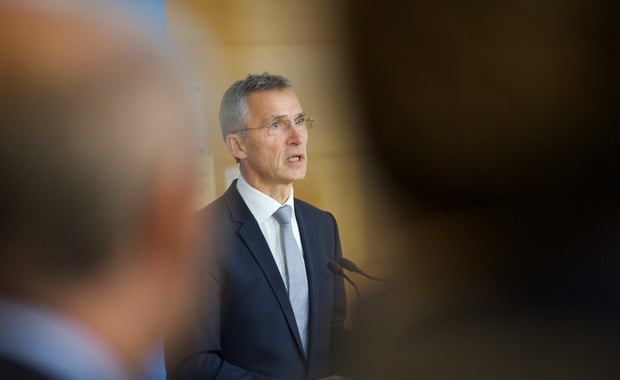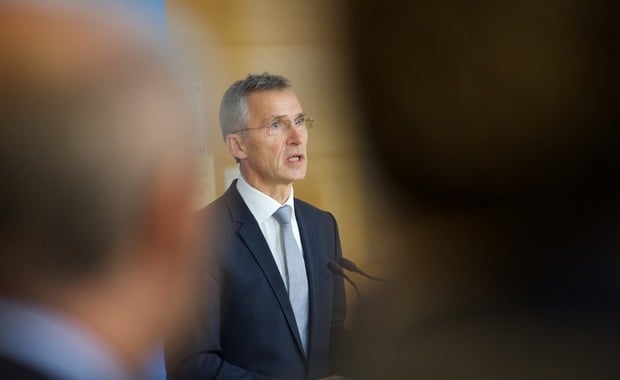 That one of the five sessions at the NATO foreign ministers conference on Dec. 1-2 is devoted to Ukraine is a testament to Ukraine's importance to the security architecture of Europe, NATO Secretary General Jens Stoltenberg told a group of journalists ahead of the event.
Referring to the NATO-Ukraine Commission that handles decision-making for bilateral relations, Stoltenberg said the 28-member defensive alliance will review "our practical support to help Ukraine modernize command and control, cyber security and logistical capabilities."
He said that, in turn, Ukraine Foreign Minister Pavlo Klymkin will provide an update on the flawed cease-fire in the Donbas and what's been done to strengthen governing institutions.
"It is key that Ukraine remains committed to implementing ambitious reforms," Stoltenberg said.
He noted that NATO has observed an "upsurge of cease-fire violations" in the Donbas while reiterating that a truce that was brokered in the Belarusian capital of Minsk last year is the "only solution," including pulling back heavy weapons and "allowing monitors to do their work."
Russia continues to wield "significant influence" among the separatists in Donbas, U.S. NATO envoy Douglas Lute said at a separate briefing. Although the presence of regular Russian troops has decreased – who were responsible operating some of the heavy weapons that have been withdrawn – the drop in fighting wouldn't have been possible "if it were up to the separatists alone."
Russian military presence at Ukraine's border has also significantly increased to "one or two battalions," much less than a year ago, the former American general of 35 years said.
Lute said he doesn't anticipate any announcements of new forms of NATO support for Ukraine to be made by the end of ministerial conference.
Asked whether NATO is distracted by Syria and the threat of jihadist group Islamic State in the south, Stoltenberg said "we must look in more than one direction at the same time, we must look east to see what's going on…we don't have the luxury of being focused in either direction."
Moscow isn't perceived as a mediator in the war it started in Donbas.
"I don't think we are treating Russia as a peacemaker," Lute told the Kyiv Post after the briefing. "We're holding Russia responsible for…the violation of international rules of the road, first in Crimea, and even to this day in the Donbas.
"They're not getting away with it. They're under sanctions, we've here (at NATO headquarters) have minimized our contacts with the Russians, I mean there's no Russian officers walking around here anymore. This is not business as usual. It's not going to be business as usual until they reverse course in Ukraine. We're holding them responsible."
For this reason and to prevent escalation in other areas like Turkey and Syria, NATO will review its relationship with Russia to address the so-called "snap" military exercises it holds without giving prior notification.
Russia has conducted 18 such exercises near its borders with NATO countries over the past three years, according to NATO, involving more than 150,000 troops, and several appeared to include simulated nuclear attacks.
"We also see a clear increase in Russia's air and maritime activities, including – it seems – to test its neighbors' reactions," according to the NATO information center.
To restore "predictability" with Russia's actions, Stoltenberg said he will seek to include a clause in NATO's agreement with the Kremlin to have observers present during snap military exercises.
"The importance of this was highlighted by last week's incident with the Russian plane," he said when Turkey shot down a Russian fighter jet that had violated the NATO member and middle eastern country's airspace.
A new hybrid warfare strategy will be adopted to further counter Russian security threats. Russia employed such asymmetric warfare, which included the use of military personnel without insignia, propaganda, and economic sanctions in its ongoing war against Ukraine.
"This is an important step," Stoltenberg said. "Our new strategy will help us to prepare, deter and defend against hybrid threats."
The strategy involves member states who must respond first to such threats, followed by the EU as a whole, and NATO.
This is the "triangle of responsibility," according to Lute, adding that the strategy is "getting in front or responding to hybrid warfare."
EU Foreign Minister Federica Mogherini will attend the conference to participate in the drafting of a new hybrid warfare strategy, Stoltenberg said.
By Mark Rachkevych, Kyiv Post