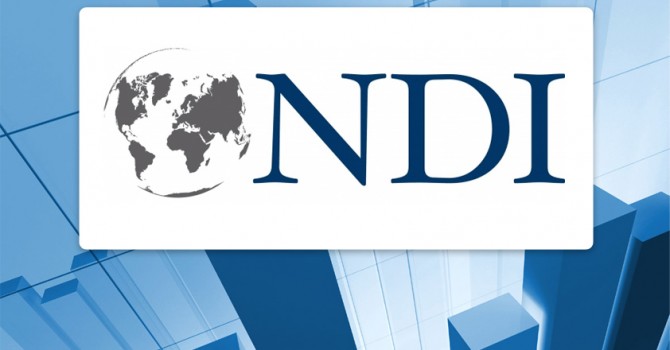 By Tabula
The National Democratic Institute (NDI) released the results of their most recent public opinion survey in Georgia regarding major issues surrounding the country, its foreign policies, efficiency of the government's work, and political propaganda.
The fieldwork for the survey was carried out from November 29th to December 19th, 2017 throughout the regions of Georgia, excluding the occupied territories of Abkhazia and South Ossetia. 2,298 face-to-face interviews were conducted based on a sampling selection. The NDI survey was conducted by CRRC-Georgia. The average margin of error is +/- 1.9%.
According to the NDI survey, 30% of respondents believe that political propaganda is common in Georgia. 53% disagreed and 17% did not answer the question.
To the question about Russian/US/EU propaganda, the results were:
29% believe that propaganda promoting the European Union exists in the country, 45% disagreed with this opinion, and 26% did not answer the question.
28% believe that there is propaganda coming from the United States. 44% did not agree with the opinion and 28% did not answer the question.
Respondents were given the definition of propaganda as "an attempt to spread information especially of a biased or misleading nature, to promote a positive image of a specific country, justify its actions and create a negative image of the opposing countries."
Out of the 30% who believe that Russian propaganda exists in Georgia, 53% say it is spread through Georgian TV channels, and 32% believes Russian propaganda is promoted by political parties. 28% name the Internet and social media as a weapon for spreading Russian propaganda, 12% blame society, and 11% think foreign TV channels spread the misleading and biased information.
Out of the 29% of interviewed respondents who believe that there is a propaganda from the European Union, 66% thinks it is spread via Georgian TV channels, 31% thinks propaganda reaches society through the Internet and social media. 23% of respondents believe political parties bring propaganda to the public, 11% blame society, and 8% claims foreign TV Channels are responsible for spreading propaganda.
Out of the 28% who believe that US propaganda is heavily present in Georgia, 66% say that it is spread through Georgian TV channels, 32% believe information comes from the Internet and social media, 26% from political parties, 10% from society, and 9% think propaganda is spread through foreign TV channels.
By Tabula