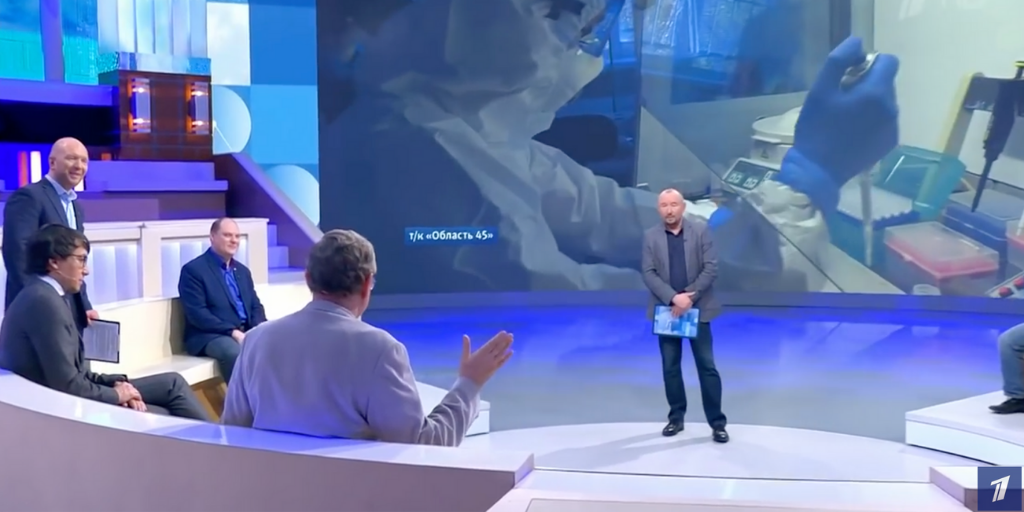 Bill Gates-bashing is back in the COVID-19 narrative on Russian state-controlled TV, paired with anti-vaccine messaging.
One would have hoped that the recent scandal following Russian celebrity film director Nikita Mikhalkov's attack on Bill Gates had successfully sidelined conspiracy theories about COVID-19 from Russia's dominating TV channels.
However, Bill Gates popped up again on 13 May; this time, in a talkshow on state-controlled Channel One Russia (Pervy Kanal).
Here, a participant introduced as Director of the Institute of Globalisation Problems presented a recurring conspiracy theory about Bill Gates and questioned vaccinations in general – all as part of a discussion about how to respond to the coronavirus pandemic.
"The guys on Pervy Kanal have learned nothing"
Among those who expressed their disappointment with Mr Gates' return was the team behind the programme 'Fake News' on Russia's independent TV Rain.
"The guys on Pervy Kanal have learned nothing from the story with Mikhalkov", TV Rain wrote in the introduction to the latest episode of 'Fake News,' broadcast on 16 May.
"And that is not funny at all," TV Rain host Maria Borzunova commented in the programme: "Because for our money, anti-vaxxers spread their heresy propaganda to our entire country".
Maria Borzunova exposes disinformation as co-host of the weekly programme 'Fake News' on independent TV Rain. Read her interview with EUvsDisinfo, "Distracting the Audience from the Real Problems."
A dangerous mix
Bill Gates is becoming an important scapegoat in global conspiracy theories about the COVID-19 pandemic.
As EUvsDisinfo has highlighted, some Russian domestic and international pro-Kremlin media have picked up the Bill Gates narrative, as well as more general anti-vaccination propaganda.
EUvsDisinfo has also described how the traditionally streamlined pro-Kremlin media messaging shows signs of being disjointed: factual reporting is occasionally interrupted by outbursts of disinformation, usually in the form of conspiracy theories.
The recent example from Channel One Russia reinforces this dynamic: the Bill Gates conspiracy theory featured prominently in the talkshow – but was at the same time challenged by another talk show participant. As we have seen before, the result was unclear and mixed messaging about the highly dangerous COVID-19 topic.