A special monitoring mission by the OSCE could not confirm the withdrawal of heavy weapons below 100mm caliber by illegal military groups in eastern Ukraine. This was announced by the Deputy Chief of the OSCE Mission Alexander Hug on July 20.
"The OSCE Mission did not observe the withdrawal yesterday; the mission observed the movement of tanks and other heavy machinery on the side of Donetsk and Luhansk People's Republics. We did not see any withdrawal", Hug told to RIA Novosti.
The mission report, dated July 19 and available on the OSCE site, also mentions only observing the movement of three tanks and four BMP amphibious and infantry fighting vehicles.



Nevertheless, on July 19-20, several media falsely reported that the OSCE observed the withdrawal of weapons under-100mm caliber. The self-describe Donetsk People's Republic militants meanwhile announced the withdrawal of 41 tanks and 84 BMPs.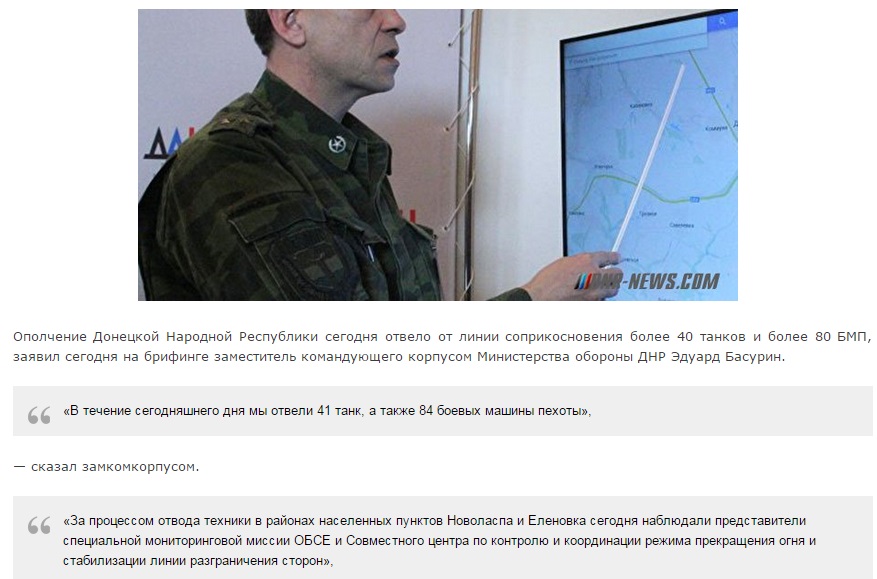 "The representatives of the special monitoring mission of the OSCE and the Joint Center for Ceasefire Control and Coordination and stabilization of parties' demarcation line observed the withdrawal of the military machinery near the towns of Novolaspa and Yelenivka", the spokesman for the "DPR Defence Ministry" Eduard Basurin wrongly stated.
NTV, Lifenews, RIA Novosti, Zvezda, REN-TV and other media featured reports misrepresenting OSCE findings.