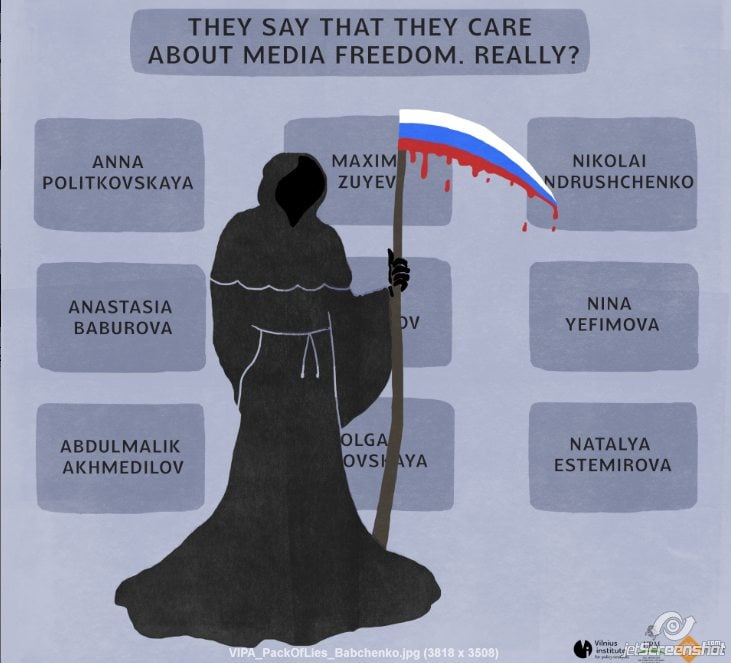 When it was announced that the Russian journalist Arkady Babchenko was murdered in Ukraine's capital Kyiv on Tuesday, it did not take long for the Kremlin to use this crime for their propaganda and disinformation purposes. However, when it appeared that Babchenko is actually alive and the reports about his murder are a part of the Ukraine Special Services' operation, questions whether the media's involvement in such campaigns will not cause the loss of trust in Ukraine's authorities have been raised by many, especially in the West.
Mark Galeotti argues that from now on after each report of this kind Kremlin will question whether what is reported is actually true. On the other hand, Atlantic Council's Maksim Eristavi asks whether it does not seem strange that so many international correspondents and opinion-makers are now concerned not about Babchenko being alive and safe, but about being misinformed. Nina Ognianova, the director of Europe and Central Asia Program of the Committee to Protect Journalists, claims that though it is a great relief that Babchenko is alive, it is necessary for Ukrainian authorities to disclose the information on why this extreme action was taken in order to imitate a death of a journalist. The Secretary General of "Reporters Without Borders" Christophe Deloire expressed outrage in the name of the organization arguing that the Secret Services manipulated the information. He stated that it is always dangerous to play with facts behind the journalists' backs.
However, let's come back to the beginning of the whole story: the initial reaction of the Kremlin to the reports about Babchenko's murder. It is important because though there might be disagreements between Ukrainian and Western opinion- and decision-makers, they should not forget who is the real enemy here: Vladimir Putin's regime. So after the announcement of Babchenko's murder Russia's Ministry of Foreign Affairs declared that the level of physical violence and the number of journalists' deaths in Ukraine are constantly growing, but the investigations do not bring any results. Kremlin's stooges tried to claim that unsolved bloody crimes have become a routine in Kyiv. Russia's MFA demanded Kyiv to investigate the murder as soon as possible.
In another report on the same day Sputnik presented even more "evidence" proving that there is no free media in Ukraine. Petro Poroshenko government's decision to ban Russia's propaganda channels "Rossiya Segodnya" and "RIA Novosti" was criticized. Propagandists portrayed it as allegedly an act of censorship and a violation of freedom of speech.
However, as usual, Kremlin only talks about what corresponds to their preconceived political and ideological position and seeks to ignore or suppress all the inconvenient facts. For example, the facts that Babchenko moved to Kyiv to escape Kremlin's censorship, threats, and persecution. It is inconvenient for Kremlin to remember or even mention the journalists who were murdered because they were seen as threats to the regime: Anna Politkovskaya, Anastasia Baburova, Stanislav Markelov, Natalya Estemirova, and others.
According to the "Reporters Without Borders" world press freedom index, Russia is 148th out of 180, whereas Ukraine is way higher (101st). "Reporters Without Borders" stress that the strict means against the press have been strengthened from 2012 when Vladimir Putin came back to Kremlin. Independent media is either subjected to the regime or forced to close. It is stressed that now there is an unprecedented number of journalists (at least 5) and many more bloggers that are incarcerated. According to the organization, murders and violent attacks against journalists are not thoroughly investigated, perpetrators do not face justice. The "Freedom House" in their report on freedom of the press also talk about the systematic persecution of journalists in Russia by applying both legal instruments and brutal violence. Having all this in mind, it is certainly not for Moscow to complain about media freedom and safety of journalists in neighbouring countries.
___
The text is part of the project which is aimed at strengthening democracy and civil society as well as fostering closer ties with the EU Eastern Partnership countries (Ukraine, Moldova, Georgia) by spreading independent information with the help of contemporary solutions. The project is implemented by Vilnius Institute for Policy Analysis, and is financed as part of Lithuanian Ministry of Foreign Affairs' Development Cooperation and Democracy Promotion Programme.