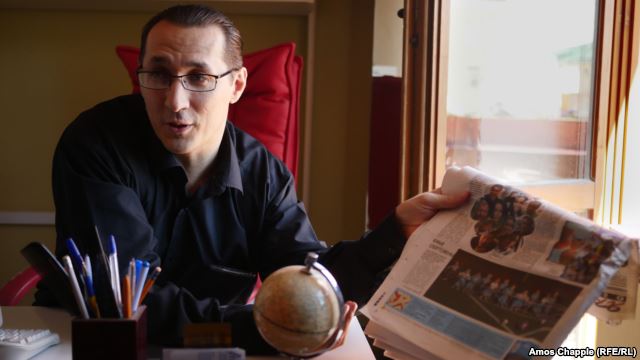 Running an independent newspaper can be a risky business in Russia, where failure to toe the Kremlin line can lead to fines, closure, or even jail. And when a publication has been branded by state-controlled media as "U.S. propaganda," the danger that the police will come knocking is even greater, Amos Chapple and Tony Wesolowsky wrote for RFE/RL.
But the editor in chief of Yakutsk Vecherny, one of the most popular newspapers in Siberia's vast Yakutia region, says the publication has stayed out of the crosshairs of local authorities despite a bold rebuke against Kremlin-friendly media that appears in an unusual part of the paper: the weekly TV listings.
In capital letters at the bottom of the page, readers find the following warning:
"Beware. TV news programs often contain distorted or false information. The state TV channels NTV and Rossia are guilty of this more than the others." 
The publication made sure it had everything in order after adding the warning in May.
"We know there are risks, and therefore we are really careful with everything we do. Plus, we have strong support from lawyers," editor in chief Vitaly Obedin told RFE/RL in a recent interview at his office in Yakutsk, a city of some 270,000 about 4,900 kilometers northeast of Moscow.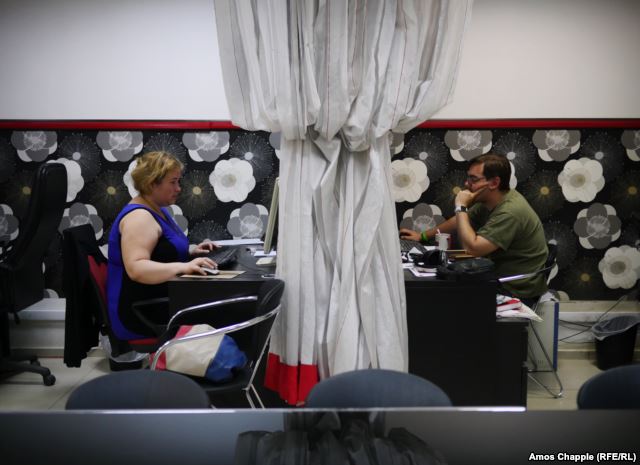 "Fire safety, and other technical stuff, and taxes, all of it, we're as clean as a whistle," said Obedin, citing the kinds of things state authorities sometimes use as pretexts to close organizations that they want shut for political reasons.
Obedin said his paper's poke at Kremlin-loyal media was a response to being targeted in an NTV news program earlier this year.
NTV, which is owned by the state-controlled gas giant Gazprom, broadcast a program accusing Yakutsk Vecherny and other independent regional media of serving the interests of Russia's enemies because they received money from a U.S.-based NGO.
"Right now, telling the truth in Russia means working for the United States, and exposing lies also means working for the United States," said Obedin, who has worked at the paper for about 15 years.
President Vladimir Putin increased state control over the broadcast media in particular after he came to power in 2000, and independent outlets have come under increasing pressure in recent years. TV2 in Tomsk, which many considered the last truly independent regional TV station in Siberia, was taken off the air in 2015.
Yakutsk Vecherny began publishing in 1994 and is issued in print form once a week, on Fridays. There is also a web version.
The initial public reaction to the "TV warning" was less than overwhelming, Obedin said.
However, once social-media users noticed, things changed, and his office was flooded with calls and letters of support.
"Most people think it took a lot of bravery to publish it," he said.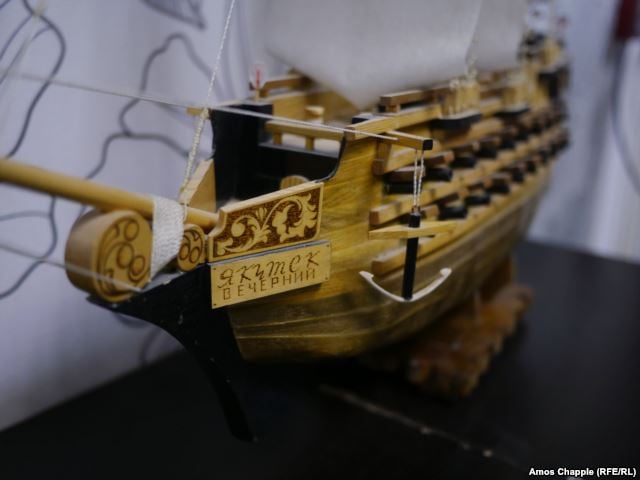 Local authorities, however, weren't so impressed.
"Look, whenever you've been labeled by state media, things are more difficult. We're being watched very carefully. But right now, we are not being targeted specifically by the authorities," Obedin said.
Dozens of other regional newspapers have followed his newspaper's lead, adding the TV warning to their pages as well, claimed Obedin, listing at least 10.
According to Obedin, more and more Russians are turning away from print media for their news, getting their information instead from the TV, or the "zombie box," as he and many other critics of state media put it.
And the message most Russian state TV is churning out is that the country is under threat.
"The message is that all foreign countries are jealous of Russia and dreaming of its collapse," Obedin explained.
Asked how much longer his newspaper plans to carry the TV warning, Obedin said that while he doesn't expect propaganda to disappear, he hopes it will be toned down a bit.
"Maybe we'll end it when the TV channels become less obvious."
By Amos Chapple and Tony Wesolowsky, RFE/RL