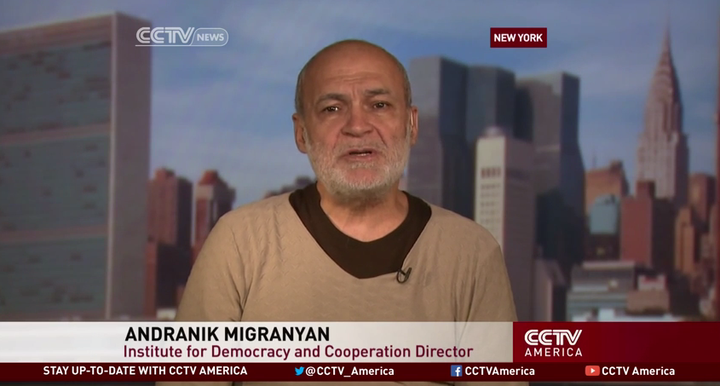 A pro-Kremlin think tank based in New York City is shutting down, an official with the group told BuzzFeed News on Tuesday.
"I can confirm that the Institute is closing its operations," Nikolay Pakhomov, an associate at the Institute for Democracy and Cooperation, said.
Russian news site Gazeta.ru reported on Sunday that the organization is shutting down and that its director, Andranik Migranyan, is returning to Russia. Migranyan told the site that the group is stopping its work because its mission of monitoring human rights in the U.S. has been "accomplished," because "The human rights situation has improved in the United States." The institute would publish reports detailing human rights issues in the U.S. Sources told Gazeta that the institute was in fact closing its doors due to a lack of financing.
Pakhomov didn't respond to follow-up questions about why the institute is closing.
Migranyan used the institute to function as a kind of unofficial spokesman for Russian President Vladimir Putin's government. Migranyan told the Associated Press in 2008 that the creation of the institute had been approved by the Kremlin, but that it was funded privately through business donations.
Migranyan would occasionally appear in the Western press giving pro-Kremlin quotes, and sometimes wrote in The National Interest, an international affairs magazine known for often showcasing realist foreign policy views.
He once told BuzzFeed News that people who supported boycotting the Olympics in Sochi to protest the Russian government's handling of LGBT rights "need to go to examine their head at a psychiatrist's" and claimed that "In Russia, nobody is persecuting homosexuals."
Migranyan last year grabbed attention for his unusual response to a historian who compared Putin's annexation of Crimea to Adolf Hitler's invasion of Austria in 1938, calling the historian, Andrei Zubov, "hell-spawn" and arguing that Hitler actually wasn't so bad at that point in time.
"One should distinguish the difference between Hitler before 1939 and Hitler after 1939 and separate chaff from grain," Migranyan wrote, saying that if Hitler had just rested on his laurels after the Anschluss, he would have been remembered by history as a "politician of the highest order."
By Rosie Gray, BuzzFeed