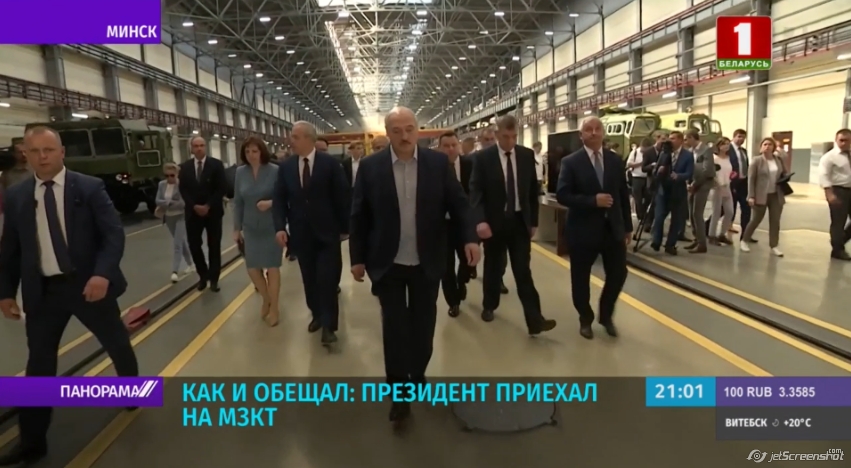 President Alyaksandr Lukashenka visiting a tractor factory on August 17. Screenshot: Belarusian TV 1 news.
EUvsDisinfo had a look at state-controlled media in Belarus to see how Belarusian media is covering the events unravelling in their country. State-controlled media spreads a mix of disinformation, threats and glorification to convince audiences that President Alyaksandr Lukashenka is the guarantor of economic stability and order while the opposition and the West will bring only chaos.
The main platforms used by Belarusian authorities to convey their narratives are the evening news broadcasts on state-controlled TV stations such as Belarus 1, ONT, STV and Mir TV. As the narratives below suggest (in addition to passing the opposition protests under silence and extensively covering Lukashenka's activities), the informational function of state-controlled media is sometimes replaced by the transmission of official ideological messages.
It should be noted that the level of coordination across TV 1, ONT and STV, for instance, was rather high, illustrated by the fact that news stories had similar structures and that positions often overlapped. There was, however no content sympathetic to the demands of the protesters. There were also a number of news stories that levelled accusations and threats against protesters.
Below is a short selection of examples describing what was shown to viewers on Belarusian state-controlled TV channels.
In addition to news, advertisements depicting a bleak future for Belarus in the event of a change of power were regularly broadcasted:
The narratives on state TV were largely echoed by the presidential news agency BelTA (also in English) and by state-run newspapers and news sites such as Belarus Segodnia, Respublika, Narodnaya Hazeta and Zvyazda.
Some local pro-Kremlin disinformation sites also seem to promote a pro-Russian course. Sonar2050, for instance, was listed by the Estonian Foreign Intelligence Service in its yearbook as one of numerous Russian platforms promoting the idea of unity between Russia and Belarus.
As the list of outlets and narratives show, the Belarusian opposition has to find alternative channels to convey its messages. In addition to independent news sites like Charter 97, naviny.by, euroradio and reform.by there are also bloggers and Telegram channels.
One of these is the Telegram channel Nexta, which is run by a team of 6 people and which currently has 2.1 million followers. It mostly shares images and videos of the protests, revealing how authorities are trying to stop the political action or strikes by intimidation. The channel also brings news from the field, informing how local authorities allow protest outside the capital and release detained protestors (see here NEXTA Live on Telegram).
Considering the government's tight control over state media in Belarus and widening gap between events in the real world and the way they are portrayed on TV, journalists started resigning and protests began to demand more independence for media. According to independent media, Russian journalists have been brought in to fill the vacant positions left following the resignations in Belarusian state-run media houses. This would probably mean that censorship and the current editorial line will continue to be entrenched on Belarusian state media.