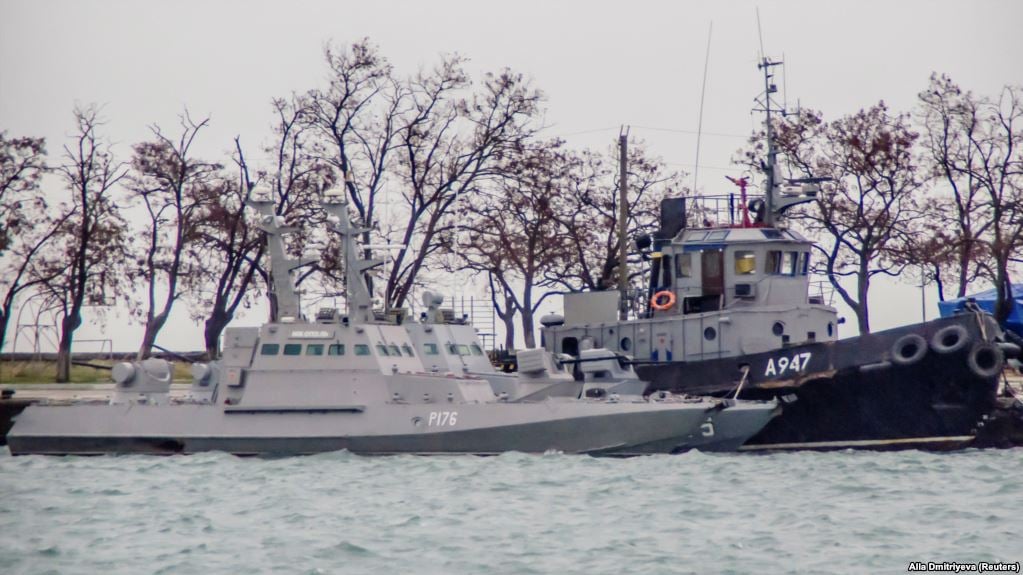 By Polygraph
"Two little cutters that the United States gifted Ukraine didn't pass through the Kerch Straight, and you want a nuclear submarine visiting our base?! A bad film."
FALSE

The two ships reportedly made in Ukraine were not gifted by the U.S.
Speaking to reporters after the G20 (Group of Twenty) Summit in Buenos Aires on Saturday, Russian President Vladimir Putin was asked his opinion of the Hollywood film "Hunter Killer" by "Kommersant" Kremlin pool reporter Andrei Kolesnikov.
In that movie, which Russian censors have reportedly left in limbo, an American submarine is sent to observe a Russian naval base, only to discover a putsch, in which the Russian president is kidnapped with the ultimate goal of starting World War III.
The Ministry of Culture prevented release of the film just before its scheduled run in Russian theaters on November 1 – claiming the distributor had not followed proper procedures , which the distributor disputed. The film was eventually approved for release in Russia with significant delay in its schedule.
After bantering with Andrey Kolesnikov about the plot of the film, Putin calls it "unlikely" and "fantastic."
"Two little cutters that the United States gifted Ukraine didn't pass through the Kerch Straight, and you want a nuclear submarine visiting our base? A bad film," Putin said dismissively before ending the press conference.
Putin refers to the incident occurred on November 25, when Russian Coast Guard boats attempted to stop a Ukrainian tugboat as it was on its way to transit the Kerch Strait from the Black Sea into the Azov Sea, between Russia and Russian-occupied Crimea. The incident ended with Russian vessels firing on two Ukrainian naval patrol boats that came to the aid of the tug, and Russian forces capturing all three Ukrainian vessels along with their crews.
But Putin's claim that the two ships were "gifted" by the U.S. is false.
The two patrol boats, "Berdyansk" and "Nikopol", have already been identified as Gyurza-M-class artillery boats, which are manufactured by the Kyiv-based Kuznya na Rybalskomu ship building and armament firm.
And even now Putin lies: 2 Ukrainian boats "Gyurza-M" – "made in Ukraine" and by the Ukrainian project (state-owned enterprise in Mykolaiv). The boats were transferred to Ukraine's Navy in 2016 and 2018. https://t.co/2xiortrrmz

— Viktoria (@Ukropo4kA) December 1, 2018

When claiming the two seized boats were a gift to Ukraine from the U.S. the Russian president might have confused them with two different ships Ukraine agreed in September to accept from the U.S. – Island-class patrol boats as free military aid.
Putin's loosing his sight & his hair. At #G20, he claimed the #Ukrainian boats his pirates attacked & captured were given to #Ukraine by US coastguard (pic 3). But they're Ukrainian built Gyurza-M, armoured artillery boats. Maybe Russia's just making stuff up? #AzovSea pic.twitter.com/sbm0jE0qHo

— Glasnost Gone (@GlasnostGone) December 2, 2018
"This aid is especially crucial at a time when Russia is undermining the freedom of navigation in the Sea of Azov, cowardly hunting and intimidating commercial ships," Ukrainian President Petro Porohsenko said at the time.
"Our task is to convince the Kremlin that we are committed to defending Ukraine's shores."
Those outdated vessels, manufactured for the U.S. Coast Guard from 1985-92, are intended to help Ukraine create a so-called "Mosquito fleet" – with a focus on quick deployment covering a large area.
The aim is to counter what Valeriy Chaly, Ukraine's ambassador to the U.S., called Russia's attempt to "militarize the Azov" during an interview with Defense One.
But the ships seized by Russia on November 25 were Ukrainian, and not American-made and so we judge Putin's claim to be false.
By Polygraph