Now that Europe is digging in for a protracted economic war on Russia, President Vladimir Putin desperately needs his sympathizers in the European Union to lobby for his interests, Leonid Bershidsky writes for bloombergview.com. This "fifth column" is often assumed to be made up of radicals on the extreme right and extreme left, but mainstream politicians and intellectuals are also involved, and their arguments are of a pragmatic rather than an ideological nature.
The radicals, of course, are most vocal. Nigel Farage, leader of UKIP, the U.K.'s anti-immigrant, anti-EU party, has expressed his admiration for Putin "as an operator, not a human being." Farage has demanded that the West stop opposing Russian actions in Ukraine and ally itself with Putin in the fight against Islamic extremism. Marine Le Pen, leader of France's ultranationalist Front National, is another Putin admirer. And Heinz-Christian Strache, the leader of Austria's far-right Freedom Party, has praised the Russian leader as a "pure democrat."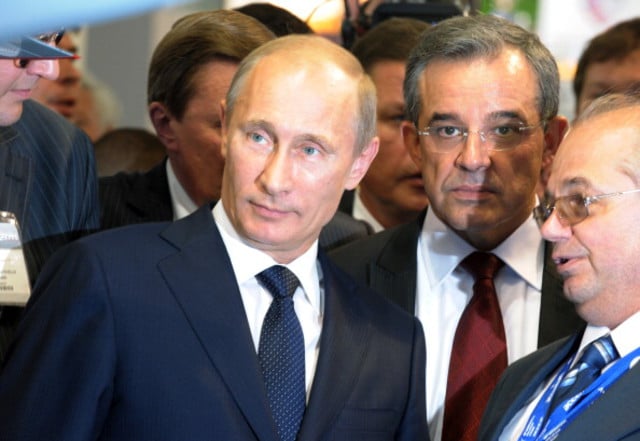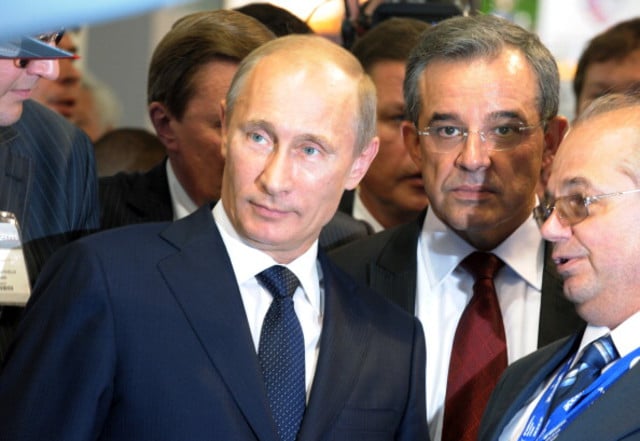 On the far left, Gregor Gysi, leader of Germany's Die Linke, the successor party to East Germany's Communists, has condemned Putin's Crimea land grab but has strongly backed a compromise on terms advantageous to Russia.
European right- and left-wingers recently took part in a ludicrous "observation" mission to the rebel republics in Eastern Ukraine, which held an election not officially recognized even by Russia. Some of these supporters would clearly like Putin to become even more assertive: They see him as a powerful, wealthy ally who could help them do better in their own countries.
These relationships could become mutually profitable if the marginal forces make headway domestically. They have a lot going for them already: UKIP recently won its first seat in parliament, the Front National triumphed in European Parliament and municipal elections, the Freedom Party made gains in last year's Austrian parliamentary election, and Die Linke has just won the right to form its first federal state government, in Thuringia, Germany. The problem that all these political forces have, however, is that if they ever amassed real power, their countries' political elites would see it as disastrous and would unite against them. That doesn't mean they can't eventually win, but compared with mainstream parties they're playing with a handicap.
If Putin could lean only on the radicals, his influence in the EU would be marginal. Yet he has mainstream allies, too. One is Matthias Platzeck, who served as the prime minister of the German federal state of Brandenburg and the chairman of SPD, the second party in Germany's ruling coalition. A long-time ally of former Chancellor Gerhard Schroeder, who is friends with Putin, Platzeck now heads the German-Russian Forum. He argued this week that the annexation of Crimea should be "legitimized under international law so it's acceptable to everyone."
Platzeck is as mainstream as they come, not a member of the Putin fan club.  But his home state of Brandenburg, like other regions in eastern Germany, has strong economic ties with Russia, and Platzeck, 60, a Russian speaker like Chancellor Angela Merkel and many other East Germans of his generation, is just being pragmatic:
Putin, and perhaps all of Russia, have a different value system, which is not necessarily compatible with ours. But a nation's past should not be the only criterion by which to judge it. He is at least a rational person, a sober and realistic politician. I bet on his rationality. And what will come after him, we do not know.
Le Monde is publishing a series of articles on "Putin's network in France," the first of which centered on "business diplomacy" and featured some prominent business leaders. Christophe de Margerie, chief executive of the oil major Total who recently died in a plane crash near Moscow, was not the only influential patron in favor of business as usual with Russia. Jean Francois Cirelli, head of the energy company GDF Suez, admits to being "pals" with the Russian ambassador in Paris and argues that politics should not interfere with business. As for the Crimea land grab, he says, that was just "a little naughty." The executives of other French businesses with a big presence in Russia, such as the bank Societe Generale and the retail chain Auchan, are also not interested in leaving Russia despite the political conflict.
They are not without allies in France's center-right opposition party, UMP. Thierry Mariani, a UMP legislator and the biggest Russia booster in the French parliament, told le Monde, "Europe only has two great heads of state, Merkel and Putin — a man who thinks of his people when he sets out policy." Mariani, a former transport minister, is no radical pariah, and his advocacy of Putin's Russia is not a marginal pursuit: He has allies both within and outside his party.
The views of Platzeck and Mariani echo those of Czech President Milos Zeman, who has said that Russia has a claim on Crimea and stressed Ukrainian nationalists' historical Nazi connections, just as the Kremlin does. Zeman, too, is a mainstream politician, and he gets a lot of flak for being too soft on Russia — during a recent speech, it earned him a barrage of eggs and tomatoes. Platzeck, for his part, received a rebuke from Frank Walter Steinmeier, a ranking SPD member and Germany's foreign minister, who said the Crimea annexation was "a clear violation of law which we cannot endorse nor recognize." Mariani's views aren't officially backed by his party either.
Still, these perfectly serious politicians persist in their support for normalizing relations with Russia. Regardless of whether the Kremlin does anything to keep them interested, they are making a serious reputational bet on pushing an unpopular appeasement policy. If the EU cannot agree on further sanctions that have a serious effect on the Russian economy, Putin's friends will have won that bet, even if other politicians never admit it. Whether the current Western leaders like it or not, pragmatism in relations with Putin is part of the political mainstream in Europe, not the domain of fringe crazies.
By Leonid Bershidsky, www.bloombergview.com.