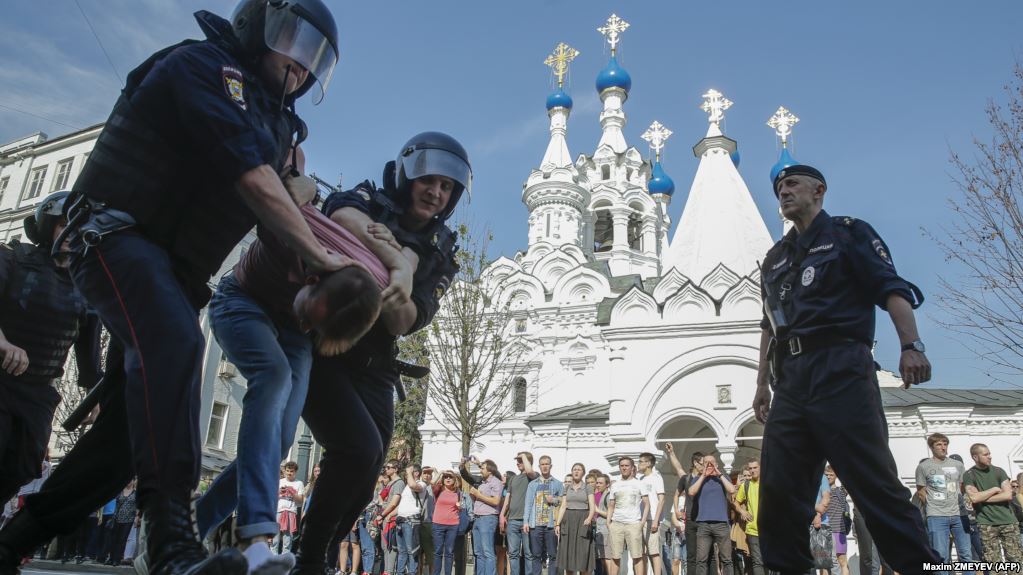 By Polygraph
"I am counting here on new ideas and approaches, on the boldness of our young people, on their ability to become real leaders of change; that young people will be faithful to the values of truth and justice…"
PARTIALLY FALSE

Vladimir Putin's "space of freedom" is conditional
In a speech marking his fourth presidential inauguration on May 7, Vladimir Putin told Russia's youth that he is counting on "their boldness, their ability to become real leaders of change," their faithfulness to the "values of truth and justice" in his effort to "expand the space of freedom."

On May 5, two days before Putin pledged more freedom for young Russians, police and Cossack guards cracked down on anti-Putin protests nationwide, arresting nearly 1,600 people. Hundreds suffered brutal beatings at the hands of Cossacks. A majority of the protesters were young people aged 12 to 25. Photos and videos emerged on social media of police detaining scores of teenagers. There were no reports of protesters behaving violently.
"Why is Putin afraid of this young man?" Michael McFaul, former U.S. Ambassador to Russia tweeted on Saturday commenting on the picture of a 14-year-old protester arrested by riot police.
Why is Putin afraid of this young man? https://t.co/7XwZs57Yhq

— Michael McFaul (@McFaul) 6 мая 2018 г.
"Putin pretended he did not notice the youth protests, and ignored it in his inaugural speech," Lev Ponomarev, director of the Russian NGO, For Human Rights, told Polygraph.info. Putin's statement has "very little to do with reality," he said.
Russian police reportedly detained 1600 anti-Putin protesters across Russia on Saturday. This is what we witnessed in Moscow. Camera: @jbtvnews Producer @LizaShuvalova pic.twitter.com/4ePS0dhbl2

— Steve Rosenberg (@BBCSteveR) 6 мая 2018 г.
"On the one hand the young people hear what the President tells them from the TV screen, on the other – they see the reality with their own eyes," Yuri Djibladze, the president of Moscow-based NPO, For the Development of Democracy and Human Rights, told Polygraph.info, "No one will believe him."

There are numerous Kremlin-created and supported youth organizations in Russia that are loyal to Putin and support his policies. These include the notorious Nashi(Ours) movement, now inactive, Molodaya Gvardiya (Young Guard). Young people who belong to such pro-Putin organization reportedly benefit both financially and socio-politically.
Young critics of the Putin government are treated differently.
Your face when you know that you'll outlive your president. Not sure who took this photo during anti-Putin protests today. pic.twitter.com/AX62lzxAfi

— Leonid Ragozin (@leonidragozin) 5 мая 2018 г.
"Putin and his system are not capable of an intelligent, tolerant, positive approach to the freedom-loving youth, but respond with brutal repression, like how it responded to the protests on Saturday," Ponomarev said. He added that the number of young people "critical of the authoritarian system, which is now moving towards a totalitarian regime, is growing."
Russian state media largely ignored these latest protests.
Nearly 1,600 arrested, scores brutality beaten in Russia during antri-Putin protests on Saturday. Watch this screen-recorded video of 24 hours Russia Today Twitter feed – any pictures of Cossack/police brutally crashing on protesters? How many reports on protests can you count? pic.twitter.com/sWvZPYyVlj

— Polygraph (@PolygraphInfo) 6 мая 2018 г.
By Polygraph