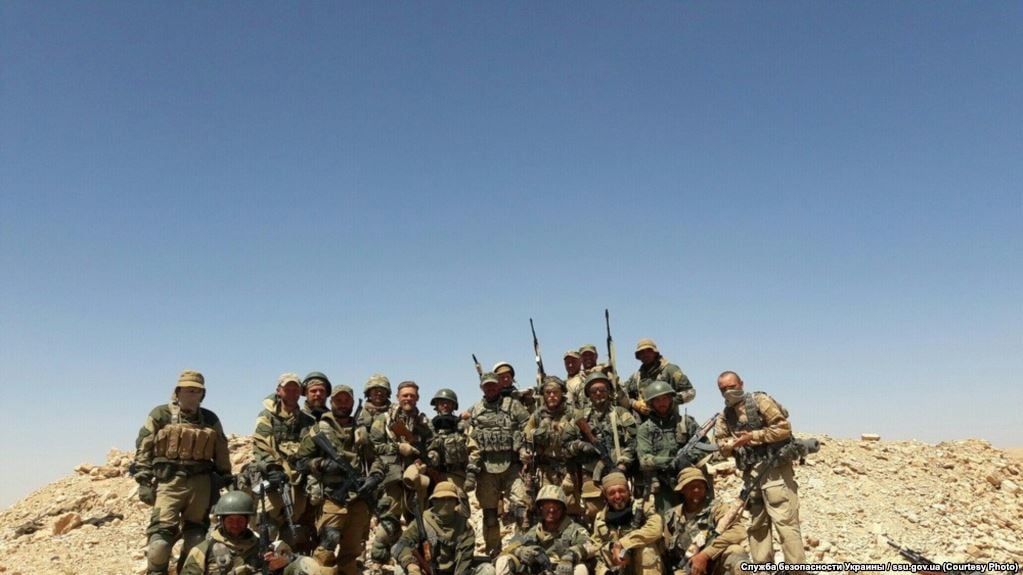 By Polygraph
"At the Defense Ministry, which I have no connection with, I cannot negotiate the financing/supply of a private military contractor that doesn't exist."
FALSE

Prigizhin's denials confronted by facts.
On Tuesday, January 29, The Bell, an Estonia-based media startup, released a report documenting the history of the Russian private military company (PMC) Wagner, which made headlines in February 2018 following a botched assault on U.S.-backed Kurdish forces in Syria's Deir al-Zour region, leaving scores of Russian mercenaries dead.
Russian authorities were not forthcoming about the circumstances around that incident, which occurred on on February 7, 2018. Later, Russia's foreign ministry confirmed the clash had left "dead citizens of Russia and the CIS (Commonwealth of Independent States) countries" and "several dozen" wounded.

​Wagner's involvement in Syria was first reported in 2017 by Denis Korotkov for the Russian investigative website Fontaka. Kortokov reported that Russian mercenaries first began operating in Syria under the Wagner banner in 2015.
In compiling their report, The Bell reached out to Yevgeny Prigozhin, popularly known as "Putin's chef," who was allegedly picked to handle financing for the group after cutting his teeth as a state catering contractor. Sources told The Bell that Prigozhin had a personal relationship with Putin but was not in his inner circle nor, at the time, as publicly visible as other Putin confidants.
​Prigozhin responded by denying the existence of Wagner Group, telling The Bell the information had been provided through the Security Service of Ukraine (SBU) in collaboration with Korotkov – who, he said, was reportedly fired from "Fontanka" for publishing unverified information.
Prigozhin said he did not "participate in the formulation or implementation of non-existent tasks for a non-existent structure."
Pra quem não conhecia o "Wagner group", empresa de "segurança privada" russa que protege o facínora Nicolás Maduro. Saiba que ela não é a única companhia de mercenários russa em atividade. pic.twitter.com/TKwN4yj33P

— 🇧🇷🇻🇦Gustavo Pereira 👪👉 (@gucapereira) January 28, 2019
Fontanka editor-in-chief Alexander Gorshkov denied that claim, telling The Bell he had not known Korotkov to publish unverified information, adding his August 2018 resignation came as a surprise.
Korotkov, who now works at the independent Russian newspaper Novaya Gazeta, called allegations he collaborated with the SBU "a blatant and absolute lie," adding he had resigned from Fontanka of his own volition.
In October 2017, reports surfaced that Prigozhin had wanted to buy Fontaka. Media magnate Viktor Shkulev ultimately took control of the investigative news outlet.
Meanwhile, there is a body of evidence showing not only that Wagner exists, but that it has links to the Russian state and Prigozhin.
On Monday, January 28, the SBU said it had intercepted passenger manifests from Russian Defense Ministry-chartered airliners transporting mercenaries working for Wagner to several African and Middle Eastern destinations in the latter half of 2018, the Bellingcat investigative group reported.
The most "explosive" allegation involved Wagner mercenaries being issued sequentially numbered international travel passports from the same Moscow-based passport desk that provided fake documents to the GRU officers implicated in the Salisbury poisoning.
If true, it would demonstrate that Russia not only tolerates Wagner's activities, but actively supports them, Bellingcat said.
Media previously reported that Russia's Defense Ministry had transported and supplied Wagner personnel, with fighters wounded in the February 2018 attack in Syria reportedly turning up in military hospitals in Moscow and St. Petersburg.
Those reports followed claims Wagner had been allowed to use a military base in Molkino, in Russia's Krasnodar region, for training. That facility is also home to the 10th Special Forces Brigade of the GRU (Russia's military intelligence agency).
Busted. Terrific reporting from @Reuters belies the Kremlin's claim it has nothing to do with private "little green men" in Syria. But on 3 recent occasions groups of civilians flying in from Damascus headed straight to a defense ministry base in Molkino. https://t.co/z9NUsdYOYd

— Michael Carpenter (@mikercarpenter) April 25, 2018

In June 2017, the Russian news outlet RBC reported Prigozhin had participated in several tenders for the maintenance of the Molkino base via the Megaline and Teplosintezm firms, which are associated with his company, Concord Management and Consulting. Another Prigozhin-linked firm advertised positions at the military's base's canteen.
A more direct link between Prigozhin and Wagner's operations in Syria was reported by The Washington Post last February. The newspaper, citing intercepted communications in a U.S. intelligence report, said Prigozhin had been in close touch with Syrian and Russian officials in the run-up to the botched Deir al-Zour assault.
Prigozhin reportedly told a senior Syrian official he had "secured permission" from an unidentified Russian government minister to proceed with "a fast and strong" initiative in early February.
While Russia's Defense Ministry had dismissed early Wall Street Journal reports on Wagner's operations in Syria as an "information attack," RBC reported that both Federal Security Service (FSB) and Defense Ministry sources had confirmed Wagner was operating in the country under the auspices of the GRU.
The Conflict Intelligence Team, a group of Russian open source investigators, subsequently published photographic and documentary evidence of Russian citizens believed to have fought and died for Wagner in Syria.
Шестой погибший в Сирии российский военнослужащий https://t.co/adUxmJuMmj pic.twitter.com/wsD9sI0tri

— CIT (@CITeam_ru) March 23, 2016

One former mercenary who spoke to RBC about his deployment to Syria in 2016 said the company was well supplied. Ammunition was plentiful, and the unit, organized as a "battalion tactical group" with an estimated total strength of over 2,000 men, was equipped with modern T-72 tanks, D-30 122mm howitzers and BM-21 "Grad" multiple rocket launchers. Pay was high and always on time.
But in 2016, a Wagner commander told RFE/RL that a disagreement between Prigozhin and Russian Defense Minister Sergei Shoigu had resulted in much poorer conditions for the mercenaries.
"They took away the tanks and the weapons," the commander said. "They took back everything they had given earlier. Now the Wagner forces fight with Syrian weapons."
Members of Wagner have also received state medals typically awarded to members of the Russian armed forces, despite the fact that their activities are ostensibly illegal and that Russian authorities, from the Kremlin to the Defense Ministry, have routinely denied knowledge of the group's operations in Syria.
Dmitry Utkin, the alleged head of the group and "retired" GRU special forces commander, who used Wagner as his nom de guerre while fighting in eastern Ukraine in 2014, also attended a Kremlin event marking the Day of Heroes of the Fatherland in December 2016.
Вагнер в Кремле https://t.co/V7DdQZmzOM pic.twitter.com/gofj7eKdAM

— Фонтанка. Новости (@fontanka_news) December 12, 2016

Korotkov told Radio Free Europe that Utkin's presence at that event was "the clearest indication yet" of Wagner's role in Russian foreign policy, particularly in Ukraine and Syria.
Apart from intercepted communications, Prigozhin has also been linked to Wagner through Evro Polis Ltd firm. Evro Polis has a contract with the Syrian government to protect that country's oil fields in exchange for a 25 percent share of related oil and gas production.
That contract is available here.
The U.S. Treasury, which believes Evro Polis is "owned or controlled" by Prigozhin, sanctioned the firm in January 2018.
A source in Russia's Energy Ministry also linked Prigozhin to Evro Polis in an extensive report published by RBC.
The United States has sanctioned Prigozhin for his links to Russian-backed separatists in eastern Ukraine and indicted him for meddling in the 2016 U.S. election by allegedly bankrolling the Internet Research Agency, a so-called "troll factory" engaged in online influence operations.
When asked by The Bell if a private military company, which exist to make a profit, would have commercial projects related to mining and natural resources, Prigozhin answered "philosophically" that if such a company "could exist somewhere abroad," then it would be engaged in security and military activities. He added there would be "no place" for PMCs in the mining industry.
В Сирии погиб россиянин, служивший в ВДВ, ему было 33 года, родом из Астрахани. Информацию о его смерти нам подтвердил его знакомый со ссылкой на родственников Александра https://t.co/umAIZPMDD8 pic.twitter.com/fLRmMJm8Ok

— CIT (@CITeam_ru) December 18, 2018

He then asked the interviewer to "learn to think logically."
Logically speaking, there is more than enough evidence demonstrating both the existence of Wagner and its interest in securing Syrian oil fields on behalf of a Russian firm linked to Prigozhin.
Polygraph.info therefore finds that Prigozhin's statements to be false.
By Polygraph