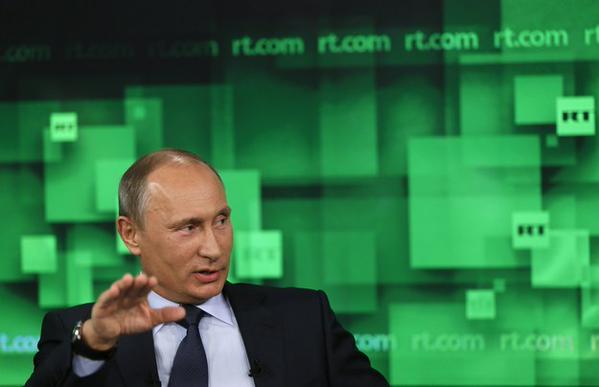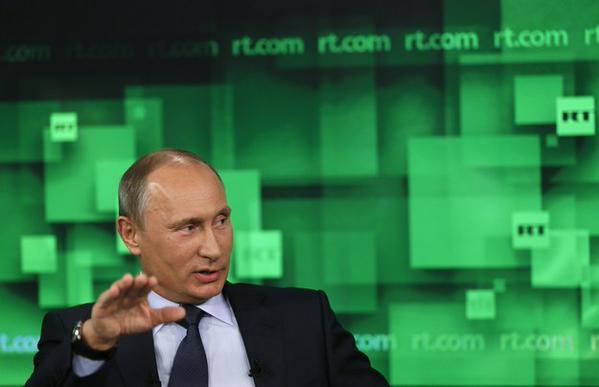 Russia's worst economic slump in at least six years may have forced President Vladimir Putin to trim his propaganda budget, but he won't let it curb his reach.
RT, the Kremlin-backed television channel that broadcasts and publishes stories in six languages, is planning to open an office in Ireland by November, according to two people familiar with the matter who asked not to be named because the plans aren't public. The station, formerly known as Russia Today, intends to hire as many as 12 native English writers for its website, one of the people said.
An executive from RT has already met with officials from IDA, the Irish agency charged with luring foreign investment, helping to coordinate the expansion, according to the people. Kevin Sammon, a spokesman for the IDA, said in an e-mailed statement that the agency doesn't comment on discussions with companies potentially locating in Ireland. RT spokesman Pavel Raskhodov declined to comment on the plans.
RT's goal is to "break the Anglo-Saxon monopoly" on the global flow of news, Putin said when he visited the company's headquarters in Moscow in 2013. The rapid development of electronic media has made news a "menacing weapon," Putin said last October, after RT's Spanish service started broadcasting in Argentina.
Dedicated Channel
U.K. regulators in November said RT's coverage of the crisis in Ukraine had broken impartiality rules and that any further breaches could result in license revocation. RT, whose slogan is "Question More," began broadcasting a decade ago and last year started a dedicated channel "to challenge dominant power structures in Britain."
The station is part of Putin's efforts to expand Russia's soft power and to provide an alternative to British and American news networks like the BBC and CNN. RT broadcasts 24 hours a day in English, Spanish and Arabic and says it has over 700 million viewers globally.
The broadcaster has 22 offices in 16 countries, including in Washington DC, New York, London, Paris, Delhi, Cairo, Baghdad and Kiev, according to its website. The steep decline in the ruble at the end of 2014 forced it to postpone plans for channels in German and French.
Sanctions over Russia's involvement in the Ukrainian conflict and plunging oil prices that are pushing the country toward its first recession since 2009 prompted Putin's government to cuts costs at state-controlled news agencies such as Tass.
RT was attracted to Dublin due to low corporate taxes, a pool of English-speaking graduates and the growing local technology scene, one of the people said.
By Jason Corcoran, Joe Brennan, Bloomberg