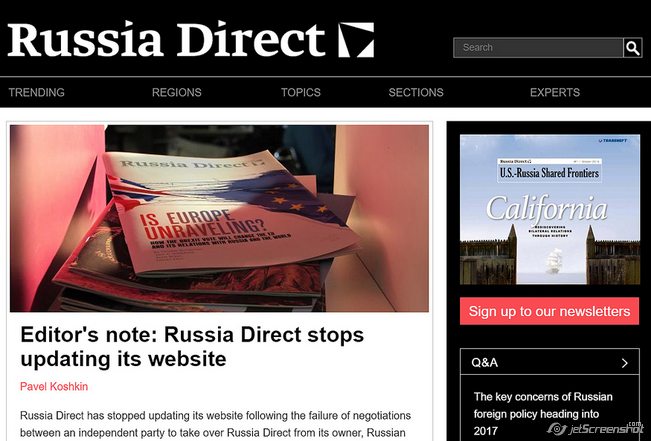 By Casey Michel, for Eurasianet
It seems that Russia's economic troubles may be starting to hinder the Kremlin's use of electronic media to push its agenda.
With little fanfare, the Moscow-backed media outlet Russia Direct ceased operations this past March. Founded in 2013 and funded by the official government newspaper Rossiyskaya Gazeta, Russia Direct, according to former editor-in-chief Pavel Koshkin, strove for a more balanced, analytical approach than other Russian outlets, such as RT or Sputnik.
"Russia Direct was launched four years ago as an attempt to create a platform for dialogue between Russia and the US," Koshkin told EurasiaNet.org, adding that the outlet "sought to build bridges between Russian and American expert communities and create a place that could convert these two monologues into one dialogue."
"Ostensibly, the budgetary considerations and funding issues were the key and first reason [for the outlet's closure]," Koshkin added. "Probably, it was both money and politics."
Where RT or Sputnik sometimes rely on conspiracy theorists and fringe voices to push narratives friendly to Moscow, Russia Direct emphasized more well-sourced analysis. As a 2016 article from The Washington Post noted, Russia Direct "has nothing like the Moscow-centric slant of the outlets usually associated with Kremlin propaganda," adding that each piece featured on Russia Direct "comes with a box directing the reader to another story that presents an alternative – if not always opposing – point of view."
Still, despite the site's clean copy and analytical framework, those familiar with the Kremlin's English-language operations perceived Russia Direct to be another tool in Russian attempts to influence foreign audiences.
"The Kremlin propaganda machine tailors its messages to its audiences," Robert Orttung, an assistant director of George Washington University's Institute for European, Russian, and Eurasian Studies and researcher who has written extensively about Russian media, told EurasiaNet.org.
"Russia Direct focuse[d] on the Russia-expert audience, and provided a more sophisticated form of propaganda for audiences that are well informed about what is going on in Russia," Orttung added. "This is a relatively small audience and one that potentially could be influential in shaping the way people think about Russia."
The outlet's closure comes at a time of flux for Russian state-supported media outlets. The Russian economy has been in the doldrums since global energy prices nosedived a couple of years ago. Russia registered ever-so-slight growth during the first half of 2017, but the country's "growth projections remain sensitive to oil prices," according to a World Bank report on the Russian economy. The lack of energy export revenue, in turn, is apparently forcing the Kremlin to make tough choices concerning its media campaign.
Budgetary concerns aside, Kremlin-backed media outlets are starting to face much more international scrutiny and bad publicity.
RT, for instance, has remained the focus of investigators examining Moscow's role in the recent presidential election, while Sputnik – which has expanded into Washington's radio market – experienced a publicly acrimonious split from its former White House correspondent earlier this year.
The circumstances surrounding Russia Direct's closure are murky. According to the site's final post, written by Koshkin, Rossiyskaya Gazeta ended its financial support for the outlet in January. Rossiskaya Gazeta further barred a third party from taking over Russia Direct, with Koshkin writing that "a representative of [Rossiyskaya Gazeta] made it clear that the fact that Russia Direct was financially supported by Rossiyskaya Gazeta in 2013-2016 prevents any independent individual or organization from taking it over."
For now, Russia Direct's content remains accessible on the web. Given Moscow's budgetary constraints, "it is not surprising that these outlets are facing cutbacks," Orttung added.
Koshkin, meanwhile, is left wondering what might have been. "My goal was to make Russia Direct fully independent, yet this expectation didn't come true," he said.
By Casey Michel, for Eurasianet