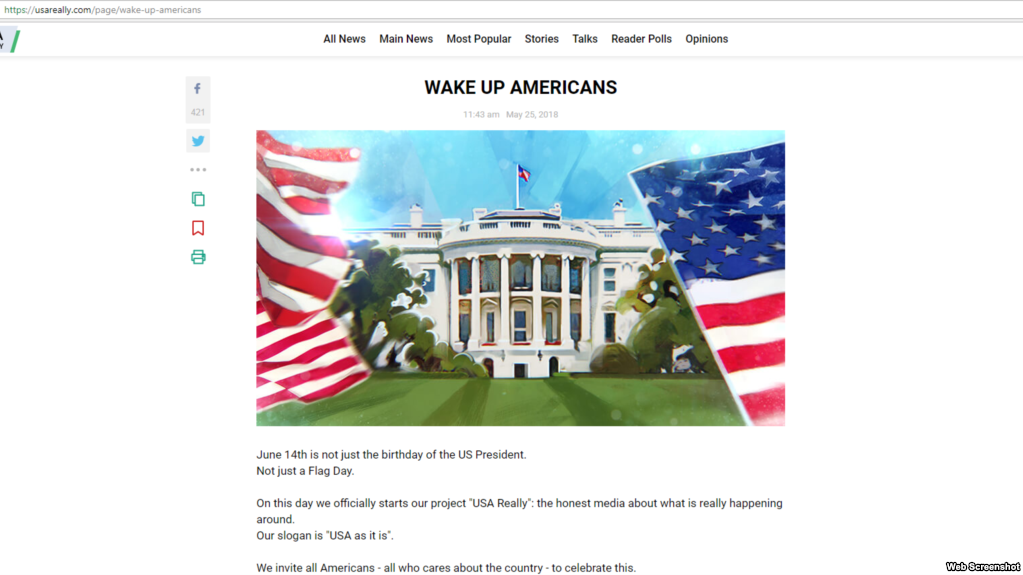 By Polygraph
"This exciting new project will encourage our colleagues and fellow citizens to think critically, and to provide a large platform where this can still happen, free of censorship. We need to be creative, to start our own watchdog organizations, and restore our basic constitutional freedoms.The key to being able to do that, starts with the fight for freedom of speech."
MISLEADING

The project was initially announced, in Russian, as a creation of the Russian Federal News Agency.
Internet users who stumble on the site USA Really, at first glance, might think it is just one of many "alternative news" sites. Unlike most media sites, there is no "about" section to inform readers who is behind the site or what its objective is. The closest thing visitors can find to a description of the site is in one post entitled "Deep State vs. USA Really."
"The reality is that 'USA Really' is simply an honest and open platform, based on giving a large public platform to Americans – dissidents, patriots, radicals, and 'regular folk' of yesterday who suddenly today find themselves considered 'bots,' 'trolls' and whatever other slander and dirt that the behemoth can throw at them," the anonymous author writes.
The actual subject of the article is how the project's Facebook page and Twitter accounts were suspended by those respective platforms. The author attributes those bans to a "random Ukrainian web site" which allegedly accused USA Really of being a "Russian influence operation." While they do not identify the Ukrainian site, a Google search strongly suggests it was the media outlet UNIAN, which has a news Web site, a TV station in Kyiv and is a Ukrainian news service. For example, UNIAN articles appear in the Kyiv Post.
The USA Really article routinely uses the term "we" and makes references to "fellow citizens," implying that the site is run by Americans. While not acknowledging a connection to Russia, it dismisses the idea of such a connection as not "crucial." The rest of the article also displays unnatural English with mistakes in grammar and syntax. In another post calling for volunteer journalists, the site's editors make no reference to Russia or the project's leadership.
As far as content, it is a mixed bag. There are innocuous news stories, such as one about hurricane season in the U.S. At the same time, there are opinion articles that seem to offer contradictory opinions. One op-ed attacks U.S. President Donald Trump and seems to be left-leaning. Others, such as one about LGBT (homosexual, bisexual, and transgender) rights in the U.S. and a recent incident of racial profilingat Starbucks, promote a right-wing viewpoint.
The authors who get bylines also share some key details. For example, Luis Lazaro Tijerina is described as an American from Salina, Kansas who "has contributed many essays to the Russian think tanks, Katehon.ru and Geopolitica.ru." Both of these "think tanks" are connected to Alexander Dugin, a far-right wing Russian ideologue who supports the Kremlin. Another author, Joaquin Flores, also writes for a "Belgrade-based think tank" known as the Center for Syncretic Studies, another Duginist front organization. Flores has also contributed to Iran's Press TV and the Russian state media outlets RT and Sputnik.
The author bio for the writer of the Starbucks piece, Andrew Korybko, is curiously thin; he is described as a native Clevelander who graduated from The Ohio State University and now lives and works in Moscow. In reality, Korybko is a regular contributor to Russian state media, where he is inexplicably billed as an expert on topics such as "regime change, color revolutions and unconventional warfare."
Given its eclectic editorial positions and the Russian connections of its bylined authors, there is good reason to suspect USA Really is a Russian project. But if this evidence isn't enough, there's also the fact that the project initially outed itself as a creation of the Russian Federal News Agency on April 4, 2018.
McClatchy DC reported on USA Really on June 1, noting that the website's banner displays American flags alongside a photo of the White House, with the declaration "America will wake up on June 14th!"The date is in reference to a call for a rally outside the White House to be held that day.
​"June 14th is not just the birthday of the US President. Not just a Flag Day." the announcement began. "On this day we officially starts (sic) our project 'USA Really': the honest media about what is really happening around." (sic)
Despite the incorrect grammar and unnatural English, there is nothing in the announcement identifying the organizers or mentioning any connection to Russia.
By Polygraph