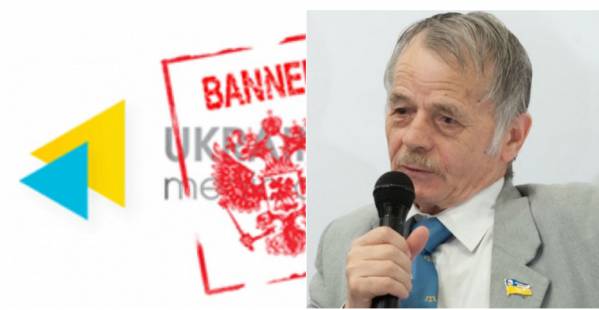 Russia's censor has blocked the Ukraine Crisis Media Centre over a press conference given by the world-renowned Crimean Tatar leader Mustafa Dzhemiliev and others.  In it they called for a civil blockade until Russia released Crimean political prisoners, stopped crushing freedom of speech, etc.  Russia's response has been to step up repression, Halya Coynash wrote for Human Rights in Ukraine.
The ban on UCMC is just the latest way in which the current regime in Russia is resurrecting all the worst Soviet methods in its efforts to prevent Crimeans and Russians from hearing the undeniable truth that Russia is occupying Ukrainian Crimea.  It is probably no accident that those reporting the Crimea Civil Blockade have been targeted, since that blockade has highlighted the degree to which Crimea is dependent on Ukraine.
Crimean journalist Mykola Semena is facing a possible 5-year prison sentence for an article about the civic blockade.  Now Roskomnadzor has formally warned the Ukraine Crisis Media Centre that it is being blocked over the original press conference announcing the Blockade.
Roskomnadzor informed the Centre that "at the demand of the Russian Prosecutor General", the resource centre's site was to be blocked on the territory of the Russian Federation, with this meaning that it will apply to Crimea under Russian occupation.
It is claimed that the press conference contained "calls to mass disturbances, extremist activity, participation in mass (public) events carried out with violation of established procedure".
The Russian censor preferred to omit the uncomfortable detail that even if one word of the accusation was correct, the civic blockade was indisputably on Ukrainian territory where Russia's repressive anti-protest legislation does not apply.
Roskomnadzor states that the Centre "must immediately remove the information".  Having done so, it can apply for a check to be carried out of this and access to be reinstated.
The Centre has no intention of removing the material.  It says that the Russian Prosecutor General should not forget that it is Russia that annexed the homeland of the Crimean Tatars – the indigenous people of Crimea.
"As a civic organization created to provide objective information about events in Ukraine, we will not succumb to censorship, and especially not from a country that is waging hybrid war against Ukraine.
The press conference on September 8, 2015 was given by Mustafa Dzhemiliev. Refat Chubarov, Head of the Crimean Tatar Mejlis [representative assembly] and by Lenur Islyamov, Vice President of the World Congress of Crimean Tatars.
They called on Ukrainians to join a civil blockade of Russian-occupied Crimea.  It would continue, they said, until Russia releases its Ukrainian political prisoners, stops blocking free media in Crimea and committing other rights offences.
They pointed to the paradoxical situation where Russia is occupying the peninsula, arresting, harassing and discriminating against Crimean Tatars and ethnic Ukrainians , yet for Ukrainian businessmen it was business as usual.
5 specific demands of Russia were presented:
1       Release Ukrainian political prisoners: Ali Asanov; Akhtem Chiygoz and Mustaf Degermendzhy; Oleksandr Kolchenko and Oleg Sentsov, and others.  The list has, unfortunately, become much longer now.
2       Remove all restrictions on Crimean Tatar and Ukrainian media in Crimea ;
3       Ensure unobstructed access to Crimea of foreign journalists and civic activists ;
4       Stop all unwarranted administrative and criminal prosecutions of Crimean Tatars and other Ukrainian nationals in Crimea;
5       Remove the ban from their homeland on Refat Chubarov; Mustafa Dzhemiliev ; Sinaver Kadyrov and Ismet Yuksel;
Mustafa Dzhemiliev pointed to the absurdity of the situation. Russia has imposed a repressive regime which crushes those who don't' agree with it, particularly those who remain loyal to Ukraine, while at the same time Ukraine is continuing to provide the peninsula with water, electricity and goods. "85% of the food; 80% of the water and electricity provided to Crimea which Russia claims is its territory is provided at Ukraine's expense.  Why on earth?  Is it not too high a price to supply the occupation regime?"
It is specifically this press conference that Russia's Prosecutor General and censor are claiming contained 'calls to mass disturbances' and to 'extremist activities'.
Since that time, Russia has initiated surreal criminal investigations against all three men, two of whom it had already banished from their homeland.  The number of political prisoners, most of them Crimean Tatars, has increased significantly, and the Mejlis, the internationally recognized self-governing body of the Crimean Tatar People has been banned as an 'extremist organization'.
One Mejjlis leader Akhtem Chiygoz has been imprisoned since January 2015, and another Ilmi Umerov is currently a victim of punitive psychiatry.
Both Umerov and Semena are charged under a new article of the Russian criminal code introduced after Russia's invasion of Crimea.  Both are accused of 'public calls to action aimed at violating Russian's territorial integrity'.
This is for saying, as do all world leaders and the UN General Assembly, that Crimea is Ukrainian territory which Russia must leave.
By Halya Coynash, Human Rights in Ukraine