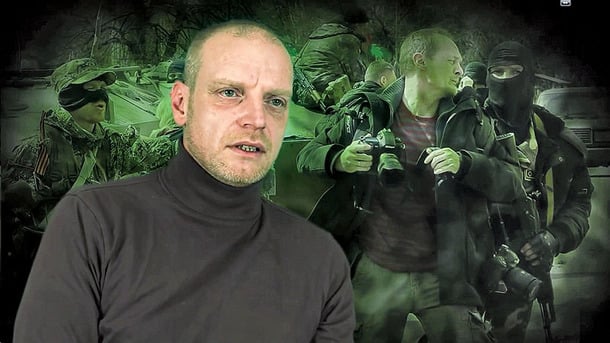 Russia's information war in Ukraine is getting more sinister. Ukrainian officials announced in July that a German citizen had been masquerading as a journalist in an attempt to gain intelligence for Russian-separatist forces waging war agaisnt Ukraine in the eastern Donbas.
Deputy head of army operations Serhiy Halushko identified the spy as German citizen Mirko Mebius, accused of traveling into Ukrainian-held territory under the guise of a being a journalist to gain information on Ukrainian troop movements.
It's not even clear if Mebius was ever a journalist, at least a reputable one, and Halushko on July 23 would not identify the mass media outlet that the German citizen was supposedly working for.
The allegations are part of an increasingly ugly reality in Ukraine's war-torn east, where people identifying themselves as journalists are being deployed as weapons in a war that feeds off propaganda.
Mebius is just one of a slew of "information warriors" working for the Russian-backed separatists and aiming their propaganda at Western audiences.
While Ukrainian officials accused him of espionage, Mebius, who works under the pseudonym of Mark Bartalmai, was busy debuting a documentary on Ukraine in Berlin on July 18.
The 102-minute film, called "Ukrainian Agony — Der verschwiegene Krieg" (Ukrainian agony: The Concealed War) was directed by Frank Hofer, who works for the The NuoViso Filmproduktion studio, founded in 2007.
Hofer has also been cooperating with another German native, Jürgen Elsässer, the chief editor of the COMPACT magazine, which is known for its pro-Russian views. The magazine produced a number of propagandist materials such as "War against Russia – how NATO advances in the east" (Krieg gegen Russland – wie die NATO nach Osten marschiert), "Will Putin stop NATO? The man who wants peace" (Stoppt Putin die NATO? Ein Mann will Frieden).
Mebius said his film aims "to show the different areas of the war in recounting episodes and individual stories — of civilians, soldiers and journalists."
The film takes a firm pro-separatist stance and, by Mebius' own account at a question-and-answer session during the debut, seeks to disprove "this narrative of Russian aggression and the bad Putin and the bad Russians."
Much of the funding for Mebius' film – raised through crowdfunding site Indiegogo – came from anonymous sources, though he has been employed as a correspondent for the Anna-News agency, a mysterious outfit that entered the media landscape in early 2013.
The agency was founded by Marat Musin, a lecturer at Moscow's State University, who has openly said he believes the United States manufactured the war in Ukraine in order to take control of Russia.
Mebius' reports have been published exclusively by media outlets run by the Russian-backed separatists, as well as Russian state-owned channels, and he has been spotted rubbing elbows with Alexander Zaldostanov, the head of the pro-Kremlin biker gang The Night Wolves.
Last summer, Mebius was one of a handful of pro-Russian journalists to report that Ukrainian soldiers had crucified a child in Slovyansk – a tall tale that gained traction with Russia's state-run media but was later debunked.
A request for comment sent to Mebius went unanswered. The accounts used to contact him were hacked almost immediately afterwards, and Mebius blocked this Kyiv Post reporter on his social media pages.
Mebius' documentary debuted not long after Russia's Defense Ministry – which has repeatedly denied any involvement in Ukraine's war-torn east – said it considered journalists as "weapons."
In late March, Russian Defense Minister Sergei Shoigu said he considered journalists to be "a kind of weapon" that "can be used in a good way or a bad way" depending on who was in charge.
"The day has come when we've all admitted that words, cameras, photographs, the Internet and information in general have become another kind of weapon, another branch of the armed forces," Shoigu said at an awards ceremony for journalists honored by the Defense Ministry, according to RIA Novosti.
While the most high-profile "information warrior" on the separatist side is undoubtedly British video blogger Graham Phillips, there is an entire rag-tag team of previously unheard of Westerners.
In one of the more bizarre phenomena of the information war, a U.S. separatist fighter has been recruited by a pro-Russian news agency as a journalist – despite the fact that he speaks no Russian and has no training in journalism.
Russell Bonner Bentley III, better known by his nickname "Texas," has shifted from fighting with the Russian-backed separatists to serving as their mouthpiece.
"I was here for six months fighting, mostly with Spartak. And now I'm doing the information war, and it's just as hard," Bentley said in an interview with Phillips published on June 24.
In comments to the Kyiv Post, Bentley said that his Russian was "very bad" and that he relies on "comrades" to help with the language barrier – meaning his work could be directly influenced by the Russian-backed separatists themselves.
The reporting of Bentley, a rising star in the separatists' media landscape, has been limited to mainly separatist-controlled media.
Experts said that while such "information warriors" may never make it into the mainstream, the propaganda they spread still poses a threat.
"I would not overestimate the real impact of people who try to utilize the war or any other extraordinary event to either become popular for their coverage of such events or to earn money," said Rasto Kuzel, a media expert based in Slovakia and the executive director of MEMO 98, a media monitoring institution.
Noting that "serious media do not work with half-truths and unconfirmed reports," Kuzel said that "what limits journalists in being first to report might give opportunity to others – those who are not bound by the same professional standards or by any standards at all."
Jürgen Grimm, Vienna-based media expert and a professor of communication studies at the University of Vienna, says the reputation of Mebius "is not very high" and that he has a habit of subscribing to conspiracy theories.
"Before he had to go to Ukraine he was a modest regional journalist without relevant impact on the media. Apparently, he experienced his personal 'coming out' during the film's production," Grimm told the Kyiv Post.
The German's documentary will be available in three languages – German, English and Russian. It is expected to be available on the Internet in August.
By Allison Quinn, Olena Goncharova, Kyiv Post
Kyiv Post staff writer Olena Goncharova can be reached at [email protected] and Allison Quinn can be reached at [email protected]