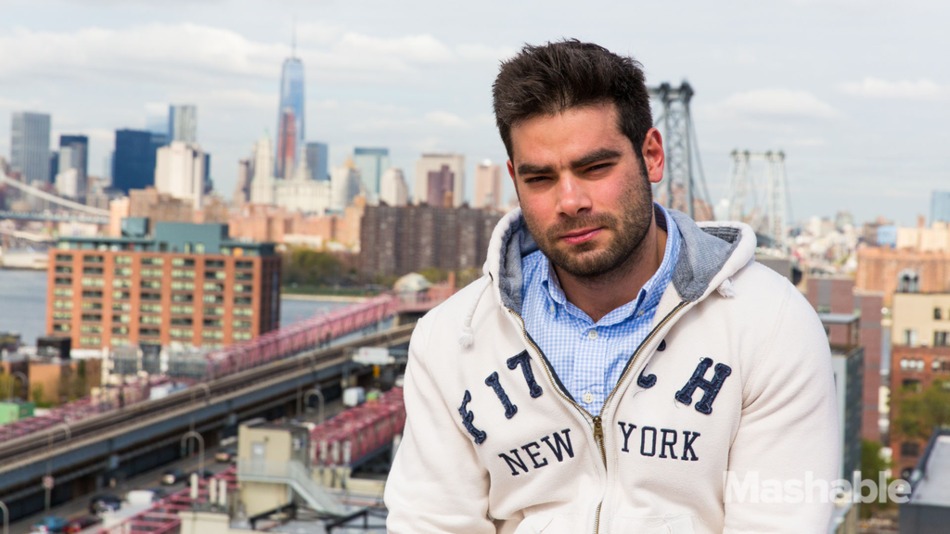 His father is a multi-millionaire media mogul who has called Vladimir Putin the "father of the nation." At 24, he founded LifeNews, a news organization with a formidable reputation for breaking news and offering up a servile attitude toward the Kremlin that has won it fortune and infamy.
By propagating populist messages and railing against Putin opponents and American imperialism, he and his father have built a tabloid empire that Britain's media moguls would envy, earning them a reputation as the Murdochs of Russia.
But don't expect to find Ashot Gabrelyanov in a tony Moscow neighborhood.
Gabrelyanov, now 26, lives in Brooklyn.
On Twitter and Instagram, where he has tens of thousands of followers, he posts photos riding his bicycle over the Brooklyn bridge and "waking up in a winter wonderland" in Fort Greene.
On a recent afternoon this week, he was thumbing his iPhone while donning dark sunglasses, a gray Abercrombie & Fitch sweatshirt and New Balance trainers as he talked of his love for Williamsburg rooftop parties. He admitted, though, he isn't a fan of "the hipsters."
He moved to Brooklyn in March and is shopping a new mobile news app here in the U.S., seemingly mind-blown over the limitless "opportunities" at his disposal in New York.
Babo, a mobile app that connects citizen reporters with media organizations, is how LifeNewsobtained the first images of NSA intelligence whistleblower Edward Snowden as he began his new life in Russia, pushing a shopping cart after a trip to the supermarket.
LifeNews' rise to the top has been made possible by its cutthroat attitude and willingness to pay top dollar for scoops — be it gruesome images of murders or celebrity sexting scandals.
Gabrelyanov playfully calls the leakers and citizen journalists, from whom the outlet gets its scoops, "agents."
It's "The Sun meets the CIA," says Peter Pomerantsev, a Russian TV insider and author of a recent book chronicling the rise of Russia's propaganda machine.
Gabrelyanov calls it "fun," admitting that some of the content Babo obtains — and that LifeNews uses — is acquired illegally.
But its success likely has many fathers.
It is widely believed that LifeNews works closely with Russia's intelligence services to publish information in the best interest of the Kremlin in return for many of the scoops.
Asked about these alleged close ties to Russian intelligence services, Gabrelyanov says he's never had an agent walk into his office but admits LifeNews "could" have gotten some of its scoops from Russian security services. Pressed to explain, he appears to walk back his comment, saying he didn't mean people from the intelligence services but "citizen security services."
Whatever the case, those elements have made LifeNews the most quoted outlet in Russia.
Early on, the company got a boost from one of Putin's oldest friends, who injected $80 million into the holding company, News Media, which is owned by the elder Gabrelyanov, Aram, in return for a minority stake. The company's holdings include Izvestia, formerly the official newspaper of the Soviet government, along with another tabloid and three websites.
Muscular with dark features and an awe-inspiring five o'clock shadow, Gabrelyanov cuts a handsome figure on the streets of Brooklyn where few people — including leading executives at some of the world's top news organizations to whom he has pitched his new app — know his background.
In Russia, most people know LifeNews and the Gabrelyanovs.Buzz and controversy have made the news organization a formidable player in Russia's media landscape.
In the wake of the Charlie Hebdo attack in Paris in January,LifeNews aired a segment with an "expert political analyst" who said the killings were part of a U.S. plot to further an anti-Russian agenda.
When Malaysia Airlines Flight 17 was shot out of the sky, sending the 298 people on board crashing to their deaths over Ukraine, LifeNews was first on the scene, with footage of the smoldering carnage.
At first, it reported that pro-Russian rebel fighters had downed a Ukrainian military plane. When it became clear that that wasn't the case, the channel changed the narrative to push a story few outside Moscow believe — that the airliner was fired upon by Ukrainian fighter jets. (Kiev and the West say Kremlin-backed separatists downed the plane using a Buk missile system provided by Russia.)
The video below, with footage from both reports, highlights the flip-flop.
LifeNews has been accused of sowing hatred with its coverage.
Gabrelyanov is blacklisted from Ukraine, where LifeNews is banned. But Gabrelyanov, for his part, is not fond of Ukrainian authorities. When they detained two LifeNews journalists, who were covering the conflict in the country's east last May (Gabrelyanov calls it a "kidnapping"), he dubbed the government in Kiev "terrorists."
In Russia, the opposition leader Boris Nemtsov was gunned down in the shadow of the Kremlin in February after LifeNews had for months pushed the message that Nemtsov was an enemy of the state and a leader of a Western-backed fifth column bent on overthrowing the Putin regime.
His fellow oppositionists blamed state television as well as LifeNews with whipping up a militant, nationalistic fervor that helped lead to his killing.
Whatever your opinion of LifeNews, Gabrelyanov doesn't seem to care.
"You can hate it or you can love it but it's successful," Gabrelyanov says before changing the subject. "Hey, do you want to go to a rooftop party in Williamsburg?"
By Christopher Miller, Mashable