The American website Examiner.com published Russia's top lies about Ukraine.
Russia's propaganda machine shows no signs of slowing down. To the contrary, it seems to have reached a new hysterical level of blatant disinformation, since Russian and pro-Russian terrorists in Ukraine are rapidly losing ground.
To attract reluctant "volunteers" into the trap of a misguided war machine, Russia wages twisted information war through its mainstream media, useful fools in the West and a legion of paid trolls. Russian disinformation locomotive twists the facts and invents entirely false stories, accompanied by deceptive imagery. When exposed, it attacks the debunkers, questioning their motives.
Russia's mainstream media doesn't operate according to the journalistic standards of the civilized world. It often uses social media as their sole sources for breaking news stories. Most of the time, Russian publications fail to retract falsified or entirely made up stories, even after they have been thoroughly debunked. Kremlin trolls operate the same way, intentionally spreading falsehoods to infect public opinion, propagate war-mongering and hatred. It's important to recognize the information war in all of its ugly manifestations.
You can review previous installments of the series of articles exposing these falsehoods by visiting the following links:
"Russia's top lies about Ukraine. Part 4"
"Russia's top lies about Ukraine. Part 3"
"Russia's top lies about Ukraine. Part 2"
"Russia's top lies about Ukraine. Part 1"
Here is a collection of 20 additional fabrications and intentional misrepresentations:
81
Russian propagandists commonly use imagery depicting suffering children in order to promote their anti-Ukrainian agenda. They are known to use photographs completely unrelated to the region in question.
In this instance, a notorious Kremlin troll with thousands of followers fell even lower. He shared a Photoshopped image of a Ukrainian child, wherein the message on the little girl's drawing was changed from "I don't want war" to "I want war."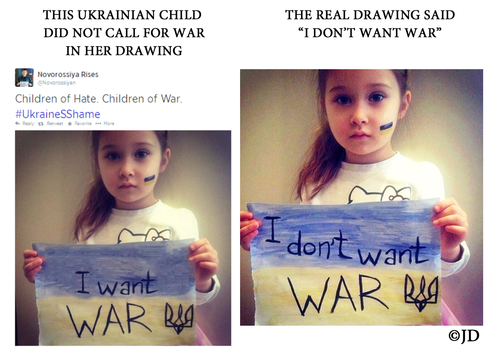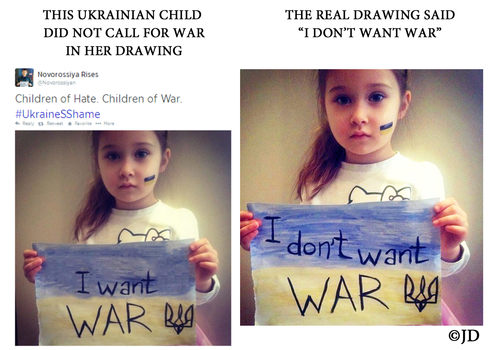 82
Russia falsely claimed that the Red Cross approved their proposal on humanitarian aid to Eastern Ukraine.
The Red Cross denied these claims, stating that they merely acknowledged the receipt of Russia's proposal.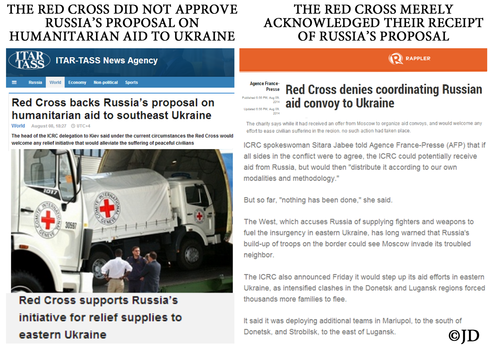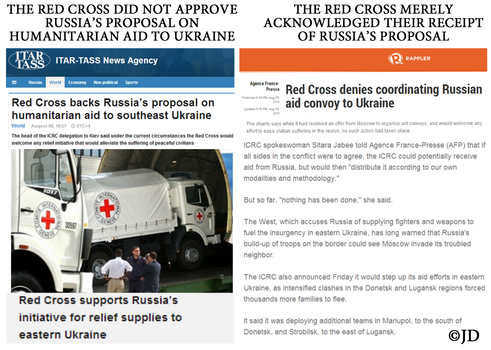 83
Russia Today accused Biological Research Center USA Fort Detrick of being responsible for the latest Ebola outbreak to benefit the pharmaceutical industry.
Researchers believe that this particular outbreak might have to do with the local practice of eating bats, according to Jonathan Epstein, an epidemiologist at EcoHealth Alliance.
This propaganda trick is reminiscent of KGB disinformation campaign that blamed the creation of AIDS on the CIA.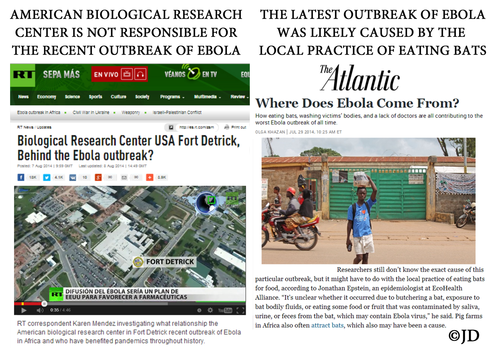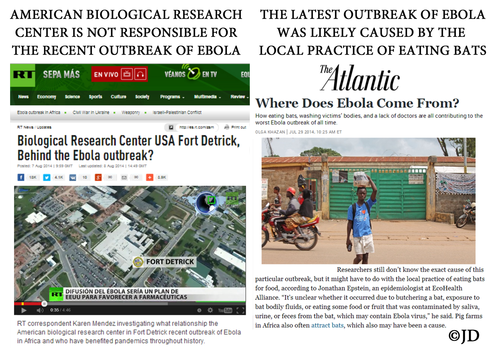 84
Images of an alleged apology note, handed to a Russian tourist by an American Customs official, spread across Russian media venues like wildfire.
However, in reality, this apology note was written by a Russian tourist, apologizing for President Putin's actions to French Customs Officials.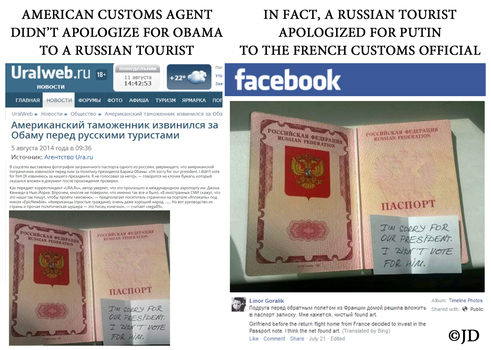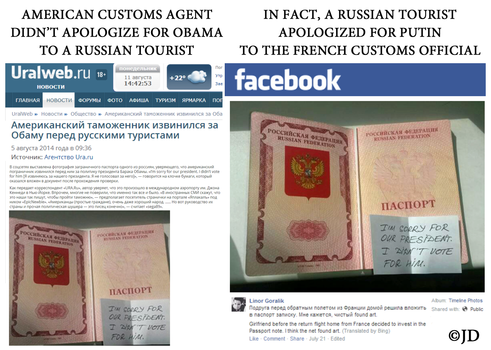 85
Numerous Russian media outlets falsely claimed that 438 members of the Ukrainian military deserted and asked for asylum in Russia.
In fact, members of Ukrainian military asked for a temporary humanitarian corridor and all of them have since returned to Ukraine.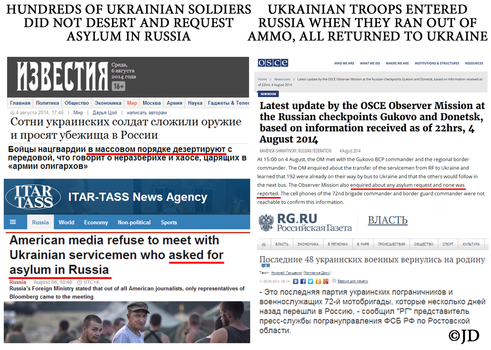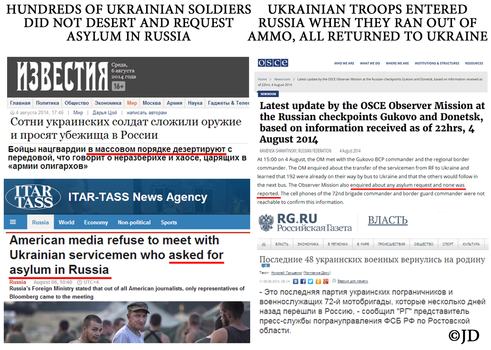 86
Russia's unhealthy obsession with attacking Jen Psaki continues. Television channel TVI claimed that the Department of State will spend $500,000 dollars "to teach Jen Psaki new rhetoric" because of her alleged flubs in dealing with the Russian media during briefings.
In fact, the course they're referring to is entitled
"Communicating with Congress"
and is designed for all State Department Officials who testify before members of Congress.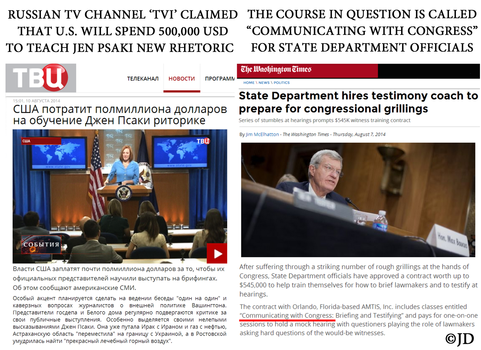 87
Russia Today cited New Straits Times (without linking to the source) in claiming that Malaysian authorities now suspect that Ukrainian fighter jets SU-25 downed Malaysia airliner MH17 and are actively investigating that story.
New Straits Times refuted that allegation through Malaysia's Defence Minister Datuk Seri Hishammuddin Hussein. He stated that it was undeniable that MH17 was downed by a land-to-air missile from a BUK system.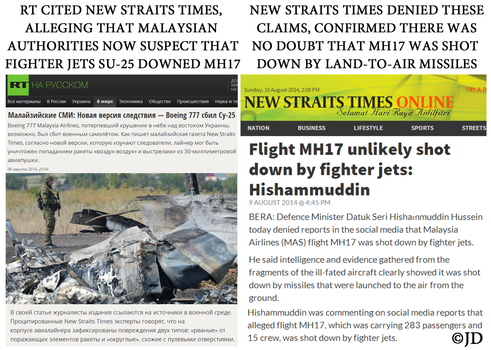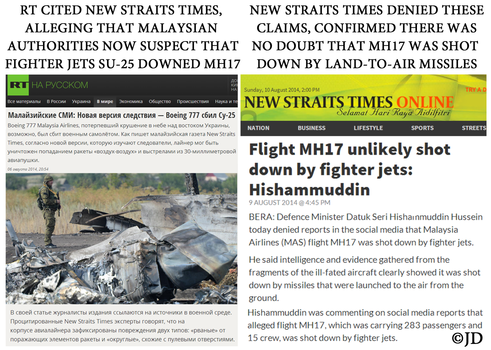 88
Moskovskiy Komsomoletz posted a video, allegedly depicting the crash of the Malaysian airliner MH17, Boeing-777.
They later removed the video, which in reality depicted the 2013 crash of a cargo plane (Boeing 747) in Afghanistan.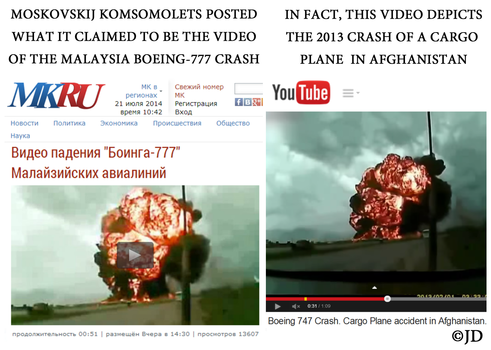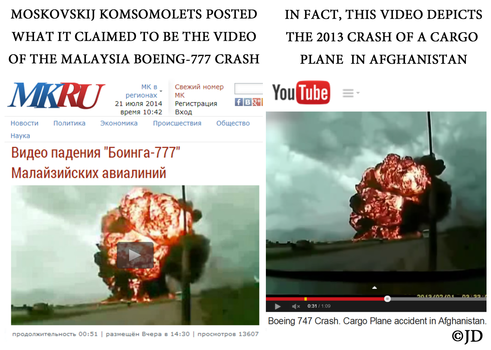 89
ITAR-TASS, Russia Today and other Russian mainstream outlets claimed that NATO confirmed Ukraine's use of ballistic missiles in Eastern Ukraine.
NATO refuted ever providing such a "confirmation" and Ukraine's Ministry of Foreign affairs denied any use of ballistic missiles by the Ukrainian military in Eastern Ukraine.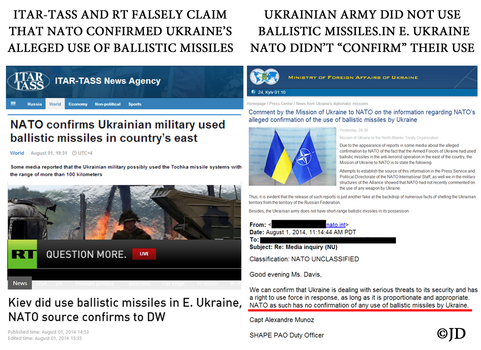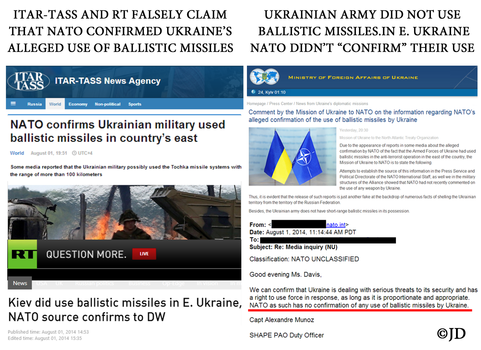 90
Russian media claimed that "activists" are seeking a probe into Ukraine's alleged use of "child soldiers" in Eastern Ukraine.
These "activists" in reality turned out to be members of Russia's Public Chamber.
While Ukraine is not using child soldiers in Ukraine, Russia is boasting of their 15-year old "commanders."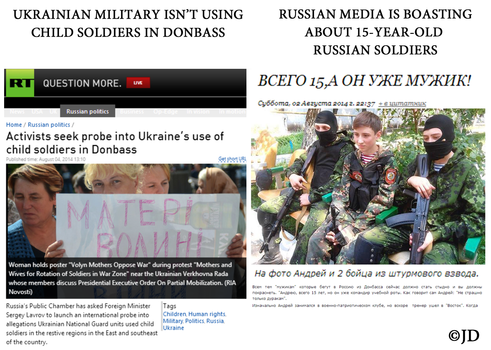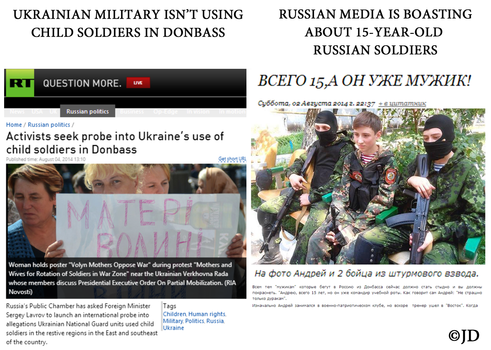 91
Russian media falsely accused Ukrainian nationalists of torturing and murdering two priests, for allegedly helping separatists.
To the contrary, these priests were murdered by the pro-Russian terrorists for supporting Ukrainian Anti-Terrorist Operation.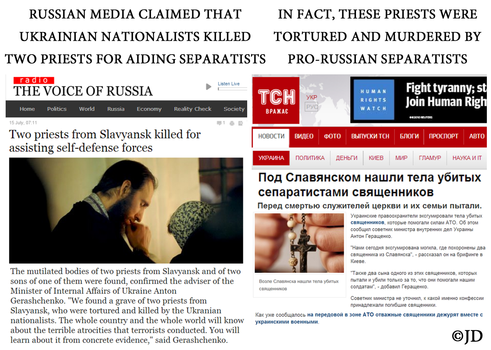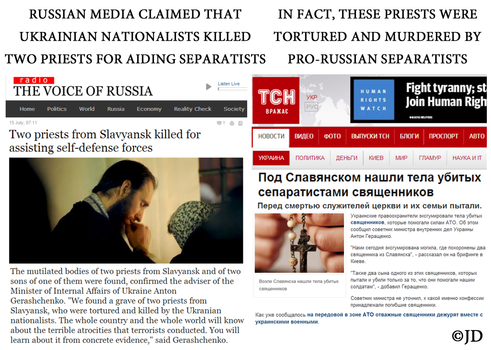 92
Russia's Channel One ran a horrific story of an alleged baby crucifixion in Ukraine. The only "witness" to the alleged mind-numbing public execution is Galyna Pyshniak, who was interviewed in Russia.
Her breathless story included the following claims: "Center of the city. Lenin square. Our Gorispolkom is the only square where you could herd all the people. They gathered women, because there are no more men. Women, girls, old people. It was called a show execution. They took a child, 3 years old, a little boy. He was wearing little briefs and a T-shirt and they nailed him, like Jesus, to the bulletin board."
Out of the entire town of Slavyansk, there is not a single witness who could corroborate this outlandish horror story, which was seemingly "inspired" by the 4th season of the Game of Thrones, which dealt with public crucifixion of 163 children.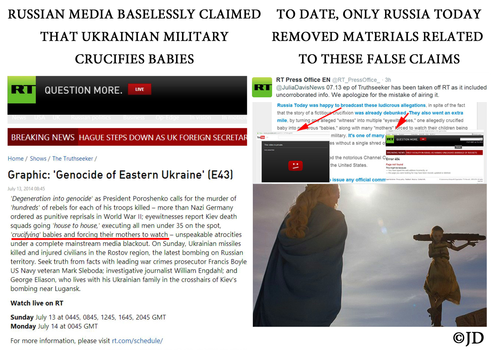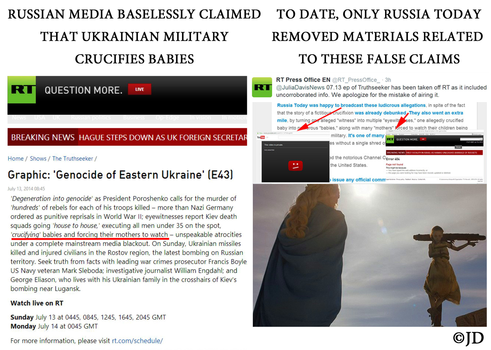 93
Komsomolskaya Pravda attempted to debunk the true story of the now infamous "mascara girl," Ekaterina Parhomenko of Torez, Ukraine.
Komsomolskaya Pravda incorrectly concluded that photos of Ekaterina Parhomenko depict a different girl. In fact, even minimal fact-checking would confirm that the photos are in fact of Ekaterina Parhomenko and were obtained from her own social media postings, before her pages were deleted.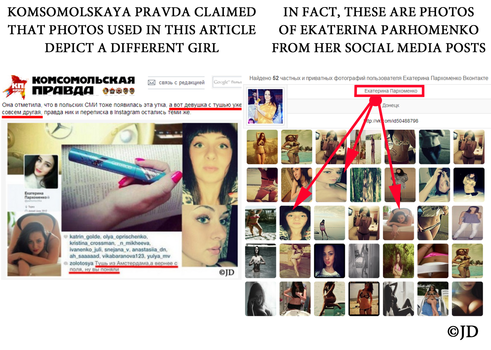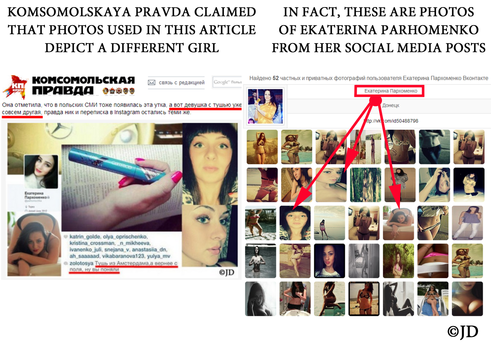 94
Russian media networks proudly reported that so-called "rebels" again succeeded in shooting down a Ukrainian airplane. This act corresponded with the pattern of terrorist attacks on Ukrainian aircraft. On June 13th, terrorists shot down a Ukrainian transport plane, killing 40 paratroopers and 9 crew members. On June 24th, they downed a Ukrainian helicopter, killing all 9 on board. On July 14th, terrorists shot down a Ukrainian military cargo plane. On July 16th, terrorists downed a Ukrainian fighter jet. These attacks were praised and touted in the Russian mainstream media, as the victories of the imaginary "Novorussia" over the government of Ukraine.
LifeNews outlet, whose reporters proudly serve on the frontlines alongside terrorists, rushed to the scene. In the meantime, their network announced on Russian television that another Ukrainian plane was shot down by the "rebels." They also published a corresponding article on their website. Once the network's reporters discovered that the plane shut down by the terrorists was in fact a civil airliner, the article and the video were promptly removed (although still available here, side by side with the conflicting coverage that followed).
In the first clip, LifeNews proudly announced that "the rebels" successfully downed another Ukrainian plane, AN-26. In the subsequent coverage (on the same day, with the same host, wearing the same clothes), LifeNews claimed that civilian Malaysian airliner was shot down by the Ukrainian military.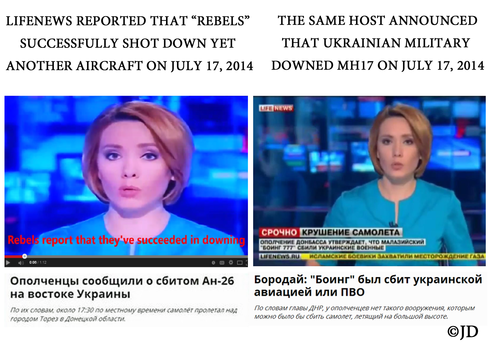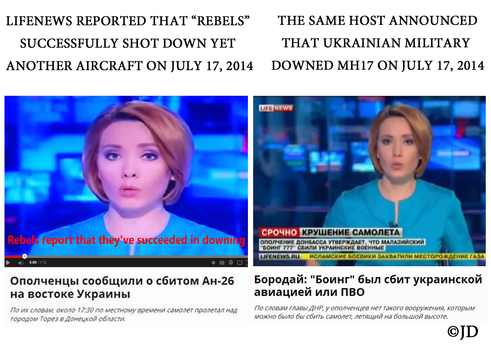 95
One of the most bizarre exertions, blaming the Ukrainian military for allegedly shooting down the Malaysian airliner, was based on a claim that this was an attempt to murder Russian President, Vladimir Putin.
Networks reported that on July 17, 2014, the presidential plane took quite a bizarre round-about route across Ukraine, on its way from Warsaw, Poland to Moscow, Russia. It was reported by Russia Today (more than once), Komsomolskaya Pravda and a number of other Russian mainstream media outlets.
Russian aviation sources assert that Putin's airplane never flies through Ukrainian airspace (particularly since the time Russia started fomenting unrest in the East of Ukraine this year).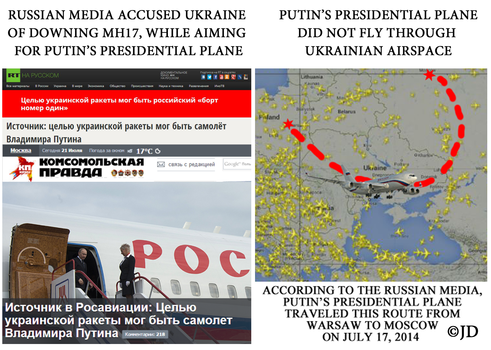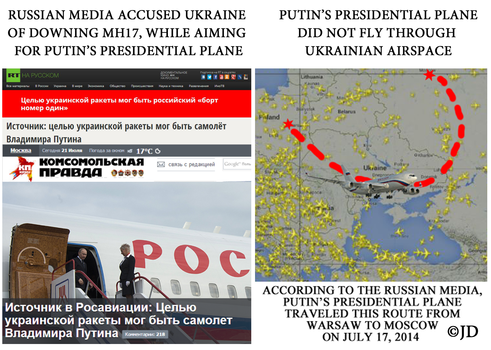 96
Russian media is determined to convince its audiences that American mercenaries are fighting on the side of Ukraine.
In an attempt to do so, they used a 2008 photo, reportedly taken in Southern Osettia.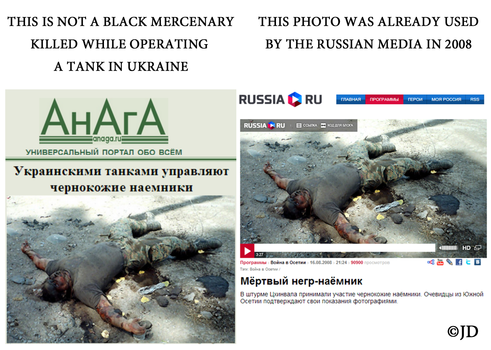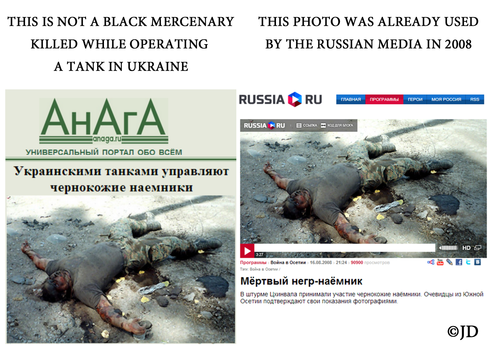 97
Moskovskiy Komsomoletz reported a made-up story published by a German satire website, claiming that a pilot of a fighter jet SU-25 came forth and admitted to downing MH17.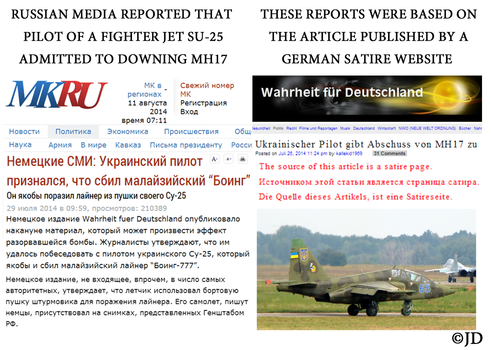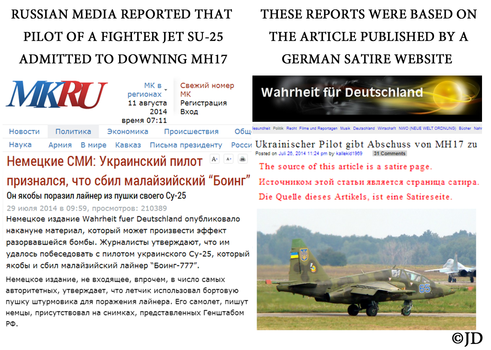 98
Russian mainstream media proudly boasted that the terrorists had in their possession SA-11 missile systems, also known as the Buk-M1 surface-to-air missile system.
After the system was apparently used to shoot down the Malaysian airliner on July 17, 2014, 
ITAR-TASS reported
 that none of the "rebels" in any of the self-proclaimed "republics" in Eastern Ukraine ever had the lethal and sophisticated Buk. Recent intelligence reports reveal that neither one of these stories were correct, since the weaponry used for the attack, along with the crew of operators, 
was imported from Russia and later returned
.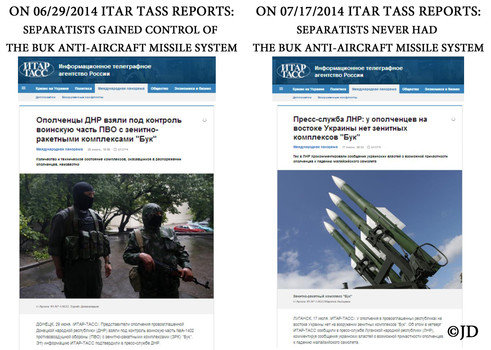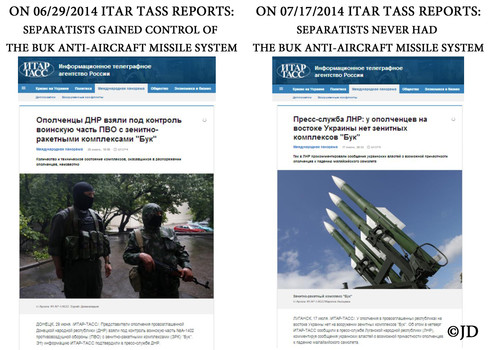 99
Russian outlets concocted a bizarre story, reporting alleged killings of several American "instructors" allegedly operating in Ukraine.
Specifically, they claim that four "racially negro" mercenaries, out of the 180 who supposedly arrived from the U.S., were already killed.
One of them was reportedly killed by a sniper while taking a swim at the nudist beach. To illustrate this entirely fabricated story, Russian media used the photo of joint military exercises "Rapid Trident," which took place in Ukraine in 2012.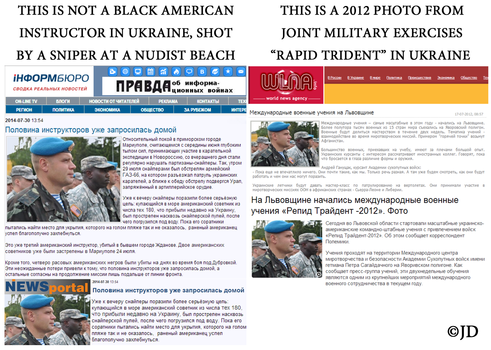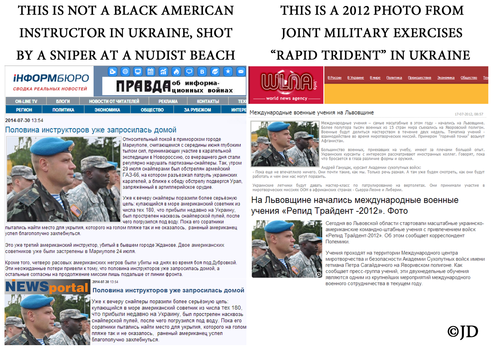 100
Russia's mainstream media exploded with a stream of articles and TV programs, claiming that Ukrainian journalist Bogdan Butkevych called for the murder of 1.5 million people in Donbass, Eastern Ukraine.
Notorious Lifenews alleged, "Kyiv journalist suggested killing 1.5 million people of Donbass. Known Maidan supporter turned out to be an extremist." Lifenews reported, "Ukraine doesn't need inhabitants of Donbass," going so far as to accuse Butkevych of "velvet fascism."
Vesti claimed that Butkevych callously encouraged mass murders in Donetsk and Lugansk regions of Ukraine. Vzglyad followed suit, using the same video.
Not to be outdone, Komsomolskaya Pravda went an extra mile, pulling a screenshot from an entirely different video to create the false impression that Bogdan Butkevych made a Nazi hand gesture salute. They drew parallels to the 1930's Germany, stating that Butkevych proposed that the people of Donbass be dealt with in the barbaric way.
Moskovskiy Komsomoletz didn't stop at that allegation, adding that Bogdan Butkevych was "illuminating the strategy of the Ukrainian government"
In fact, such a statement would be considered extremely offensive – if only it was real. The video was crudely spliced to create a false impression as to what Butkevych actually said.
Bogdan Butkevych first discussed the high rate of unemployment in Donbass. He opined that unemployment in this highly populated area caused large numbers of people to have trouble with finding their place in society. This portion of the interview was spliced together with the bit where Butkevych discussed the need to decisively deal with terrorists in Eastern Ukraine. Pointing out that attempted negotiations were rejected by the armed thugs, Butkevych summed up that there is a certain category of people that can be dealt with only by being killed.
The re-editing, splicing, cut and paste of this video was quite inept and obvious to the naked eye. Russian news agencies knew or should have known they were running a blatantly false piece of propaganda.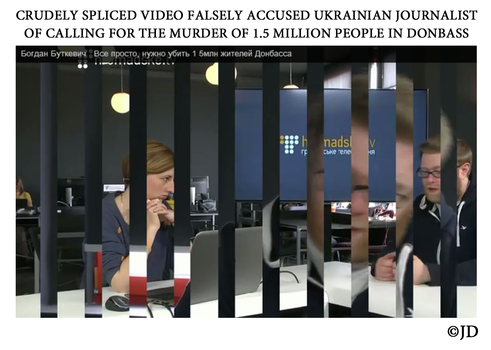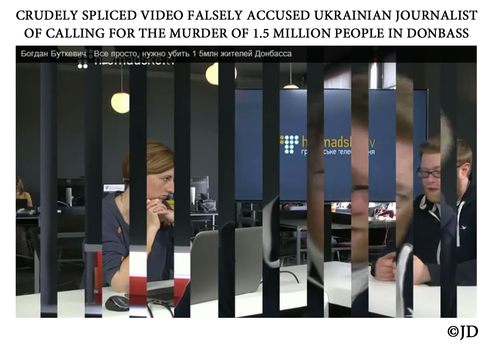 By: Julia Davis, Los Angeles Homeland Security Examiner.
Let us remind you that most of these fakes have been already published on our website Stopfake.org.