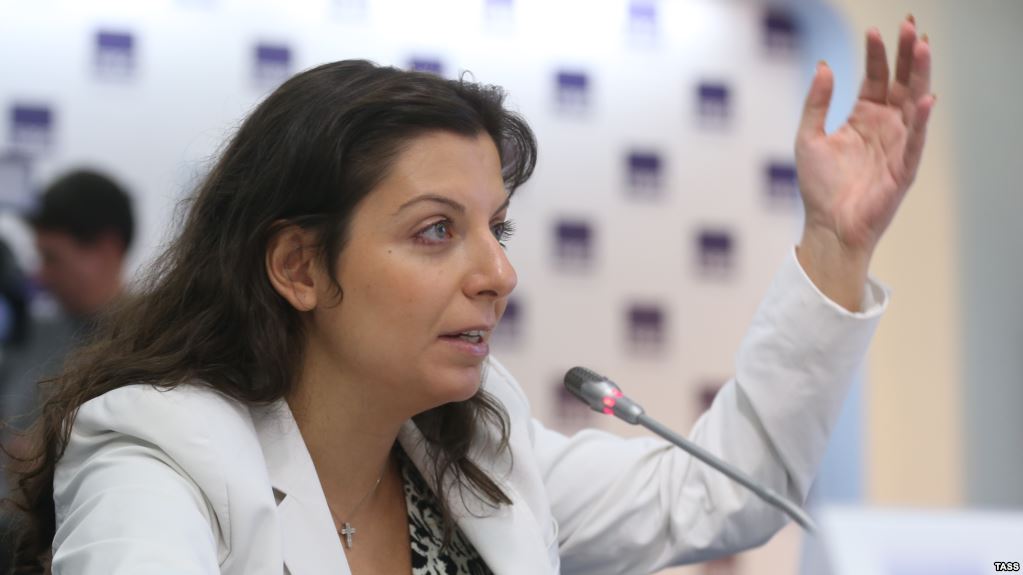 By RFE/RL
Russian officials say Moscow will adopt new legislation targeting U.S. media in the country as soon as next week.
State Duma speaker Vyacheslav Volodin said on November 10 that the legislature would amend its existing law on "foreign agents" to include foreign media. Deputy Duma speaker Sergei Neverov said the changes could also affect Western social media such as Facebook and Twitter.
The move came after the state-funded Russian television channel RT said the previous day that it would meet what it claims is a U.S. demand to register its American division as a foreign agent, but also vowed a court challenge.
RT, which used to be known as Russia Today, said in a statement on its websiteon November 9 that it had been given a November 13 deadline by the U.S. Justice Department to register under the U.S. Foreign Agents Registration Act (FARA).
It also said that failure to register under FARA could lead to closure of its U.S. operations, while compliance would require the company to disclose "confidential data, including personal data of its staff."
The Justice Department, which has repeatedly refused to either confirm or deny ordering RT to register under FARA, declined to comment to RFE/RL on November 9. RT claimed to have received a letter demanding registration in September, but it has not made that document public.
Russian Foreign Ministry spokeswoman Maria Zakharova suggested on November 9 that Moscow could take action next week in response to the alleged U.S. pressure on RT.
"We have…worked out measures in response," Zakharova said on Russia state television, adding that "there is an understanding that the practical phase of putting these retaliatory measures into place will begin next week."
On November 10, Volodin urged Deputy Duma speaker Pyotr Tolstoi to "coordinate work" on a response and to consult with the committees on security, legislation, and information policy in the lower parliament house.
"Since such decisions are being made in the United States in relation to our television companies, it is right for us to respond to these actions," Volodin said.
Volodin said Moscow has "a lot of evidence" that the work of U.S. media in Russia "is geared to form public opinion in the United States to oppose our political system," though he provided no specific evidence.
"This presents us with the necessity of making a decision to protect our country and its media space," he added.
Tolstoi said on November 10 that the U.S. FARA legislation would require RT to report to the Justice Department "all instances of interaction with U.S. officials, government officials, public servants, and U.S. corporate employees."
RT Editor in Chief Margarita Simonyan said there was a danger that its employees could be arrested if the organization did not register under the law.
RT's website quoted her as saying that "between such consequences and registration as a foreign agent, we are forced to choose registration. Although, of course, we categorically disagree with this requirement."
She added that RT intends to fight the order in court, without being specific.
FARA requires people working in the United States for a foreign government in a "political or quasi-political capacity" to register with the Justice Department. The law was passed in 1938 to counter fears of Nazi propaganda and misinformation being spread in the United States.
Simonyan, as well as Putin and other Russian officials, have threatened repercussions against some U.S. media in Russia if the purported registration order is enforced. CNN, as well as RFE/RL and Voice of America, have also been named as possible targets.
In October, the Russian Justice Ministry warned RFE/RL that its operations in Russia could be restricted under its own legislation that deals with "foreign agents."
Volodin, however, said that Russia's foreign agent law "does not apply to media."
He added that steps should be taken to protect Russians from what he claimed was "the open interference that American media outlets have unleashed on Russian territory."
While RT distributes its programs freely in the United States on cable television, RFE/RL is already subject to severe restrictions in Russia, with nearly all of its radio broadcasts forced off the air by 2012 due to administrative pressure. Neither RFE/RL nor VOA has access to cable television in Russia.
A U.S. intelligence report in January said RT was one of the primary conduits through which the Kremlin sought to influence the 2016 U.S. presidential election.
U.S. officials say that Russia's foreign agent law, which Kremlin critics and civil society activists say has been used by Putin's government to silence dissent and discourage the free exchange of ideas, differs significantly from FARA.
The Russian law "has been interpreted to apply to organizations that receive even minimal funding from any foreign sources, government or private, and engage in political activity, defined so broadly as it covers nearly all civic advocacy," State Department spokeswoman Heather Nauert said in October.
Under the U.S. law, Nauert said, registration "is simply triggered when an entity or an individual engages in political activity. When the United States tells someone to register under a foreign agent requirement, we don't impact or affect the ability of them to report news and information. We just have them register. It's as simple as that."
According to the most recent report filed with the Justice Department, at least five foreign media outlets have registered under FARA, including broadcasters from Canada, Korea, Japan, and others.
By RFE/RL