The past few weeks have seen an unusual increase of anti-Belarusian activity in pro-government Russian media and blogs.
The Kremlin has not yet used its strongest media tools. However, the manner of the attack is in some respects similar to the information warfare which preceded Russia's annexation of Crimea.
In the face of the unfolding economic crisis in Russia and Belarus and the Belarusian presidential elections scheduled for 2015, this could signal a new shift in the relations between Russia and the regime of Alexander Lukashenka.
Second-tier media in action. Is more to come?
First, the widely-read pro-Kremlin blogger Aleksandr Shumsky has published a detailed post saying that Belarus was a natural part of Russia and suggesting that Russia should actively prevent attempts of a pro-Western revolution in Belarus.
Then, the popular entertainment TV channel REN TV on December 20 aired a half-hour long film about Belarus claiming that the West is preparing a coup d'etat in Belarus, criticising both the Belarusian opposition and the regime of Lukashenka.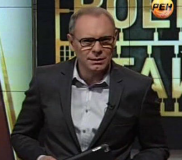 Failing to spell the names of some Belarusian politicians and media outlets correctly, REN TV told its viewers about Western-sponsored bloody revolt being prepared in Belarus. This film came out as part of a three hours long marathon of anti-Western propaganda, along with conspiracy theories and homophobia.
The influential nationalistic online publication Sputnik & Pogrom is regularly publishing articles denouncing the right of Belarusians to have an independent state, denouncing the existence of the Belarusian language and culture.
Russian media portray the Belarusian democratic opposition as Nazis and accuse Lukashenka of being weak
Other publications have in the past weeks been even more aggressive in criticising things like the growth of popularity of Belarusian traditional clothing or the non-Russocentric view of Belarusian history by Belarusians.
Some of the articles, in a typical manner, portray the Belarusian democratic opposition as Nazis and accuse Lukashenka of being weak and opportunistic. The fact that Lukashenka has maintained good relations with Ukraine in 2014 is also a topic for hysterically critical publications on different levels.
Although the media participating in this campaign do not always have a formal affiliation with the Kremlin, in today's Russia there can be no illusions as to the orchestration of such things or at least their approval by state ideologists.
Anti-Belarusian propaganda has not yet reached the scale that the propaganda targeting Ukraine or the Baltic states in the past. For instance, first-tier nationwide TV channels have not yet been seriously involved in the latest round of attacks. However, this scale has certainly become the largest since a series of anti-Lukashenka films titled The Godfather aired in 2010 on the Gazprom-controlled TV channel NTV.
Lukashenka as the long-time hero of Russian nationalists
Russia's annexation of Crimea and the war in Eastern Ukraine, motivated by Russian nationalistic slogans, were preceded by a long-term information campaign. Numerous books, magazine articles and films aiming to discredit Ukrainian statehood, the Ukrainian language and culture, to demonise the Ukrainian independence movement, have been published over the past two decades and prepared the foundations for the tragic events of 2014.
At the same time, over the past years there has almost been no similar propaganda targeting Belarus. Russian nationalistic circles have never needed to resist growing Belarusian nationalism.
Lukashenka has been viewed as a hero and even as a desired ruler of Russia
The authoritarian regime of Alexander Lukashenka, established with direct Russian support and enjoying serious political and financial aid from Russia over the past two decades, has always had an ideology very close to Russian (or Soviet) revanchism.
In 1995, Lukashenka has de-facto restored Soviet state symbols and reintroduced Russian language as the dominating language in Belarus. The regime has cracked down the Belarusian national revival at the very same time as it has cracked down democracy and human rights.
Therefore, for the past two decades Russian nationalists could have viewed their goals regarding Belarus as almost achieved, with the exception of a formal incorporation of Belarus into Russia. Lukashenka has been viewed as a hero and even as a desired ruler of Russia by many Russian conservatives and nationalists.
Belarus: Kremlin's next victim or its Trojan Horse?
The activation of anti-Belarusian propaganda in Russian media can be a warning and an indicator of Kremlin's Belarusian agenda for 2015. For, in late 2014, the danger of an actual annexation of Belarus is higher than in previous years.
Russian society has greeted the incorporation of Crimea with great enthusiasm. Following this, approval ratings of President Vladimir Putin have been at an all-time high. However, towards the end of 2014 Western sanctions and falling oil prices have led Russia into an economic crisis.
The approval ratings are bound to fall, which creates a temptation for the Kremlin to repeat the"small and victorious" enlargement of Russia's territory. And for this purpose, the compact, controlled and internationally isolated Belarus could be an attractive target.
Moreover, in 2015, presidential elections are scheduled to take place in Belarus. Together with a growing risk of a serious economic crisis in Belarus, this creates vulnerability and a window of opportunities for the Kremlin.
In this information war Lukashenka may just be a Trojan Horse in Kremlin's hands
This also corresponds with what Gleb Pavlovsky, a former Kremlin ideologue and PR mastermind, said in his recent interview when commenting on the media attack being mounted against Lukashenka "[Putin's system today] can't bear any compromises and must turn an insecure ally [like Lukashenka] into an enemy".
Moreover, the criticism of Lukashenka will be a good topic for the Kremlin to turn society's attention away from the economic problems and the failure of the war in eastern Ukraine, Pavlovsky said.
On the other hand, there is a less widespread opinion out there that in this latest information war Lukashenka is just a Trojan Horse in the Kremlin's hands. Some Belarusian activists suggest that this wave of propaganda may have been initiated by Lukashenka himself using his regime's influence in the Russian media.
This could help him gain support from progressive circles inside Belarus and get sympathy and support from the West ahead of the 2015 elections. As to Lukashenka's actions in the Ukrainian crisis, several Russian pro-government commentators agree that his actions are being coordinated with the Kremlin or even follow Kremlin's instructions.
"His dependence on Russia is enormous, and everybody understands that", says an expert quoted by the notorious pro-Kremlin online outlet Vzglyad. Despite all the seeming disloyalty on Ukraine, Lukashenka is nevertheless continuing on with Belarus' growing involvement into Russia-led post-Soviet integration bodies, writes Viktor Militarev, a Russian right-wing writer and activist, in a column for Izvestia, the largest pro-government newspaper in Russia.
Anyway, if the media attacks on Lukashenka continue and keep growing in terms of their scale and prominence, this time it might indeed be more than just another staged conflict between Russia and its capricious vassal.
Aleś Čajčyc, belarusdigest.com.
Alexander (Aleś) Čajčyc is a Moscow-based writer, consultant and member of the Rada of the Belarusian Democratic Republic