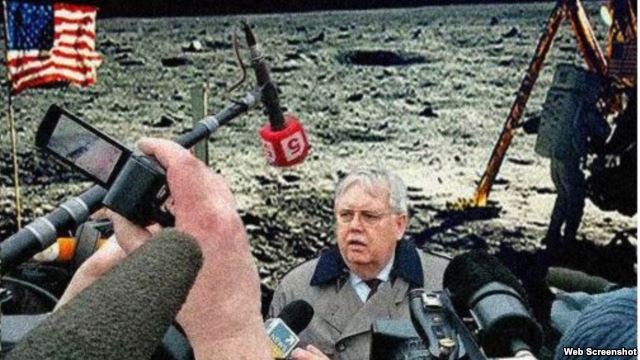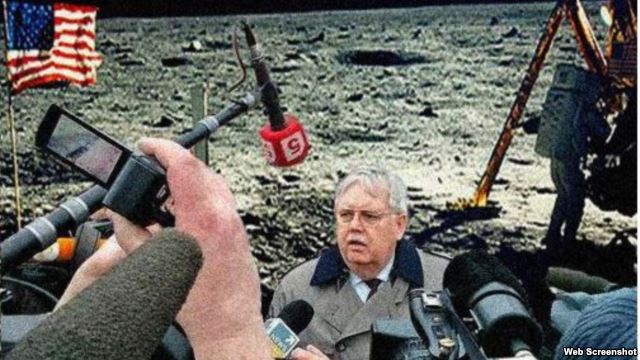 Did you know the U.S. Ambassador to Russia, John Tefft, once gave a press conference on the moon? – Molly McKitterick asks for Voice of America.

And at center-ice of a hockey game?
​And with General Douglas MacArthur when the general landed in the Philippines during World War II?
Well, of course, he was not in any of those places. Tefft was born in 1949, well after World War II ended.
But the U.S. Embassy in Russia tweeted out those fake photos with the help of a computer program. It did that in response to the Russians using the same tricks.
The first fake news came in September.
A local Russian news channel said Teftt attended a demonstration of anti-Russian government activists. It layered a photo of Teftt over an image of the anti-government demonstration.
So the U.S. Embassy responded in good humor.
The Embassy took a photo of Teftt at a press conference and layered it on top of several backgrounds. Then the Embassy posted it on Twitter.
There's one of Teftt giving a press conference during the moon landing.
.@rentvchannel pic.twitter.com/ateiOPdCBF

— Посольство США в РФ (@USEmbRu) September 21, 2015
Another has him at a Russian hockey game.
.@rentvchannel pic.twitter.com/UxkUQCvaaK — Посольство США в РФ (@USEmbRu) September 21, 2015

And a third places him at the airport with MacArthur, the famous World War II general.
.@rentvchannel pic.twitter.com/QRC3WYiUqO

— Посольство США в РФ (@USEmbRu) September 21, 2015
This kind of photo "mash-up" can be Internet fun. Remember when McKayla Maroney, the American gymnast, missed out on a gold medal at the London Olympics? After she received her silver medal, she made a face showing her dissatisfaction with the result. That photo gained a life of its own, and was mashed-up with Maroney looking unhappy with works of art, at the Great Wall of China and at meetings with celebrities. All were funny because the same photo of Maroney was used over and over in different settings.
The "Great" Wall of China? More like "Alright" Wall. pic.twitter.com/0Li3UaPV — Unimpressed McKayla (@UnimpressedMeme) August 10, 2012

When she met President Obama a few weeks after the Olympics, the duo posed for a photo while making the unhappy face.
Who wears it better? #TBT pic.twitter.com/vAXNgiRmYo

— Barack Obama (@BarackObama) August 8, 2013
Photo mash-ups are used all over the Internet.
But, US officials say, in Russia, such mash-ups are used to create propaganda.
Benjamin Ziff is the Deputy Assistant Secretary of State. He told a Senate foreign relations subcommittee that Russian propaganda reaches 600 million people. And it costs $1.4 billion per year to produce.
Ziff said that helping local communities develop a rich, uncensored media environment would be a good tool against the mash-ups.
Ziff said there is no reason to try to combat every instance of Russian propaganda. But, he said, in the case of Ambassador Tefft, it made a point.
The social media activity was noted by reputable news outlets in the United States and Russia. The website Buzzfeed wrote a story headlined "This Is The Best Photoshop The U.S. Government Has Ever Produced."
I'm Caty Weaver.
By Molly McKitterick, Voice of America
Molly McKitterick reported this story for VOANews.com. Dan Friedell adapted this story for Learning English. Kathleen Struck was the editor.