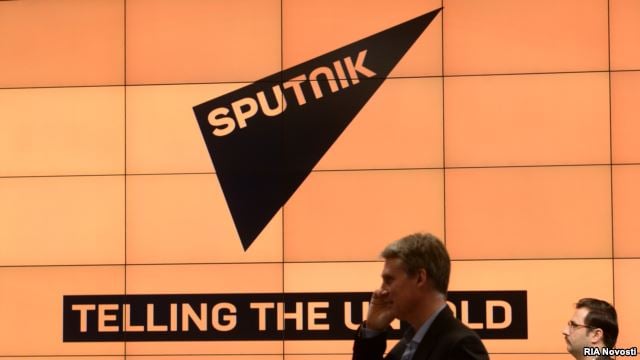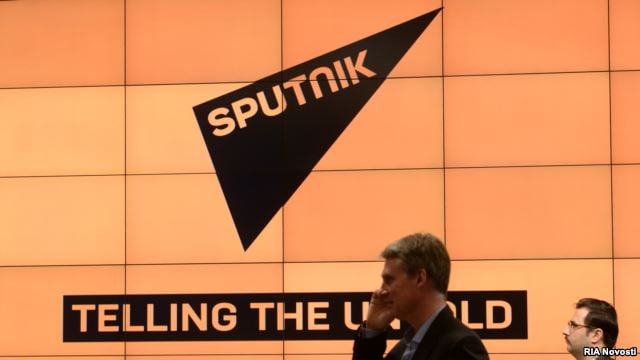 The Kremlin surprised nearly everyone when it unleashed its media machine on the world after the pro-Moscow president of Ukraine, Viktor Yanukovych, was chased from power in February 2014 and Ukraine fell into division and conflict.
Moscow's version of events was available on television, radio, and in print media in dozens of languages in dozens of countries and the selective storytelling of these outlets succeeded in raising doubts in some peoples' minds as to who was telling the truth about events in Ukraine: Western media or Russian media.
One area that was bound to be susceptible to this Kremlin spin was Central Asia with its five former Soviet republics.
RFE/RL's Turkmen Service, known locally as Azatlyk, assembled a panel to discuss Russia's use of soft power in Central Asia, its effectiveness, and its durability.
Azatlyk Director Muhammad Tahir moderated the panel. Participating were Kyrgyz parliament member Ravshan Djeenbekov; Casey Michel, one of the up-and-coming scholars of Central Asian affairs and an author of numerous articles on the region; and Bradley Jardine, our intern from Glasgow University. I said a few things, too.
Market Saturation
Russia, of course, has some clear advantages in getting its message through to people in Central Asia. The region was under Russian rule since roughly the last half of the 19th century, and despite being independent for nearly 25 years, many people in the countries of Central Asia still speak Russian and are familiar with Russian culture.
More recently, several million Central Asian citizens have gone to Russia to find work and been exposed to the Russian language.
Additionally there are still several million ethnic Russians living in Central Asia, and since 1991 they have helped ensure that Russian television and radio are broadcast to the region.
Russia's new government-run Sputnik news agency recently moved to advance this edge, as Michel noted.
"What we've seen happen with Sputnik, in especially Kyrgyzstan and especially Tajikistan, is the usage of local journalists, very talented journalists, very qualified journalists, who have gone over to Sputnik recently and Sputnik… toes a very pro-Kremlin line," Michel said.
Jardine said, "Most cable TV packages in Kazakhstan offer the Russian channels… activists in Kazakhstan refer to it as a 'zombie box' and it's promoting the Kremlin line."
And Jardine added that Russia is using more than television to sway public opinion in Kazakhstan toward its version of events. "In Kazakhstan, Russia uses a lot of its social networks to promote its agenda as well as [to] spread its cultural influence… for instance, Moi Mir is the most popular social-networking site; they also have Vkontakte, [and] another one called Odnoklassniki."
Victory Or Failure?
Michel pointed out one result of this. "I was looking at a poll just the other day… a Gallop poll examining anti-American, anti-Western attitudes worldwide, and the country that saw the largest drop-off in terms of views on the West, especially on America, in the entire world was Kazakhstan…and Tajikistan was also in the top five. And I think that helps highlight some of the efficacy of the recent soft power approach from Moscow."
Djeenbekov conceded that Russia has "a very big impact, a very big influence to Central Asia, especially on Kyrgyzstan." But he said Russian soft power had failed in Kyrgyzstan.
Djeenbekov said, "Russia wants to repeat Western or American experience on using soft power in Central Asia, and especially in Kyrgyzstan they wanted to make some projects regarding culture, regarding mass media, regarding education; but I know that they couldn't reach their goals and they failed."
The Kyrgyz deputy said that instead "the Russian government works in Kyrgyzstan [by] just bribing Kyrgyz politicians, Kyrgyz political parties, and the Kyrgyz government and instead of using soft power…. [T]hey just use propaganda, bribing, and energy as pressure to solve their problems in Kyrgyzstan."
It is difficult for any other outside or domestic source to penetrate this potent combination of historical, including linguistic, ties, a prepositioned media reach into Central Asia, and the tactics Djeenbekov alleged do exist. Yet still, others do try — my organization being one of them — though it is certainly an uphill battle. Jardine suggested the West, for example, had become "a bit passive and it sees its entertainment industry almost as a substitute for effective diplomacy."
Djeenbekov said Russia's soft-power strategy is "short-term" and that the Kremlin really does not have a long-term plan.
Western "Too Soft" Power
It was noted that the Kremlin-managed media have become adept at lumping facts, perceptions, and outright disinformation into one package — and it has proven effective in Central Asia and elsewhere.
Michel said this has led to debates in Western countries about how to counter Moscow's soft-power influence.
"Some people have discussed whether they should outright ban RT [the state-run international English-language TV channel formerly known as Russia Today] or Russian outlets. There have been some people who have said, 'Why don't we start our own Western news organization that does just exactly the same amount of spin, the exact same amount of production value as the Russian media?'"
However, it was suggested that part of Russia's success in sending its message to Central Asia derives from the withdrawal of Western militaries from Afghanistan and the accompanying diminution of interest in Central Asia on the part of the West, and from Russian concerns about its newest competitor in Central Asia — China, which has gradually been financially supplanting Russian influence in Central Asia.
This current situation is unlikely to last for long. The phrase "ebb and flow" came up during the discussion, and new twists and turns will lead to new fortunes and opportunities for outside players to exert influence using soft power.
For now, Michel's advice is arguably the best counter to Russian soft power. "What a responsible journalist does: You check your facts, you check your sources, you check where you're getting your information from, and then you present it in an unbiased manner for the reader, or for the listener, or for the viewer. That's one of the things that Russian media certainly does not do, and that is to Russian media's eventual detriment."
The panel discussed all these issues in greater detail and touched on other matters concerning soft power in Central Asia. You can listen to an audio recording of the session here.