Ever wonder where the droves of Russian-language Internet trolls get those satirical graphics they deploy to smear Western and Ukrainian leaders? Turns out there's a website with a vast archive of images helping them pepper their posts with visual invective.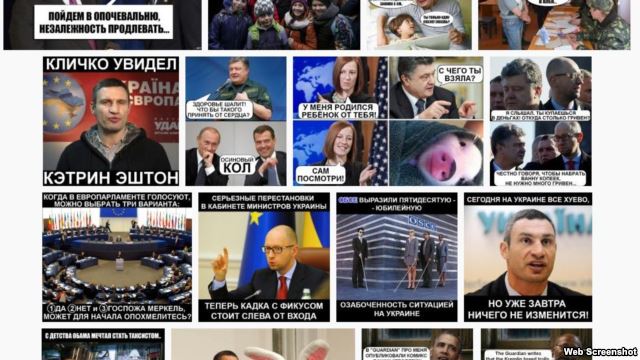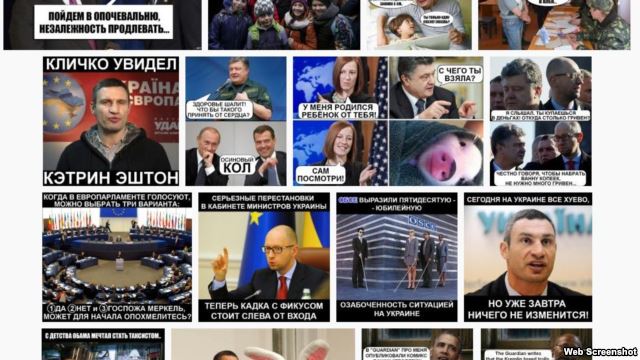 Britain's Guardian newspaper reported on April 2 that the website with the Cyrillic address вштабе.рф ("в штабе" translates from Russian as "in the headquarters") hosts thousands of these ready-made images for use by hundreds of paid trolls working for a secretive organization in St. Petersburg.
The images — mainly crude mash-ups or regular photographs touched up with sarcastic and juvenile captions — are largely aimed at heaping abuse on Western and Ukrainian officials or portraying Russian President Vladimir Putin as a suave alpha male of the international scene.
Many have racist overtones, like those that portray U.S. President Barack Obama as a monkey (bananas are a consistent motif in these images). Others show Ukrainian President Petro Poroshenko dressed in women's clothing or wielding sex toys.
One image uploaded on April 2 shows Poroshenko dressed in women's lingerie and sitting in front of a computer monitor beaming Obama's image, suggesting an erotic video chat.
"Video Conference About Receiving New Loans For Ukraine," the caption reads.
Guardian journalist Shaun Walker linked the website to the St. Petersburg troll factory based on an interview with a man identified as Marat, who says he worked there for two months before leaving what he described as demeaning working conditions, including fines for tardiness or veering from the pro-Kremlin and anti-West messaging dictated by the bosses.
In an interview with RFE/RL last month, Marat alluded to the role that these satirical graphics — known as demotivators — play in the St. Petersburg troll farm. "There's a LiveJournal department, a news department, a department where they create all sorts of images and demotivators," he said.
The website вштабе.рф was registered in Russia, though there are no public records linking it to a specific organization other than a Russia-based website registrar.
One online database, however, shows that it was registered on March 29, 2014, less than two weeks after Russia's takeover of Ukraine's Crimea territory triggered U.S. and EU sanctions targeting the Kremlin.
Marat told RFE/RL that the bosses and workers at the St. Petersburg troll farm "throw everything they've got at Ukraine."
The folks at вштабе.рф didn't waste time after Walker's article appeared in The Guardian. Within hours, the site featured an image showing Putin and Obama's heads photoshopped onto two the bodies of two actors reading newspapers.
"The Guardian writes here that your trolls published cartoons about me. Aren't you ashamed?" Obama is shown saying.
Putin replies, "Only for you, Barack."
author: Carl Schreck
source: rferl.org