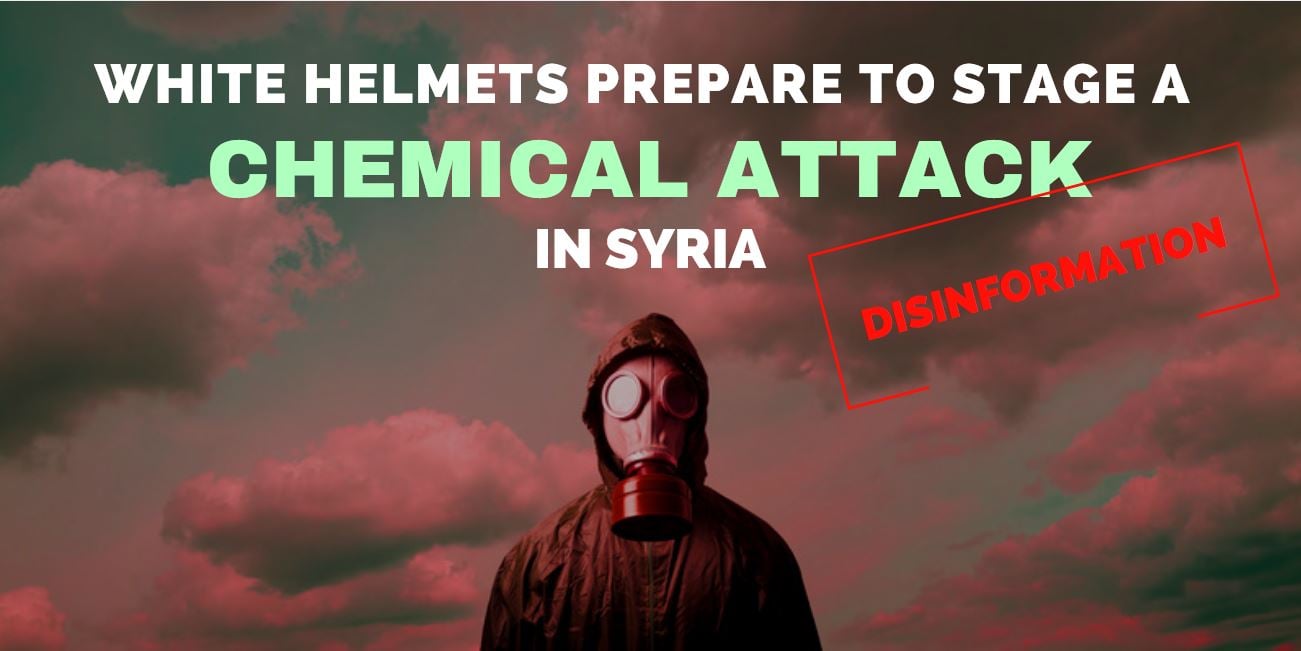 On 6 February, the UN Commission of Inquiry on Syria released a statement saying that it was investigating multiple reports that bombs allegedly containing weaponised chlorine had been used in the town of Saraqeb in Idlib and in Douma in eastern Ghouta.
The pro-Kremlin disinformation campaign prepared its usual answer: a week later, Russia Today and Sputnik claimed that the Syrian civilian rescue group White Helmets together with Al-Nusra Front terrorists were "preparing to stage a provocation involving chemical weapons' use, in Syria's Idlib province in order to blame Damascus."
Disinformation was based on a call by a "local resident" and was comprehensively debunked by the DFRLab. It continues the pattern of years, in which the White Helmets have been discredited and framed as collaborating with terrorists by pro-Kremlin disinformation. The overall aim remains to sow distrust in the work of this volunteer organisation.
Creative misuse of "sources"
The disinformation article on the White Helmets had only one anonymous source to back up its claim. In the past two weeks we witnessed several other examples of unsubstantiated sources.
State-controlled TV channel Rossiya 24 referred to unnamed "local news agencies" in claiming that the quality of Latvia's school education had dropped to the level of the Dominican Republic. In fact, in the PISA survey from 2015, Latvia scored 31st out of 72 countries, and well above the Dominican Republic.
Another type of fabrication of sources was used in reports on Fancy Bear hackers "revealing a Canadian conspiracy against Russian sports". The documents available on the website of the hacker group do not provide evidence for the conspiracy theory – only the announcement by the hackers themselves claims so. Cybersecurity firm Crowdstrike has stated that both Fancy Bear and Cozy Bear are Russian intelligence affiliated adversaries that targeted the US election in 2016.
…Or no source at all
Sometimes the disinformation campaign doesn't identify the source at all, but  presents disinformation as facts. This method is repeatedly used when Russian-language media refer to the tragedy of the MH17 flight. Tsargrad informed us that "Dutch and Russian foreign ministers planned to discuss, among other things, the investigation into the Malaysian Boeing-777 that was shot down by a Ukrainian Buk 17 July 2014" and Regnum wrote "Normalisation of the relations between Russia and the Netherlands is possible only in one condition: if the Netherlands is ready to tell the world the truth about Malaysian plane that was shot down by the air force of Ukraine."
The Dutch-led Joint Investigation Team has concluded that the plane was shot down from an area controlled by pro-Russian fighters, and the Buk missile was brought there from Russia and later taken back to Russia.