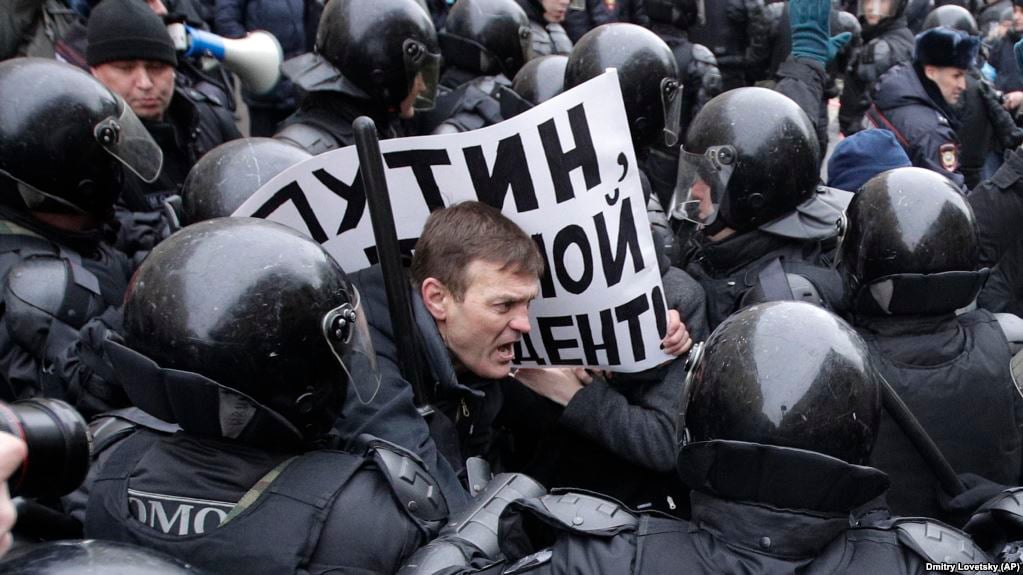 The charter establishing Russian government international broadcasters RT and Sputnik requires they cover government policy and also "public life in the Russian federation." Yet neither mentioned anti-Putin protests Sunday in 84 cities, that resulted hundreds of arrests including opposition leader Alexey Navalny.

Source: RT, Sputnik, December 28, 2017
Misleading

Nationwide anti-government protests, ignored by state media, present a misleading view
Nation-wide opposition protests in Russia this past Sunday made headlines worldwide.
Demonstrations nick-named "Zabastovka Izbirateley" [Voters' Strike] calling for a boycott of the nation's presidential elections on March 18 were staged in 84 cities, which included isolated clashes with police and the detention of 371 protesters.
Opposition leader Alexey Navalny – the Kremlin critic, who is banned from running against President Vladimir Putin, was arrested in a video widely circulated on news media outside Russia, even though the Kremlin said Navalny is no political threat.

On Sunday, Navalny's TV crew reported live as the police seized the studio and detained the hosts.
Елену Малаховскую, ведущую наших новостей из этого, уже легендарного, выпуска оштрафовали на 1000 рублей. Кто-нибудь понимает за что? Видимо, за то, что она ведущая новостей https://t.co/tygYyg9hvs

— Alexey Navalny (@navalny) 29 января 2018 г.

Reports about the "Voters' Strike" rallies in Russia occupied world media headlines, and had been trending on Twitter on Sunday but were totally absent from the newsfeeds of RT and Sputnik, the flagship of Russia's international broadcasting.
According to the RT & Sputnik government charter: "The Agency has been created and acts according to the following goals – overseas coverage of the government policy of the Russian Federation and public life in the Russian Federation."
​The public life in the form of protests in Moscow's Pushkin Square and other cities were not covered. On Sunday, "zero" was the result following searches for "protests in Russia" on the RT and Sputnik Web sites.

The Putin government apparently measures RT and Sputnik performance by the positive image the two news organizations project abroad. The 2016 annual report for the Russian Federal Agency for Press and Mass Communication stated the agency's "subordinate entities" acted in accordance with Putin's "directions." This includes "propagating and promoting the formulation of Russia's positive image globally."
The Kremlin said on Monday, it did not regard opposition leader Alexei Navalny as a political threat to the upcoming presidential election and claimed that protests he had organized on Sunday had been sparsely attended in places.
By Polygraph