Nearly two weeks after the State Duma election, the pro-Kremlin media supported by Russian officials continue to allege that the West attempted to "meddle" in the election process.
Such claims are a continuation of disinformation narratives that emerged before the election to, a priori, delegitimise any criticism of an increased crackdown on political opposition, civil society and independent media. All of which led to conditions where free and fair elections were virtually impossible.
Apart from blaming the OSCE, the European Parliament, "foreign agents", civil society and opposition parties for all sorts of delegitimisation/provocation/hybrid warfare efforts, pro-Kremlin outlets also turned their focus to the global tech companies.
For a while now, the Kremlin has been trying to tighten its control over internet infrastructure, online content and privacy of communications. Just ahead of the vote, its efforts paid off: in a widely criticised move, Google and Apple removed the "Smart Voting" app, designed by Alexei Navalny's team, from their app stores.
Russian state-controlled TV presented the step as recognition by American IT giants that the app, which galvanised voters against the ruling "United Russia" party, was in fact illegal foreign meddling in the Russian election.
Of course, such reports omitted the fact that both companies initially resisted removing the app and did so only after intense pressure from Russian officials. Nor did the Russian state-controlled TV dwell on explanations how an app designed by Russian opposition activists constitutes "foreign meddling" (it doesn't, unless one believes recurring pro-Kremlin disinformation narratives smearing the political opposition).
Russia's ex-President questions Twitter's algorithms
In another instance, Russia's ex-President/ex-Prime Minister Dmitry Medvedev alleged that there was "widespread and blatant interference in the recent Russian election" by Silicon Valley and the US. More specifically, Mr. Medvedev complained to RT that Twitter recommended he follow an account of Alexei Navalny, which ostensibly constituted "blatant" interference in the affairs of a foreign country…
Mr. Medvedev's statement is problematic on several accounts, notwithstanding the lack of evidence for any of his claims. Twitter gives algorithm-based suggestions on accounts to follow based on contacts, activity on the platform, location and data collected by third-party websites. Which means that Mr. Medvedev could have received a suggestion to follow Alexei Navalny on Twitter because many Twitter users in Russia already do, or because he himself frequents the profiles of opposition figures, which increases the likelihood of similar recommendations.
Of course, this does not mean that Twitter, its ads and algorithms cannot be instrumentalised for nefarious aims. Investigators raging from academics to the US intelligence services and tech companies themselves have demonstrated how the Kremlin exploits social networks to sow division and interfere in democratic debates and processes at home and abroad. One key difference in this case – no such evidence exists to back Mr. Medvedev's claims.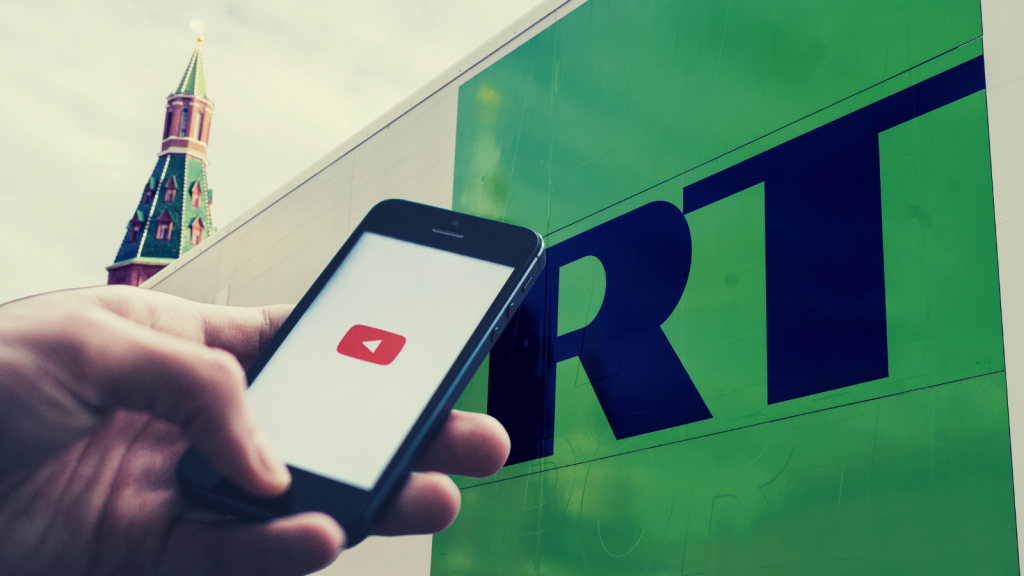 Auf Wiedersehen, RT Deutsch
Despite winning the battle with Apple and Google over Navalny's voting app, the Kremlin's fight over control of the internet is far from over. And its ire at the social media giants is only likely to increase following YouTube's decision to shut down RT's German channels, over violations of the platform's COVID-19 misinformation policy.
RT is fully financed by the Russian state. Its editor-in-chief Margarita Simonyan has already stated that Germany was waging a "real media war" against Russia. Such a statement is unfounded, not least because YouTube is owned by a private US company and not by the German state. However, the Russian Ministry of Foreign Affairs seems to support Ms. Simonyan's views, saying that the German state explicitly supported YouTube's step and going as far as to imply this was operation "Infobarbarossa" – alluding to the codename of the Nazi invasion of the Soviet Union.
And the attempts at retaliation are already apparent: Russia's Communications Ministry threatened to block YouTube in Russia unless the channels are restored.
In the past year, EUvsDisinfo also collected multiple examples of disinformation about COVID-19 that was spread through RT's German YouTube channels, including claims that COVID-19 was not a killer virus, so wearing masks and testing made no sense; that there was no pandemic; and that the "hysteria" was caused by media and politics.
Research by GMF's Alliance for Securing Democracy shows that such and similar RT German content was widely shared in anti-government and anti-vaccine Facebook groups.
This is not the first time RT's German branch runs into trouble. Previously it was unable to obtain a licence to broadcast its German service via satellite.
Back in early 2019, when RT German first announced its intention to apply for broadcasting licence, the German Association of Journalists cautioned the authorities against it:
"For us Russia Today is not medium for information, but a propaganda instrument of the Kremlin".