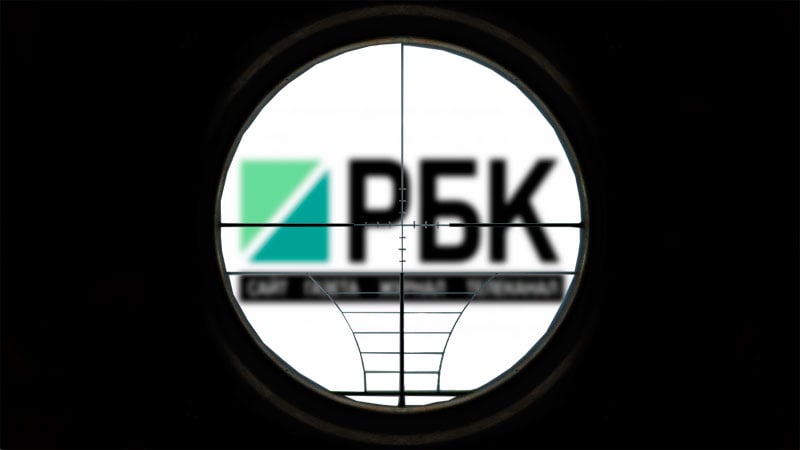 Someone in Russia desperately wants people to think the billionaire Mikhail Prokhorov is preparing to sell off two particularly important assets: the energy company Quadra and the media holding group RBC. The rumors, which have circulated for years, have become so persistent that Prokhorov's investment group, Onexim, didn't even have time to deny the latest gossip before it could appear on Sunday, April 24, in a long article published on Gazeta.ru, titled "Prokhorov Selling Off Assets."
Mikhail Prokhorov, who ran a relatively gentle presidential campaign against Vladimir Putin in 2012, has found himself in trouble this month. On April 11, the television network REN-TV aired two segments about Onexim: one accusing Quandra of inflating housing and utilities prices in the city of Lipetsk, and another claiming that Prokhorov hides his wealth in offshore accounts. Three days later (the same day that Vladimir Putin addressed the nation on television in his 3.5-hour-long "Q&A"), federal police raided the offices of several firms owned by Prokhorov, including Onexim's office in Moscow. A spokesman for the government later said the searches were part of a separate investigation, though officers think they found evidence during the search that implicates Onexim in tax evasion.
Immediately after the raids, the television station Dozhd cited two anonymous sources inside RBC in a report claiming that the searches at Onexim's office were part of a campaign to pressure Prokhorov into selling his news company, RBC. The newspaper Kommersant, meanwhile, said its own sources explained the raids as an effort by the authorities to influence RBC's editorial policy. The Kremlin's spokesman, Dmitry Peskov, later denied (in particularly strong terms) any connection between RBC's editorial policy, the work of investigators, and the government.
On April 21, matters got a bit worse for Prokhorov when an anonymous blogger named Vredina999 shared screencaps of an article published on RBC about the difficulties ahead for Russia's plan to privatize shares in various state enterprises, in order to plug budget shortfalls. In the images leaked by Vredina999, RBC appears to have published (by accident) a note written by one of the news agency's editors addressed to the reporters working on the story. In the editorial notes, the authors were told to find an analyst who would criticize President Putin for limiting which companies can bid on shares in Russia's state companies. (The final copy of RBC's article does feature expert commentary from an economist to this effect exactly.)
Vredina999's discovery really started making waves when it was picked up the next day by the pro-Kremlin news website Ruposters (which is headed by the former Kremlin staff member Stanislav Apetyan). In its report, Ruposters described RBC's editorial notes as instructions on finding the "correct opinion." Egor Timofeev, RBC's spokesperson, responded that the leaked notes were simply ordinary editorial questions, and not part of a diabolical effort to inject ideology into the agency's stories.
According to the newspaper Gazeta.ru, officials in the Kremlin have grown deeply impatient with RBC's independent reporting, becoming particularly angry with the news agency since it published information about Katerina Tikhonova, Putin's alleged daughter, and Kirill Shamalov, her alleged husband. (Gazeta.ru decided not to publish hyperlinks to these stories, perhaps fearing direct ties to the materials.) After both these reports (in January 2015 and December 2015, respectively), Reuters ran stories focused on these individuals' relationship to Putin.
Also, following the release of the so-called "Panama Papers," RBC's print newspaper ran a frontpage story about illicit offshore accounts. The story's featured image was a photograph of Putin. (In response, one of Russia's loudest pundits and most vocal Kremlin supporters, Dmitry Kiselyov, used his television show on April 10 to denounce RBC as a "Russian assistant" to American propagandists.)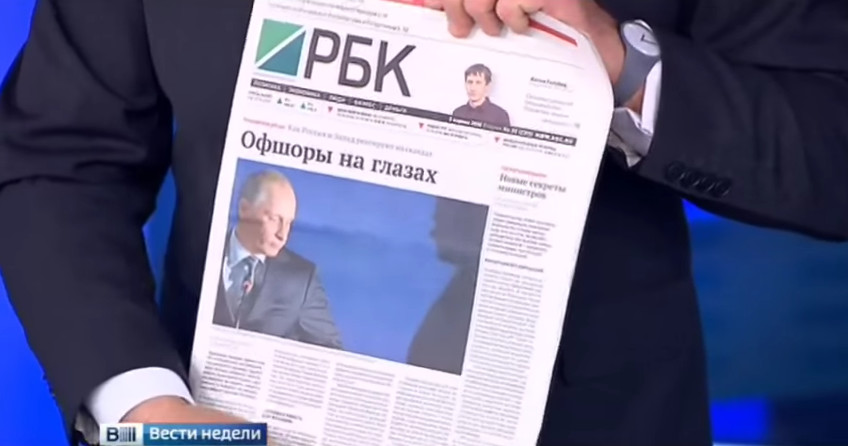 Meanwhile at RBC, Elizaveta Osetinskaya, the news agency's chief editor and arbiter of major policy decisions, will soon depart on an extended sabbatical. Earlier in April, RBC announced that she would relocate temporarily to Stanford University in September. Just a few weeks later, however, it was revealed that Osetinskaya will be taking her leave of absence starting even sooner (in May).
By Kevin Rothrock, Global Voices