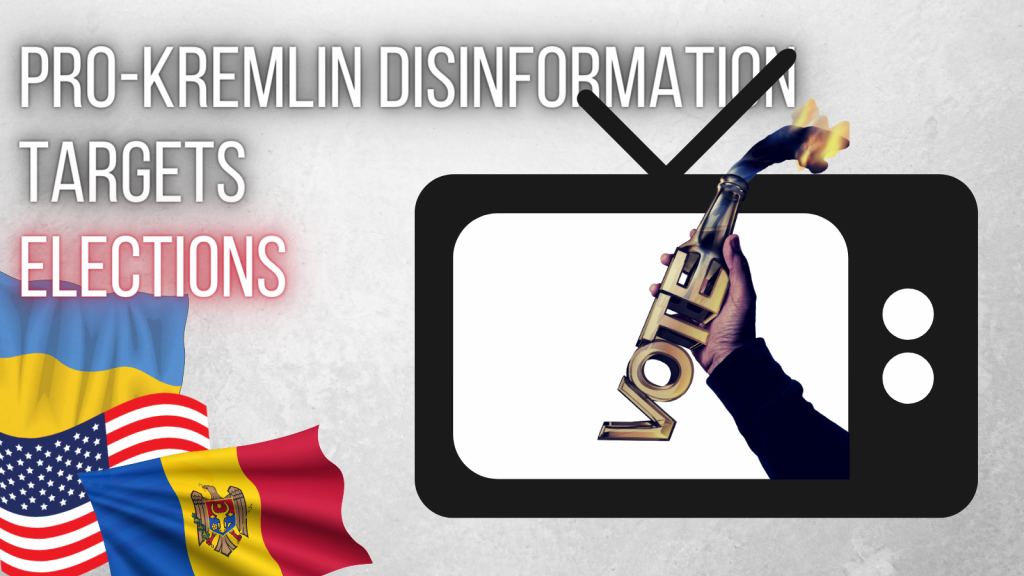 As America and many of her allies around the world are anticipating the results of Presidential election 2020, Russian state-controlled media is anticipating the violence in their aftermath. "Radically divided American society awaits civil war(opens in a new tab)", a host of a political talk show on state-run Rossiya 24 TV channel claimed a few days prior to the election, warning that the new civil war was going to be "total".
While several international media outlets have also reported concerns about potential civil unrest(opens in a new tab) following the elections in the US, the pro-Kremlin media took this to whole new level. For example, the above-mentioned talk show also alleged that the Americans were now wishing death upon their own country(opens in a new tab). Such apocalyptic messages are not new. Independent researchers warn that disinformation actors try to spread anger or fear(opens in a new tab) any way they can. We saw similar narratives following the racial justice protests(opens in a new tab) in the US earlier this year. For Russian state-controlled TV, this was another opportunity(opens in a new tab) to convince its domestic audiences that democracy leads to chaos, and therefore should not be attempted at home.
"Impeding" Maidan
America is not the only one going through the election season. A local election recently took place in Ukraine, and the pro-Kremlin media found an opportunity to claim that it could lead to the disintegration of the state(opens in a new tab) (it will split into three parts(opens in a new tab)!). The only question is why this should matter, as according to pro-Kremlin disinformation, Ukraine is a colony of the United States(opens in a new tab). Except that US no longer controls it – the UK does(opens in a new tab) and orders its intelligence to brainwash Ukrainian children(opens in a new tab)… Consistency has never been a strong suit of pro-Kremlin outlets.
Moldova is in the middle of a presidential election as well, but for the pro-Kremlin media these elections are not about the choice of the Moldovan people. Predictably, it is about Russia and the impeding Maidan(opens in a new tab) in Moldova. According to pro-Kremlin media, Washington (itself on the verge of civil war, remember?) has already given out instructions(opens in a new tab) to Moldovan opposition for a "colour revolution" in order to put pressure on Russia(opens in a new tab).
Depicting popular protests in Eastern Europe as "anti-Russian" colour revolutions has become a cliché of pro-Kremlin disinformation. We saw it this week as well, in Belarus(opens in a new tab) and in Kyrgyzstan(opens in a new tab). But in the case of Moldova, where there are no protests to speak about as of now, the pro-Kremlin media aim to occupy the information space(opens in a new tab), by a priori defining any possible future public discontent as a destabilisation attempt orchestrated from abroad. After all, preparing the ground for a disinformation campaign in advance is more effective than hammering the same falsehoods year after year.
Protests are not what they seem
This week, the pro-Kremlin media also stayed true to another of its prominent disinformation narratives alleging that popular protests are never genuine, always orchestrated.
In Poland, thousands have been protesting(opens in a new tab) a controversial court ruling on abortions. However, according to Sputnik, it was the European elites who have led people to the streets(opens in a new tab), as Brussels was dissatisfied with Polish authorities. In Belarus, where democratic protests continue into third month, pro-Kremlin disinformation implicated not only the usual targets – Poland and Lithuania(opens in a new tab), but also a French philosopher Bernard-Henri Lévy(opens in a new tab), who allegedly supervises Belarusian opposition leader Svetlana Tsikhanouskaya's team.
***
The tropes of orchestrated protests, violence and chaos define how pro-Kremlin media portray democratic processes around the world. Elections bring destruction, democratic leaders are puppets(opens in a new tab) (or so the pro-Kremlin disinformation tries to convey), except, of course, for the only place in the world where "voting(opens in a new tab)" is always fair.