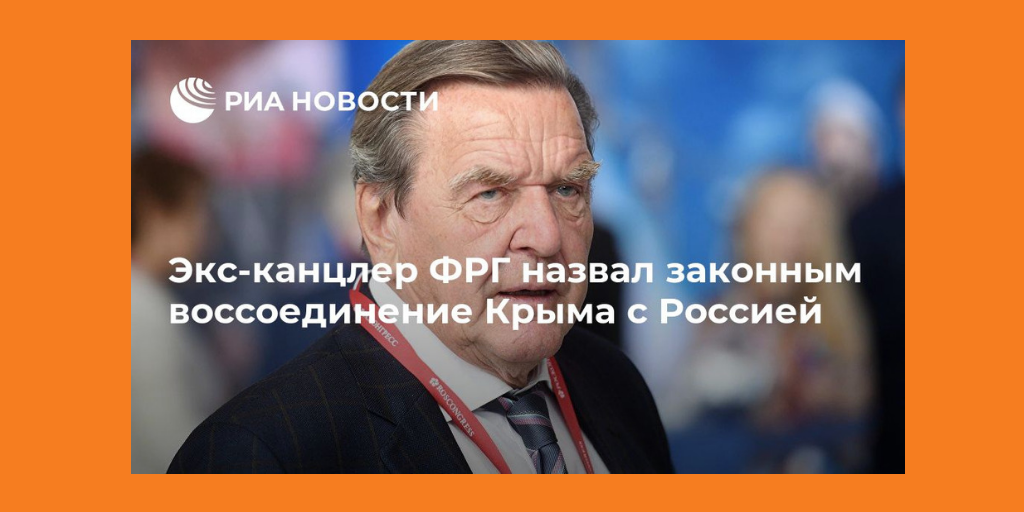 In a special kind of news manipulation, the problem is not what the story tells, but what it does not tell.
When highly relevant information is left out of the reporting, audiences are left with a distorted impression of reality.
Last week, it was the Russian state news agency RIA Novosti's turn to omit an important detail in a news story covering the status of Crimea.
Who is speaking? 
"Ex-Chancellor of Germany calls Crimea's reunification with Russia legitimate."
This was the headline of a news story RIA Novosti published on 15 June. It quoted Gerhard Schröder, whose statements had originally appeared in the German newspaper Bild.
RIA Novosti's article only mentioned Mr Schröder's former position as German chancellor; but nothing was said, neither in the headline, nor in the article, about his current positions as chairman of the Russian state-controlled oil producer Rosneft and of Gazprom AG, which is also controlled by the Russian state.
By omitting this information, RIA Novosti failed to observe the fundamental rule in journalism that readers should be informed if someone who speaks has reasons to be biased.
Relevant information about Mr Schröder's vested interests had featured prominently in the BILD story, on which RIA Novosti based its article.
Other Russian news sources, for example Kommersant, did remember to mention Mr Schröder's work for Rosneft and Gazprom when covering the same statement.
Not the first time
This sin of omission is typical of the way pro-Kremlin media outlets try to manipulate audiences into believing that the annexation of Crimea enjoys broader recognition outside Russia than is in fact the case.
In May, Russian state TV Rossiya 24 told about "a US delegation" of "diplomats" visiting Crimea, who "confirmed the full integration of the peninsula into Russia." But while the Americans in question did visit Crimea and seem to have been correctly quoted, they were in fact a 20-person strong group, representing an NGO called The Global Network Against Weapons and Nuclear Power in Space.

Click to watch Rossiya 24's story about the "American diplomats" with English subtitles.
In March, RIA Novosti wrote a news story under the headline "German Media Outlets Report on the 'Renaissance' of Russian Crimea." Again, there was a real source, and it was correctly quoted, but it was only one outlet, and it had only existed for two months.
In February, readers of the Russian news portal Life were told that "Europeans are seeking refuge in Russia from aggressive sexual education, homosexual dictatorship and juvenile justice," and that Crimea is their favourite destination. But the only source to the story was a statement by a local politician in Crimea from four years earlier, and the claims could not be verified by other sources.
Under an EU sanction
The CEO of RIA Novosti is the EU-sanctioned Dmitry Kiselyov. Its editor-in-chief is Margarita Simonyan, who is also the chief editor of RT.
RIA Novosti is part of the media house Rossiya Segodnya, as is another disinformation-oriented outlet, Sputnik.
Notably, Sputnik's Italian and Polish editions also ran stories about Mr Schröder's statement without any mentioning of his work for Kremlin-controlled businesses.
To see examples of disinformation appearing in RIA Novosti's reporting, follow this link to the EUvsDisinfo website.