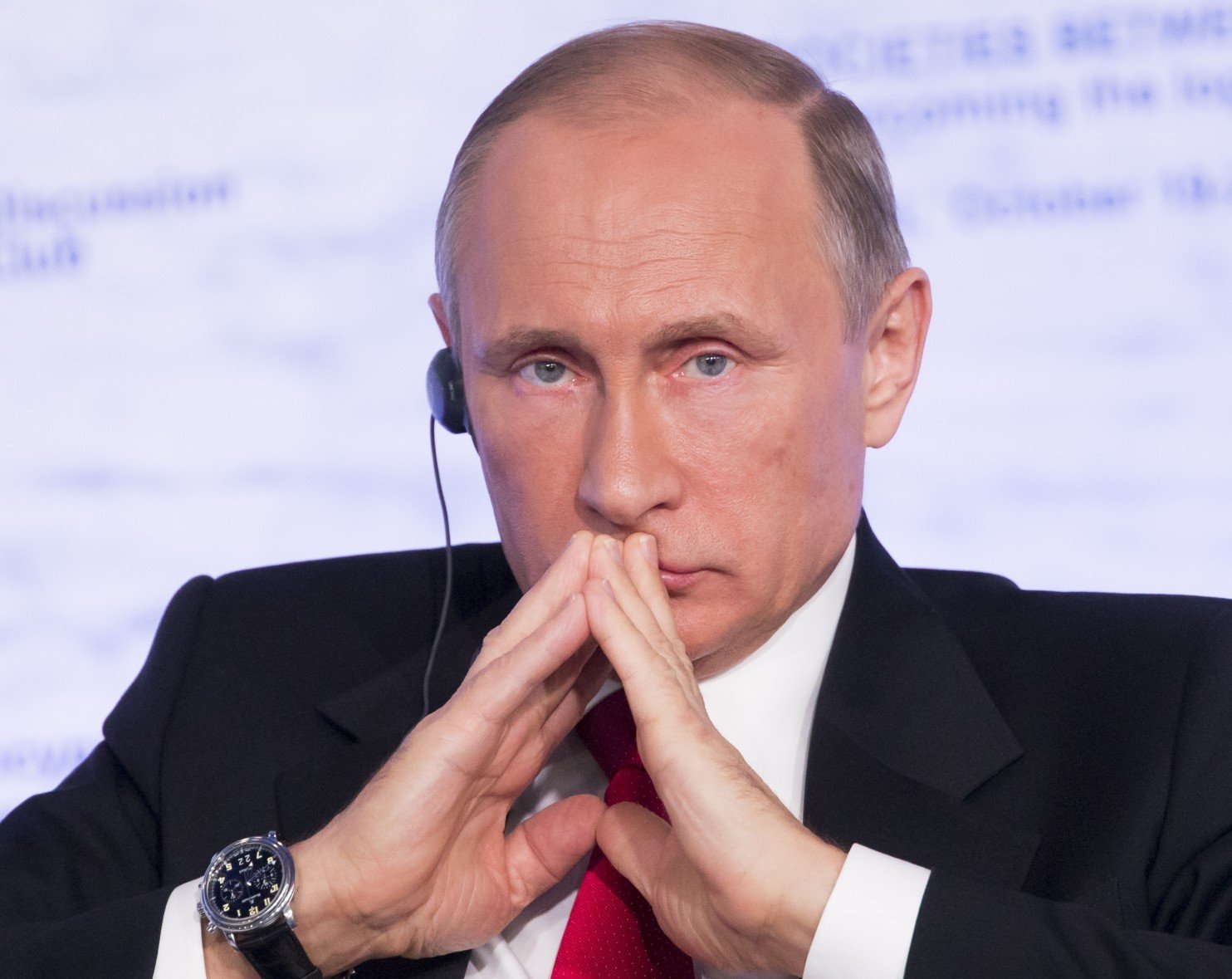 Even before Russian President Vladimir Putin deployed forces to Syria, U.S. military officials described his regime as an "existential threat" in light of his invasion of Ukraine. Putin, who oversees one of the most corrupt, kleptocratic regimes in the world, has been driving the international agenda of late — from Ukraine to Syria — while Western leaders, including President Obama, have been reactive and defensive. Wouldn't it be nice to go on the offensive, in a nonmilitary way, to knock Putin on his heels, while also shutting down his odious propaganda machine? Here's how it can be done:
Freeze the assets of Putin's state-funded RT cable network, not because of the odious things it spews but in compliance with two court rulings against the Russian government involving the multibillion-dollar Yukos oil company. Those rulings were issued last year by the Permanent Court of Arbitration in The Hague and the European Court of Human Rights (ECHR) after they determined that the Russian government owed a combined $52 billion in damages to shareholders of the since-dissolved Yukos.
According to the courts, the Russian government inflicted undue harm on those shareholders through punitive tax claims and asset seizures in the aftermath of the 2003 arrest of Yukos founder Mikhail Khodorkovsky, previously Russia's richest man. Yukos's assets were distributed to front companies and later acquired by Rosneft, which became the largest oil company in Russia, and other state-owned and regime-friendly entities such as Gazprom. This wiped out the holdings of Yukos's shareholders, and they sued.
After years of deliberations and hearings, those shareholders prevailed in both The Hague and the ECHR. For the case to have been brought before The Hague, both parties — shareholders and the Russian government — had to consent to arbitration and agree to abide by the court's ruling. Moscow even nominated one of the three judges who heard the case; all three judges ruled against Russia. Moreover, under the New York Convention, to which Russia is a signatory, shareholders can ask other governments to enforce the court's rulings by seizing Russian state assets. As for the ECHR, Russia is a member of the Council of Europe and has been on the losing side of hundreds of ECHR verdicts, so it has no grounds to object to the court's jurisdiction in this case.
Russian authorities have appealed The Hague ruling, but their prospects for overturning it are slim because appeals are limited to "technical" issues. Meanwhile, more than a year after the decisions, Russia has shown no intent to comply with them, leaving it to other states that respect the rulings of The Hague court and ECHR to find ways to force compliance.
In July, British authorities froze RT's accounts to comply with the verdicts. Belgium and France also launched proceedings to take similar action against Russian state assets. The United States and other Western governments should follow suit in an organized effort, especially in light of a petition for the United States to do so by Yukos's former principals. (Khodorkovsky is not a party to the suit.)
RT is the key to Putin's propaganda effort to discredit the West and obfuscate the truth of Russian actions. It has a global reach through cable and the Internet and claims an audience, likely exaggerated, of 700 million people in 100 countries. It has a large studio in Washington and bureaus throughout the United States and Europe. Russian government financing for RT and similar propaganda outlets, including Sputnik news, is roughly half a billion dollars.
Seizing Russian Embassy and consulate property in Washington and elsewhere is not an option given the inviolability of diplomatic missions. That leaves few other possibilities for going after Russian properties — and makes RT an inviting target. Even for Russia, with more than $350 billion in hard currency reserves and the most natural-resources wealth of any country in the world, $52 billion is a lot of money, especially in the midst of an economic crisis, low oil prices and the squeeze of continued sanctions against the regime.
The Kremlin is nervous, as evidenced by its hiring of major Western law firms to challenge possible asset seizures. Over the summer, it warned the United States that it would snatch up U.S. assets in Russia in retaliation for any such steps taken by U.S. authorities, and legislation has been introduced in the Russian parliament allowing for confiscation of property of foreign states in response to Western measures. Standing up to such threats is best done by many Western countries acting in concert, and Russia can only go so far. Any Kremlin tit-for-tat games would drive international investors and corporations out of Russia in a hurry, an exodus that Russia's weak economy cannot afford.
Enforcing the Yukos verdicts advances rule of law and respect for private property, and having RT bear the initial brunt of these verdicts is a way to get started. It has the added advantage of doing serious damage to Putin's propaganda machine. It is time for the United States and its Western allies to teach the corrupt Putin regime that there are consequences for outrageous behavior. It is time for the democratic community of nations to go on the offensive.
By  David J. Kramer, The Washington Post
David J. Kramer is senior director for human rights and democracy at the McCain Institute for International Leadership.