By CEPA
On 27 November, the U.S. State Department issued a press statement expressing concern about legislation it said could undermine anti-corruption efforts and weaken judicial independence. It urged the parliament to "reject proposals that weaken the rule of law and endanger the fight against corruption." The statement echoes criticism of the bill coming from Romanian civil society organizations, professional associations and members of various legal bodies. In addition, protesters and other critics claim the proposed changes will gravely affect the independence of the judiciary, including that of anti-corruption special prosecutors.
The U.S. communique polarized Romanian politicians and ordinary citizens, triggering criticism even from pro-American mainstream politicians who accused Washington of interfering with Romanian domestic affairs. But it also gave the Russian disinformation machine an opening to roll out its anti-Western narrative about U.S. neocolonialism robbing Romania of its sovereignty. With the multitude of voices inundating both mainstream and fringe media, outlets like Sputnik and its informal affiliates online—mainly pro-Russian Facebook activists—have hyped up the nationalist undertones they try to stimulate in Romania.
Facebook's pro-Russian "little green men" acted like a rapid response force. They trolled the State Department's official Facebook page and tried to mobilize their followers to do the same. This call to arms was based on the narrative about Romania being a U.S. colony, that the United States arrogantly scolds Romania over its domestic decisions, but acts cowardly, making sure that Romania's president signed the Patriot missile deal into law before offering its criticism. Online activists urged everyone to share the rage against "oppressive" American power and help Romania regain its independence and dignity. Pro-Russian trolls demanded that politicians and citizens who do not push back against U.S. criticism should be accused of treason.
Sputnik news also published a flurry of articles in a special section on its website dedicated to U.S. interference in Romania's internal affairs. These articles accuse the United States and its Romanian supporters of undermining the authority of parliament and recognizing the superiority of another state's bodies over those of Romania. Various commentators blamed Romanian politicians for submitting to U.S. interests, rather than promoting those of Romania. Critics also accused the United States of hypocrisy for "taking off its mask" and showing who the master is.
The articles showed Sputnik's own lack of content and displayed its opportunistic behavior by emphasizing subjects that are already part of domestic political disputes. These tactics include:
Criticizing Romanian civil society for supporting the State Department press release, which suggested coordination with Washington, and some form of conspiracy.
Amplifying the voice of politicians who have made a reputation out of criticizing the United States or its ambassador to Romania and fostering growing anti-Americanism.
Commending two speakers of the Romanian parliament for criticizing the United States and praising pro-Kremlin "useful idiots" for "tearing apart the Americans."
With these actions, Moscow's efforts to blend in with Romanian political tensions and debates are becoming more transparent. By opportunistically exploiting every political event, the pro-Russian disinformation machine is able to stir things up and cover its tracks among the mainstream media debates.
The media controversy over the press release faded away as Romania celebrated its National Day on 1 December. The government had to focus on other issues, such as the death of Romania's former king and continued street protests over official corruption. What unifies these media events is the U.S. neocolonial narrative promoted by Sputnik and pro-Russian online platforms and activists. From military cooperation to U.S. investments in Romania to political and diplomatic engagement, the many facets of the U.S.-Romania relationship feed into the anti-American narrative. In all areas, the disinformation machine has clearly identified Romania's main "enemy" and the main target of Russian propaganda campaigns: the United States.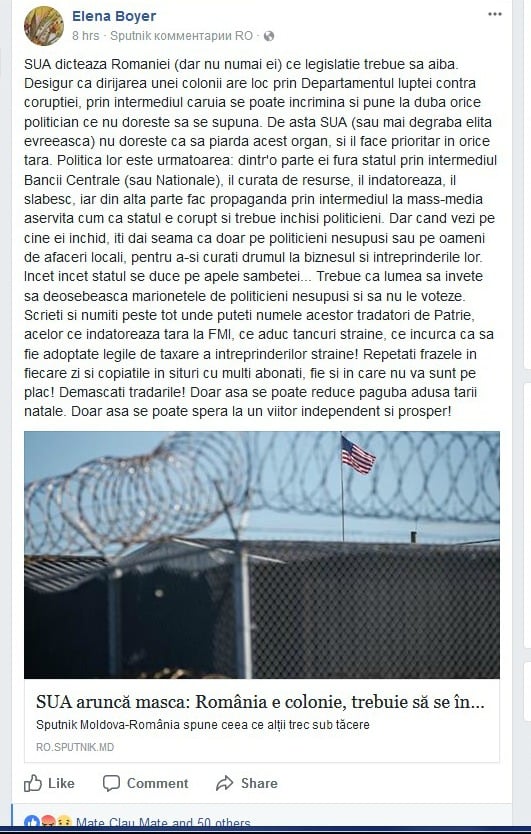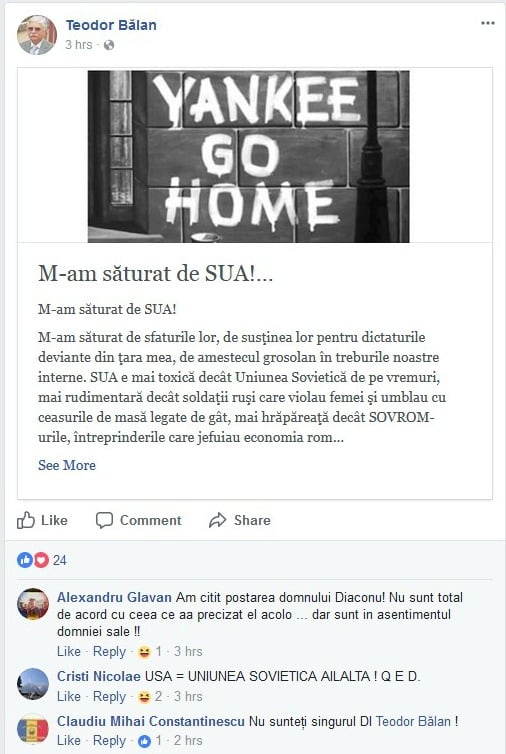 By CEPA