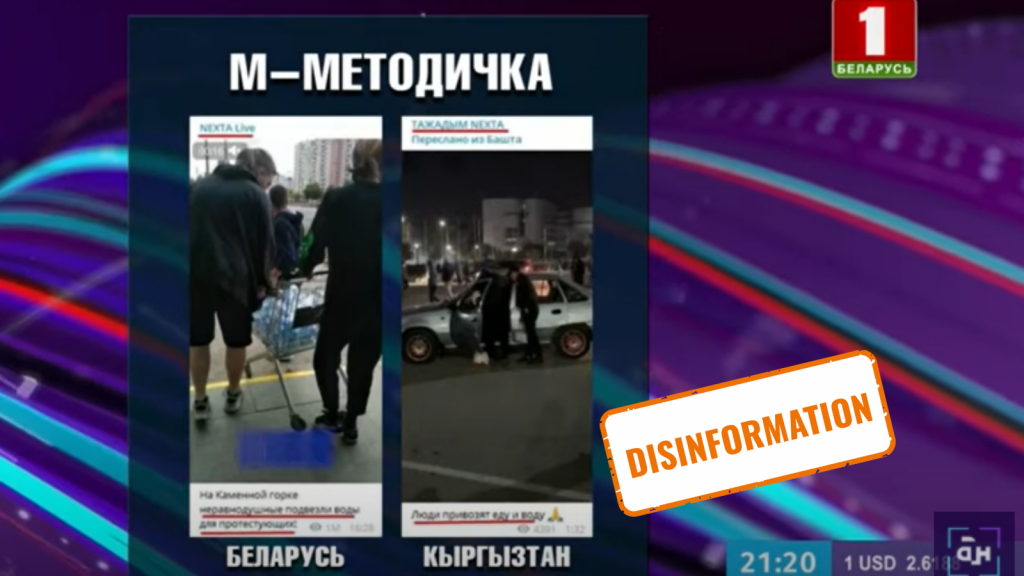 For your reading, we have selected several images to illustrate what pro-Kremlin disinformation has been up to this week. Happy browsing and make sure to follow updates on EUvsDisinfo next week!
Belarusian state-run TV finds connection to Kyrgyzstan
Belarusian state-run TV channel "Belarus 1" claimed this week that the protests in Belarus and Kyrgyzstan were organized by external parties using the "colour revolution" manuals. To advance this argument the Belarusian broadcaster also aired a doctored video accusing the EU of financing the protests in Kyrgyzstan. Read more about this in the latest Disinformation Review.
Troll activities
Independent investigative journalism organisation Bellingcat reported this week that social media channels used by fighters from Russia's private military companies attempted to troll international analysts and observers commenting on the Nagorno-Karabakh conflict.
The accounts posted several images showing a plane and mountain landscape, suggesting that the Russian mercenaries were arriving in Armenia to move on to Nagorno-Karabakh. Bellingcat found that one of the photos precedes the conflict and was shared in January this year, while another one was shot in Syria, not Nagorno-Karabakh.
As fighting in Nagorno-Karabakh intensifies, so does the disinformation. You can find examples of related pro-Kremlin disinformation messages here.
The Latest on Western Values
A guest on Russian state-owned radio station "Vesti FM" claimed this week that in Germany people are not supposed to use the word "son", but rather an expression that translates as "a child with a penis". This, according to the guest, is a result of liberal Western values allegedly imposed on Germany in recent years.  See what else pro-Kremlin disinformation thinks about Western values.